There are many reasons to choose Lifespan Construction for your renovation and remodeling needs. Expertise and customer service top the list. A visit to the brand new showroom in downtown Olympia will give you the rest of the story. The showroom, which includes a working kitchen, allows the client to see and touch almost every option available in their project.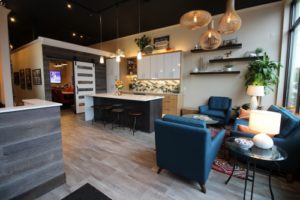 The showroom, which celebrated its grand opening last fall, is a bright beautiful space perfect for browsing and viewing the latest in home design. Lifespan Construction welcomes visitors at any point in the remodeling process. Lifespan is a great place to start and look at all the options.
"None of the competition has a showroom like ours," says Jennie McDonald, co-owner of Lifespan Construction. At Lifespan the samples are not one-inch square paint chips or small pieces of stained wood. "We have all the cabinet door styles in-house for the client to look at," says McDonald. The paint swatches are large-scale swatches that the client can match with tile or bring home and see how they look in their own light.
When we did our own kitchen remodel, my husband and I chose plumbing fixtures from photos in a catalog. At one point we just begged our builder to choose for us. At Lifespan Construction, the plumbing fixtures are there in the showroom to hold and compare their finishes, styles and user preferences.
The working kitchen in the showroom illustrates the type of work that Lifespan can do and the array of choices that are available. Where else can you walk into a showroom and open up the cabinets to see if you will like them in your own home. The choices are endless and Lifespan has the samples to match.
"With large samples of flooring and countertops, we can create vignettes for the client," shares McDonald. "We are a one stop complete solution which saves them from running from the flooring store, to the plumbing supply company and all the other vendors that we have in our showroom." If Lifespan does not have something that is desired by the client, their designer will go out and shop for it.
Lindsay Balder, the in-house interior designer, is available to help you with all aspects of your remodel whether it is a single room upgrade or a full house renovation. Lindsay prides herself on listening to her customers and creating designs that enhance their lives.
Visit the showroom on 4th Avenue and see for yourself why Lifespan Construction has been called "the most professional and kind contracting business" in Olympia.
Sponsored