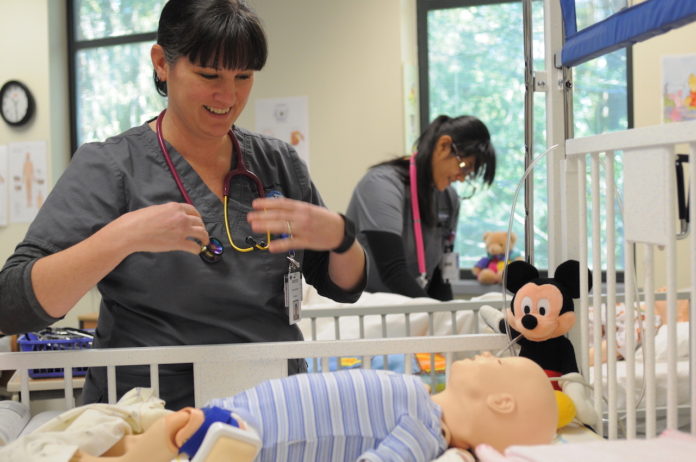 Communities are built on relationships, and the stronger those relationships are, the better off the community will be. The South Puget Sound Community College (SPSCC) Foundation, along with the SPSCC Nursing Program and local medical providers, are building strong relationships by supporting local nursing students whose skills will serve our community for many years to come.
The SPSCC Foundation raises money for scholarships from a variety of sources including local individuals and businesses, and awards scholarships based on varying criteria including field of study or career path, academic performance and need. "Scholarships open doors for people who might not otherwise be able to get a college education," says SPSCC Foundation Executive Director Tanya Mote. Approximately 35 nursing students receive scholarships each year, according to SPSCC Foundation Development Manager Anne Larsen.
Local medical providers such as Olympia Orthopaedic Associates, Providence St. Peter Hospital and Capital Medical Center have seen the positive impact of these scholarships, both in the community and in their own medical practices. So much so, in fact, that they donate to the SPSCC Foundation specifically for nursing scholarships. "We hope to encourage local students to get nursing degrees and stay here to practice," says Olympia Orthopaedic Associates CEO Ben Shah. "It is just one way we commit to our community and help people have successful careers." Shah also noted that OOA invites nursing students in to complete rotations in their medical practice and their surgery center.
Many of the nursing scholarship recipients have already worked in healthcare, some as nursing assistants, before beginning nursing school. Some of those are able to continue to work part-time for their employer while they study. Lori Choate, Associate Dean of Nursing at SPSCC, says of the partnerships between medical providers and the SPSCC Foundation, "It helps to build a commitment to each other. It's a feel-good thing to be vested in the student's training, and the students are more likely to stay with an employer who has supported them in their education."
"Having established relationships with local nursing students helps promote the career of nursing and guide the best into this profession," says Michelle James, Vice President of Operations and Regional Chief Nursing Officer with Providence Southwest Washington. "We value our association with local teaching programs so that we can form relationships with nursing students and are able to keep them close to home when they ultimately choose to go into the field."
Scholarships for nursing students are especially important because the nursing program is considered full time, so holding down a full time job would be difficult, if not impossible while attending the program. "Most community college students are financially challenged," Choate shares. Nursing school is full time, so having a full time job interferes with their success in the program. Students are much more likely to be successful if they can focus on school and work less."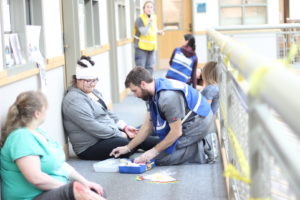 SPSCC nursing student Ann Staley, a single mom of 3 children ages 15,13 and 10, is in her second year of the nursing program. She has received scholarships each quarter since she starting nursing school. "For me, scholarships have allowed me to be the student I need to be to do well in this rigorous program," she said. Staley worked as a nursing assistant at Capital Medical Center before starting nursing school and continues to work about 4 shifts each month. "The scholarships are accessible, easy to apply for and generously given," says Staley.
The relationships between the medical community and the SPSCC Nursing program continue to expand to fill needs in our community. Capital Medical Center Executive Director Jessica Forsman shares, "Capital Medical Center has created an endowment to support both current healthcare students as well as the students of our future. We will also be offering a nurse residency program to help recent nursing graduates transition into the workforce."
"SPSCC Foundation board members and donors have seen the proficiency of SPSCC nursing graduates," says Mote. She recounts one story where a Foundation board member was in the hospital for an extended time and began asking nurses where they were trained. He was impressed with the great care he received from so many SPSCC nursing graduates.
For more information about the SPSCC Foundation, see their website or call 360-596-5430. The next scholarship application deadline is May 5, 2017.