Jacob Loose doesn't have a blazing fastball many pitchers rely on. Loose's "fastball," which he figured is in the high 70s, doesn't intimidate. But this lanky, 6-foot-4 senior pitcher for Capital High School, certainly does frustrate hitters. His mix of curve balls and change ups baffles batters, often making them swing at nothing but air.

"He's got a pretty tough curve ball," said Jesse Elam, who's in his fourth season as Capital's head baseball coach. "He makes hitters look silly sometimes."
Loose, with his disappearing curves and pedestrian fastballs, is Capital's version of Jamie Moyer, the former Seattle Mariners ace who didn't have a blazing fastball.
"That's a good comparison," Elam said.
Even without the most important ingredient for success as a pitcher, Loose is the recipe for success. Last year when the Cougars went 14-2 in league, Loose was voted the most dominate pitcher in the Narrows League. He finished with a 6-2 record, striking out 45 batters in 38 innings. And he only walked five hitters.
His 3.1 ERA is a little misleading because he gave up 10 runs in one game. Minus that game, Loose gave up a meager eight runs over seven games. It's all about location and keeping batters off balance with a mix of curves and change ups.
"Jacob does a very good job of that," Elam said. And the Cougars' ace on the hill doesn't get rattled. "He's a pretty even keel kid," Elam said. "All of his pitches move. His fastball moves. His change up moves."
When Loose isn't pitching, he's starting at first base. And when he's not playing baseball, he's probably studying. With a 3.9 GPA, Loose is the true definition of student-athlete.
"He's one of the most dependable kids I've ever coached," Elam said. "You can just count on him."
In explaining his performance in the classroom, Loose gave his parents a high five. They were always prodding him about his homework. They made sure baseball never eclipsed the classroom. Sometimes when someone is good at a sport, it becomes their total focus and the classroom gets left behind. Loose never lost his focus.
"It just started when I young," Loose said. "My parents emphasized to always do my homework. It just kept going."
Even with his success in baseball, Loose, who started playing baseball when he was six, hasn't got caught up with a dream of one day turning pro and signing a big contract after getting drafted. He's realistic.
"Looking into my future, baseball isn't in my future," Loose said. "I'm not going to go pro or make a living playing baseball. I'm thinking about being involved in the community and making an impact. That's more important to me. I'm not going to play baseball my entire life, so know what I'm going to do afterwards is important. My parents have talked with me a lot about that."
Game after game and practice after practice, Loose is a quiet, lead by example player.
"He's more quiet," Elam said. "He is laid back and works his butt off. He's more of a lead by example type kid, rather than being vocal."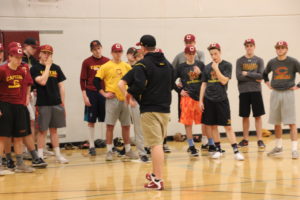 It works. Loose inspires by example.
Besides baseball and school, Loose is also involved with DECA and the Boys Scouts. And as Loose does with anything he gets involved with, he commits. He's president of DECA and he's an Eagle Scout in Boys Scouts.
"I enjoy learning about business and business finance," Loose said. "That's what I want to go into. DECA is a fun way of staying involved as well as gain an academic credit."
Loose is one of six returning starters for the Cougars, making Elam feel excited about the upcoming season. Aidan Short is back with Loose on the mound, giving the Cougars a solid one-two rotation. Like Loose, Short, at 6-foot-5, is tall, ecept Short has more pop on his fastball.
"Aidan is more of a power pitcher," Elam said.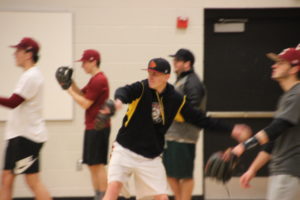 Also back is Peyton Greene, who was the Cougars top relief pitcher, their closer. When he's not pitching, he'll play in the infield. After making first-team, all-league as a designated hitter last year, Tanner Johnson will start at center field.
"I think he'll be a big contributor this year," Elam said.
Sam Condon, who batted .333 and was second-team, all-league last year, is back. Travis Tallman is another infielder back for the Cougars.
"I think we'll be competitive in our new league," Elam said. "But there's none of those gimme games. It's going to be tough."
Whatever happens, however the Cougars finish, Elam knows his players will take away from this season some life lessons that sports teaches.
"What we try to instill in them is you show up, you work hard every day and you bond with your teammates," Elam said. "We try to put the kids in situations where they are going to fail. Those are life lessons right there – forgetting the past and moving toward the future. That's our philosophy. One pitch at a time."
It's been a winning formula for the Cougars.