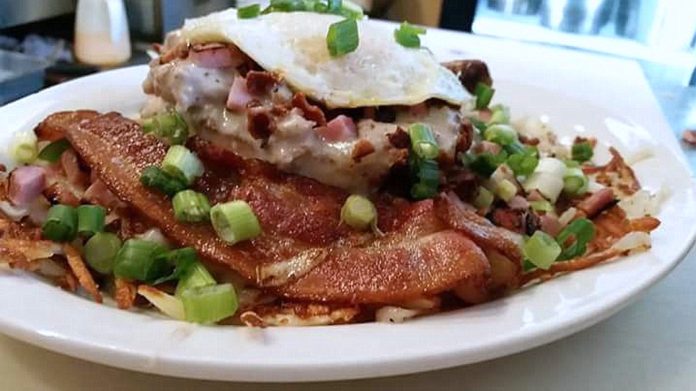 There are some people who don't like mornings. Weekends are for sleeping in and breakfast is over-rated. However, South Bay Pub & Eatery's house-made breakfast is about to blow your mind and change your outlook on life – or at least on waking up and eating breakfast on the weekends.
"We offer a traditional, country style breakfast on the weekends only," says Tyler Woods, manager of South Bay Pub & Eatery. "And, everything is made from scratch." Breakfast is served from 8:00 a.m. to 1:00 p.m. on Saturday and Sunday.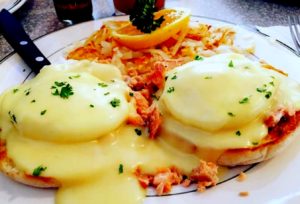 When he says everything, he means everything. They have house-made biscuits made fresh each morning. The corned beef for the hash takes 45 minutes to prepare and it's made fresh each morning as well. And, what's a breakfast without fresh-squeezed orange juice? They even make the gravy for the biscuits and gravy and it's one of the best around. Bottom line – everything is made on-site. "You won't find anything out of a can in our kitchen," he says.
You can smell the difference the moment you walk in the door on Saturday and Sunday mornings. The place smells like your mother's kitchen – bacon, eggs, pancakes, biscuits. It's a heavenly concoction that only comes from real cooking. Customer favorites include chicken fried steak and the stuffed hash browns. The hash browns are a specialty item of the pub that originally was offered as a limited special. Customers asked for them so much, however, they put them on the permanent menu. The dish consists of two portions of hash browns stuffed with cheese, veggies and eggs served with their homemade gravy covering it all.
For those looking for something a little lighter, there are many ala carte breakfast itmes and a new fruit bowl option filled with seasonal fresh fruit.
A Tradition Since 1996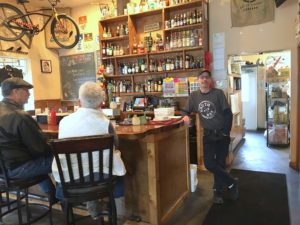 South Bay Pub & Eatery's owners have been offering breakfast since they opened their first restaurant, Darby's Cafe, in 1996. With a new breakfast chef, David Mcgoldrick, they have adding extra flavor to the menu with unique new items. David has been working at South Bay Pub & Eatery for about five months now after a long history of restaurant work. He has found his culinary home. He enjoys the creative freedom in the kitchen and the friendly atmosphere. David also cooks on Tuesday and Wednesday evenings.
"I love working at a place that takes pride in good food from fresh ingredients," David says. "I like not just pulling things out of boxes or cans like I did at chain restaurants. It's been a really long time since I've had a job I love. We are a family here."
While some of his favorites include biscuits and gravy and the stuffed hash browns, David really shines when it comes to specials. David can create culinary art whenever he feels like it. "I really enjoy making up my own specials," David explains. "It's great to have the creative freedom to make whatever I feel like making that day." Specials are not planned in advanced and really do depend on how David is feeling creatively, and that's what makes them so great. Just plan on being there early if you want one of his specials – they sell out quick. Today's special? Salmon potato cakes.
Four of the six people in the kitchen, including David, graduated from South Puget Sound Community College's Culinary Program. The skills they bring are solid and combined, they are a culinary force.
South Bay Pub & Eatery's homemade offerings don't stop at breakfast. Lunch and dinner include handcrafted menu items including homemade dressings and sauces. "It's a lot of prep work, but it makes a difference," Tyler says.
The neighborhood pub is a gathering spot and weekly Taco Tuesday offers $2 tacos and Wednesday is $10 steak night. Events are hosted throughout the year including comedy nights, a car show, an anniversary party and of course, a party on St. Patrick's Day with live music, green beer and house-made corned beef and cabbage. Pint Night happens each month with beer distributors giving away prizes and answering questions. The next one will be Lost Coast Brewing on March 30 from 5:00 to 7:00 p.m.
An Emphasis on Family and Service
Although it's name says "pub", South Bay Pub & Eatery is a perfect setting for the entire family. "We are very family friendly," Tyler says. "There are kids walking around all the time." Neighbors gather and the owners and manager know them by name and they come back each week for the personal connection along with the quality food.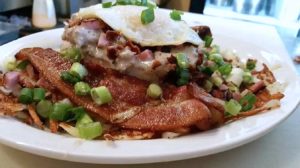 "We pride ourselves in great service," says owner Mark Christensen. "It's all about the hospitality. Otherwise, why else would you do this line of work?" he laughs. A lot laughter is heard as he banters back and forth with his customers.
Tyler echos Mark's sentiment. "I like making other people happy and good food makes people happy," he says. "And that makes me happy."
So, set your alarm (or just come in around noon) and join the South Bay Pub family for a homemade breakfast that will make you fall in love with mornings.
For more information, follow South Bay Pub & Eatery on their Facebook page or call 360-456-0809. You can find their full menu here.
Sponsored