Submitted by UW Medicine Neighborhood Olympia Clinic
Diphtheria, measles, polio. You've likely heard of these diseases but may not know much about them; yet, they regularly cause serious illness in children in other parts of the world.
What makes the United States different? The answer is simple: vaccines.
When more people get vaccinated, disease rates fall. It's important to keep your child's vaccines up-to-date to protect against diseases that are common, like flu, as well as rarer diseases that can nonetheless spread among unvaccinated people.
"Vaccines have helped keep children healthy and have saved millions of lives in the past 50-plus years," said Megan Gillespie, a nurse practitioner at the UW Neighborhood Olympia Clinic.
Vaccine Recommendations During Each Stage of Your Child's Life
Different vaccines are best given at different ages in order to build optimum immunity. The list below outlines vaccine schedule recommendations from the CDC.
After Birth: First dose of hepatitis B vaccine.
1-2 Months: Second dose of hepatitis B vaccine.
2-4 Months: First and second dose of polio vaccine.
2-6 Months: Three doses each of rotavirus; diphtheria, tetanus, whooping cough (DTaP); Haemophilus influenzae type b (Hib); and pneumococcal vaccines.
6 Months: Start yearly doses of influenza vaccine.
6-18 Months: Third dose of hepatitis B vaccine, third dose of polio vaccine.
12-15 Months: Single doses of Hib; pneumococcal measles, mumps, and rubella (MMR); and chicken pox (varicella) vaccines.
12-23 Months: First dose of hepatitis A vaccine.
15-18 Months: Fourth dose of DTaP vaccine.
24 Months: Second dose of hepatitis A vaccine.
4-6 Years: Boosters for DTaP, polio, MMR, and varicella.
11-12 Years: Three doses of the HPV vaccine are recommended for all children in this age group regardless of gender, plus one dose of the meningococcal conjugate vaccine and a Tdap booster.
13-18 Years: One dose of the serogroup B meningococcal vaccine and a booster of the meningococcal conjugate vaccine.
Talk with your child's medical provider if any vaccines are missed, as most can be given in a catch-up schedule. It's better to get a late vaccine than none at all.
What If You or Your Child Is Concerned About Vaccines?
If your child is afraid of needles or going to the doctor's office, there are ways to acknowledge that fear without compromising health.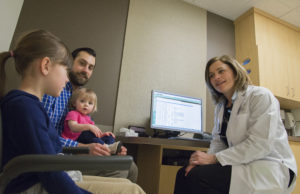 "If children have a fear of vaccines, I would recommend parents talk to their healthcare provider about risks versus benefits and discuss if going on a delayed vaccination schedule would work. Getting some vaccines is better than getting none," Gillespie said.
Although some parents are concerned about adverse reactions, most vaccines have been extensively tested. If side effects occur they tend to be minor, like soreness at the injection site or a mild fever.
Additionally, Gillespie stressed that there is no link between vaccines and autism. "That was a claim that has been debunked and disproven many times since," she said.
If you have concerns about vaccines, talk with your child's healthcare provider.
Don't Underestimate the Flu Shot
Even though the flu is often not a serious illness, it's important to vaccinate children against it. The vaccine reduces the amount of people who get the flu by 50 to 60 percent each year but also offers protection from flu complications.
In Washington state alone, hundreds of people died from the flu during the 2016-2017 flu season.
"A majority of those deaths are in people ages 65 and older, but children are also at risk for flu complications," Gillespie said. "Children who have underlying respiratory illnesses such as asthma or who are immunocompromised are at greater risk and should be given the flu vaccine every year."
HPV Vaccine Most Effective When Given Early
Concerns about the HPV vaccine, which protects against human papilloma virus, are common. The virus causes cervical cancer as well as genital warts and cancers of the mouth, throat, and anus.
Human papillomavirus (HPV) vaccines help protect all children from HPV infection and cancers caused by HPV. It is best to begin the three-dose series of vaccines at age 10. When administered as recommended, the vaccine offers lifetime protection against HPV.
If you have questions about vaccines or are ready to schedule your child's next appointment, visit the UW Neighborhood Olympia Clinic online or call 360-507-9160.
Sponsored