Submitted by the Olympia Food Co-op
Here at the Olympia Food Co-op, we are fortunate to have a staff member who brings delicious goat cheese from their farm. When beginning research on this article, it occurred to me I have never considered where cheese makers get their milk. I soon learned that it is common for the production of cheese to happen far away from the farms. Though, not at the farmstead Steamboat Island Goat Farm. Here, the milk and cheese is produced at the same location.
This farm has been a "one man show" for 12 years, where one person does all the work with the goats: birthing, feeding, bathing, milking, and then, the making and packaging of all the cheese. The goats are Alpines and Saanens, and there is an ebb and flow of around 30 at a time. In the spring, after birthing, there can be up to 60 at the farm. The cheese varieties are Cheddar, Feta and Halloumi. They are all raw, and aged on site.
In 2013, a ThurstonTalk writer visited the farm with a group of kids, and lucky for us, told us all about it. Steamboat Island Farm Connects Kids to Local Food Sources.
This article got me thinking… hey – these goats breathe the air I breathe! They feel the moss, see the cloudy skies, weather the storms, and bask in the rare glimpses of sun…okay…have I gone too far? Perhaps… though, the concept of eating cheese made from milk of a goat living so close to my backyard is rather enticing.
As Steamboat Island Goat Farm's retail sales are exclusive to the Olympia Food Co-op, you can also find this delicious cheese on a pizza at Old School Pizzeria, and sometimes The Mark will have a succulent dish to feature their cheese.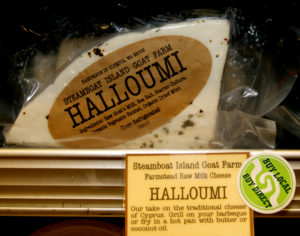 Here are a few more Local and Regional cheese producers to explore…
Beecher's
Located in Pike's Place Market since 2003, Beecher's created a cheese-making sensation with building a facility with glass windows for folks to watch the magic happen.  As he knew well that "the quality of cheese depended upon the quality of milk", he found an excellent source in Duvall. In June of 2011, his award-winning cheese-making process came to New York, complete with a store, café, and restaurant. And, for the New York cheese, he found excellent cows south of Albany to fulfill his determination to remain with local and premium milk sources for his cheese.
Black Sheep Creamery
Family-run, and hand-crafting cheese since 2005, Black Sheep Creamery provides the Co-op with delicious fresh curd bites and a variety of simply delectable cheeses.
At their sheep farm in Adna, they also breed lambs, and prepare wool for knitting and felting. Their production facility in downtown Chehelis is now open to the public, providing cheese and wool sales.
Willapa Hills Creamery
Found on the banks of the Chehalis River, Willapa Hills Creamery uses simple ingredients to achieve local, regional, and national "natural" recognition. The cheese pictured here, the Two Faced Blue, is a blend of sheep and cow's milk.
Folks are welcome to visit their farm! With their "Farm Visit and Immersion Experiences" program, groups of various sizes are welcome for customized visits. And, how about music festivals? Yep. This fall will be their first annual American Roots Autumn Music Series, held in their historic gambrel barn. Would you like eggs with that cheese? Sure! Their farm store is open daily, providing the usual dairy farm products, as well as some other "seasonally available complimentary items for your enjoyment"… hum… wonder what that could be?
And to finish this quick tour of Willapa Hills, this was found on their website… a quote from Anthony Bourdain, "Can I get another little piece of that? That's good, wow! I don't care what kind of hippies made this stuff or even if they are Dave Mathews fans. This stuff is great, I mean really great!"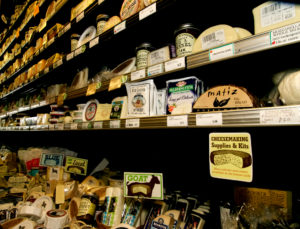 Post Script
The Olympia Food Co-op is now celebrating our 40 year anniversary. We are especially excited that our Local Buying program has remained strong, with the ability to provide a great place for local partners to share their products with the membership. Our Local Buying program is one of the foundations to remain loyal to our mission statement. We have two locations, and both stores are open daily, 8am – 9pm.