By Amy Riggs
Until last year, the idea of making my own goat cheese never crossed my mind…until I helped devour a friend's sizeable homemade batch in mere minutes. It was so good, and it disappeared so quickly, that I couldn't help but be drawn to consider making my own—but within a week, the idea was promptly replaced by a million other priorities.
So, a year later and ever in search of fun opportunities to connect food to local sources for my children, I discovered the Steamboat Island Goat Farm last fall.  With a limited production of goat cheese (feta and cheddar, seasonally and as available) due to the farm's size, Steamboat Island Goat Farm products can be purchased at the westside and eastside locations of the Olympia Food Co-op. All milk from their goats goes into cheese production.
Via email, I asked Jason Drew, owner and chief goat farmer, if he welcomed farm visits by small groups. He said that he did but suggested that the best time to visit was in the spring—prime baby goat season. With that recommendation, I marked my calendar to follow up at the beginning of April. Six months and several emails later, we found an optimal date and our small group (three moms and six kids) made the drive out to the farm.
Located 25 minutes northwest of downtown Olympia off Highway 101, Jason Drew's picturesque farm was immediately welcoming. Replete with a splendid farmhouse, multiple barns, trucks, large trees, happy dogs and several chickens, I heard more than one comment about trading urban living for the benefits of farm life–it just felt good to be there.
Making friends with goats at the Steamboat Island Goat Farm
Jason met us on arrival and began our tour by introducing us to the roughly 14 lady goats he milks twice daily. (Our kids immediately busied themselves with trying to feed the goats handfuls of grass; a few of the goats preferred our sleeves, pant legs and camera straps.) From there, we checked out the milk house and cheese-making room, where Jason explained the processes and patiently answered our many questions. Next, he took us to meet the buck (male goat) in the barn where the goats lived when not in the paddocks. I was surprised by how much larger the male goat was compared to the females. The last stop on the tour was the second barn, which housed the baby goats. Here, our kids enjoyed much more feeding, petting, pant leg nibbling—and even some holding—of wiggly baby goats.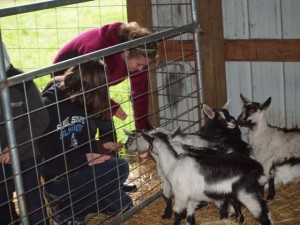 While I initially had hoped that the kids might be able to milk a goat and maybe even make some cheese, Jason explained that this was a working farm and health and safety regulations prevented us from taking part in the processes. As it was, Jason kindly shared nearly two hours of his day showing us around the farm.
Jason Drew knows a lot about goats and milk making. A lot. He was very receptive to and patient with our questions, and he educated us on a wide range of goat- and cheese-related topics. And while the kids did, indeed, grow tired of listening, they never grew tired of watching and feeding the goats, and running around the farm yard.
A fun afternoon was had by all, and it was even worth all the muck the kids carried back into my car from their rubber boots.
I didn't, however, give up on my idea of making goat cheese.
Since we weren't able to make goat cheese at the farm, I armed myself with a rough recipe for making that first heavenly homemade batch as well some online recipes, and headed for the store in search of goat milk. While online discussions reported several people buying it at Trader Joe's, I opted for more local milk from a Rocky Run Farm in Napavine, Washington.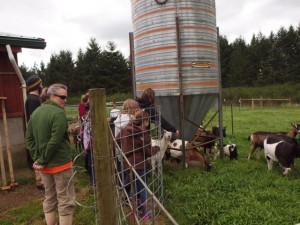 With goat milk in hand, the only other purchase I needed was a couple lemons and some butter muslin (cheesecloth with a finer weave)  to prevent curds from passing through with the whey during the separation stage. The remaining ingredients – garlic, chives, thyme, oregano and salt were either kitchen staples or in my herb garden.
Who would have guessed herbed goat cheese (chevre) could be made from start-to-spread deliciously on warm baguette in less than three hours? The process was so much easier than I ever anticipated, and will be a new favorite meal contribution to dinner parties. View my herbed goat cheese recipe.
Note: A critical step in making goat cheese is to separate the curds from the whey. Other recipes call for rennet as a starter for the cheese, but this recipe is so simple, I am sold on using lemon as an acidic separator.
Steamboat Island Goat Farm
Jason Drew, owner. $5 per child requested. Check out the Steamboat Island Goat Farm Facebook page for contact information.
Products available at the westside and eastside Olympia Food Co-ops.
Local goat milk available at stores around town including Rocky Run Farm in Napavine  at the Oly Co-op, and Twin Oaks Creamery in Chehalis at the Olympia Farmer's Market (get it early—it sells out quickly).