When SOGO performers take The Washington Center stage, a handful of adults join the students. Known as Teaching Artists, these adults guide the students during rehearsals providing expert knowledge about their instrument. They take the stage during concerts as well, playing in the background.
Teaching Artists with Student Orchestras of Greater Olympia (SOGO) have been a part of the organization since its inception. "When students play next to professionals, they can pick up so much more than just being instructed from the front of the orchestra," says Artistic Director, Greg Allison.
"We actually believe the relationship of the student to the Teaching Artist is probably the most significant one in SOGO, although most students also make a very strong connection to the conductor(s), as well," adds Allison.
Meet three SOGO Teaching Artists.
Erica Anderson, Viola
Erica Anderson's musical career started at a young age playing the viola in elementary school. She learned to play music by ear within a couple months and picked up the guitar soon after. Anderson was encouraged to audition for SOGO by her teacher and best friend. Playing in SOGO was Anderson's first experience outside string instruments. "Being in a group with more than 30 players was an amazing experience as a young musician," she says.
After graduating in 2014 from North Thurston High School, Anderson worked with Music Director Greg Allison and viola Teaching Artist Ms. Edge to develop a plan for her continued involvement post graduation. "I play with all three orchestras at each rehearsal and concert. I love to play with the two younger groups of violists, helping to educate them not only in musical technique, but things beyond that, such as orchestral etiquette and ways to simply be a better part of the team," she says.
"I view my role in the Conservatory Orchestra as 'lead by example,'" continues Anderson who states that by the time SOGO players are nearing high school graduation most have figured out the next step on their career path.
"Not every SOGO student continues in music, but the discipline, teamwork skills and love of service to the community can be translated far and wide," shares Anderson. "Seeing our students' successes and triumphs, getting to hear how much they progress from just one rehearsal to the next, and knowing they truly enjoy the time playing in SOGO are amazing things. I get to experience them every week."
Nathan Rødahl, Violin
With parents that were both musicians, Rødahl's destiny was pretty clear to him. "I switched from flute to violin at age 10 for two reasons. First, it is an agile instrument that has the most 'tricks.' Second, it was completely foreign to my parents," he says adding that taking flute lessons from his mother resulted in his "parents butting in my practice time and being overly critical."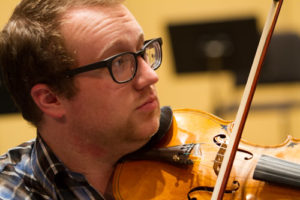 Rødahl's family moved to Olympia in his sophomore year of high school. He was introduced to SOGO by Joe Nardolillo, his Capital High School conductor. "SOGO taught me about the civics of symphony orchestra, how the members of the orchestra must collaborate and come together with the community as an exchange of ideas. SOGO taught me that every musician is important in the ensemble, and success is never achieved at the expense of another," he says.
In his junior year at Pacific Lutheran University, Allison contacted Rødahl, asking him to interview for a position as a Teaching Artist. "I was beyond words to be considered for such an honor," he says stating that he had just returned form playing with country and western bands at the Grand Ole' Opry and around the world. "There was certainly some adjustment to the often unreal experience of becoming peers with many of my childhood mentors."
Rødahl coaches the Debut and Academy violins alongside Lisa Pearson and with Mary Jo Rydholm in the Conservatory orchestra. "My joy in working with SOGO students is much more than any one moment. My greatest joy is perhaps to be part of something so much bigger than myself, and to provide this service of love and knowledge that was passed on to me by my mentors. To serve the community that gave you the opportunities that have led you to your place in adulthood is perhaps one of the most meaningful elements of my adult life," he says.
Casey Felt, Cello
Casey Felt began playing the cello in 4th grade at East Olympia Elementary. "I remember coming home after school and telling my parents I wanted to play the cello. There was a demonstration of all the instruments and the cello stood out to me. The way it sounded and looked drew me in," he says.
As Casey's interest in music progressed in middle school, his parents signed him up for private lessons with Judith Martin. He joined SOGO while he attended Tumwater High School.  He graduated in 2009 and then headed off to Central Washington University where he received a BA in Music Performance.
"Teaching Artists play an important role in SOGO. We provide experience as professional musicians to the students. To be successful in orchestra, students need to be unified with their understanding of the music and what their role is. Teaching Artists help show them how to do that by providing them with the necessary skills needed to play in an orchestra," explains Felt.
"Within my section, I provide feedback to help improve the student's experience at SOGO. I answer questions specific to playing the cello. My role in Debut and Academy orchestras is larger. I provide more feedback on how to practice and understand the music. As student musicians get older, there is more responsibility on their part to know the music and be prepared. I help make sure they are all on the same page and lead by example," Felt adds.
"I love seeing students progress and grow with music. It is rewarding to know that I am a part of that progress," says Felt who offers private lessons and plays with various ensembles across the Pacific Northwest.
Considering SOGO?
Rødahl encourages youth musicians to approach SOGO "for yourself and your future."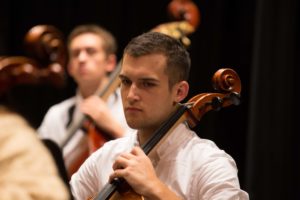 "By joining SOGO you are giving yourself the gift of music, the gift of knowledge, and a community of support that will help you grow and mature as a musician and as a global citizen. SOGO exists not for the best and brightest selected from the few, but for each child who desires to become a better musician," Rødahl says.
"There isn't anything like playing in orchestra," says Felt. "It can be so rewarding and fun. Come try it out."
If you are considering playing in SOGO, Anderson recommends sitting in for a rehearsal to get a taste for how a SOGO rehearsal works. You can also audition in May and receive information about auditions from your school conductor, private teacher or at www.studentorchestras.org.
Attending a SOGO concert is also a great way to familiarize yourself with the organization. Tickets for the March 5, 2017 concert can be purchased here.