Throughout life we often experience waves of highs and lows. When stressful times are upon us, it is important to remember the little pleasures in life that perk us up. Sometimes, something simple and sweet can help the flow of the day. Such is the decadence of donuts.

What else can compare to the alluring smell of fresh fried dough? The donut has been a staple of North American cuisine for years, and there are many variations on this comfort food. Here in the Thurston County the donut is thriving in a few prime locations in Olympia, Lacey, Tumwater and Yelm.  Use the map at the end of this article to find your next donut fix.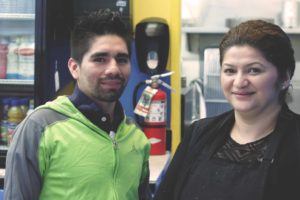 Heavenly Donuts has been operating for nine years in Lacey. Before it became Heavenly Donuts, it was a Winchell's Donuts for 60 years. Even though there was a change of ownership, this donut location is still open 24 hours a day. This is dangerously appealing news for anyone with a case of the late-night munchies. Samuel, owner of Heavenly Donuts, says the fritter is their most sought after donut, but the traditional, glazed, custard and twists have gained popularity in recent years. Coffee and tables are ready for your leisurely donut experience and box deals for to-go donuts are avalable as well. Heavenly Donuts is a deliciously sinful donut experience.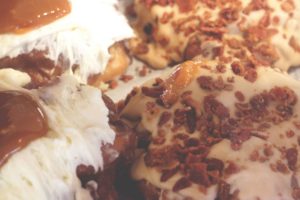 Twister Donuts is located on the Eastside of Olympia and opens its sweet doors at 5:00 a.m. every day. Tony, who has owned the beloved donut shop for nine years, greets every guest with a warm smile and sugary indulgence. Twister Donuts specializes in bacon maple bars so rich you will need their ham and cheese donut to be revived again. The shop also has a convenient drive-thru window for easy, sweet-treat getaways and a second location in Yelm.
Mercato Ristorante is in downtown Olympia next to the Olympia Farmers Market. This little Italian bistro has a tasty secret. Mercato serves up fresh donuts on Saturday and Sunday for their brunch menu. These donuts are simple and great for sharing amongst brunch-loving friends, but most importantly, they are cooked to order. Donuts come to the table hot and drizzled in glistening sugar madness. And where would donuts be without coffee? Mercato also serves espresso drinks for your donut pairing needs.
Doos Donuts opened in 2015, and owners Johnathan and Gloria Joudrey are appealing to all taste buds. Their donut variety has no end, from traditional and jelly-filled to vegan, gluten-free and exotic flavors such as jalapeño bacon, blueberry cream cheese, and peanut butter and chocolate. They also feature festive holiday donuts for Christmas and Valentine's Day. If that is not enough to satisfy a deep sweet tooth, there is also a case of cold ice cream. Doos Donuts will soon be incorporating sandwiches, cupcakes and cookies into their menu with a focus on supporting local bakers. This supreme donut shop is located in West Olympia, a prime location close to work, school, and other businesses.
Our Table is also located in downtown Olympia and is open Thursday through Monday for breakfast and lunch. The owners, Mike Holbein and Brad Thompson, specialize in sourcing all local ingredients and are regular shoppers at the Olympia Farmers Market. Because of their pure and simple mission, they have a fresh, rotating and seasonal menu for Olympia diners to enjoy. The house fritters are a sweet presence during the summer, featuring peach and northwest berry fritters. Their fritters are delicate and the glaze, though not necessary, is a delicious addition. If you are like me and choose to order a second ramekin of the glaze, there will be no judgement, only smiles.
Whether they are for fuel or reward, donuts make a great start or end to the day. And with so many options to choose from, why choose only one?