After almost three decades of helping families and youth in Thurston County and beyond live better, TOGETHER! has made several changes including moving to a new building located at 1520-A Irving Street SW in Tumwater, to better fulfill their mission. "For the health of an organization it's vital that you periodically revaluate," says Meghan Sullivan, Executive Director for TOGETHER!, "It's consistent with our board-adopted strategic plan to check and see if the mission and the vision statements that we have capture and articulate the work that we do or if we need to update them. We decided to update."
In October 2016, the board updated the Mission for the non-profit so that the community could better understand what they do and plan on accomplishing as an organization moving forward. The new Mission is to "advance the health and wellbeing of all young people."
Along with the new Mission, they added Core Values that they will assign to any endeavor they pursue. These are: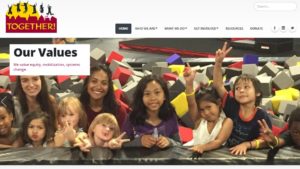 Equity. All people deserve social, health and educational equity.
Mobilization. We mobilize families, school and the community to solve community problems.
Systems Change. We lead and support change across sectors to serve the needs of the whole child.
"This was to make sure we are serving the community the best we can," Sullivan explains.
New Website Launched
Part of TOGETHER!'s strategic plan, adopted in 2015, was to increase public relations and recognition for the programs they are a part of in order to make their presence more known to the community. Over the last year and a half, they worked on updating their website to better serve people through user-friendly menus, clear explanations of what they do, and more up-to-date information and resources. Part of that included having the PDF version of their new Family Resource Guide available to download in Spanish as well as in English.
Along with the update comes a new URL and forthcoming changes to email address. The reason for this change was twofold. The first issue was, Sullivan shared, that many people thought the name of the organization was "ThurstonTOGETHER!" because of the URL. Secondly, they wanted a URL that was not limited to just Thurston County, as the group includes programs and events that reach far beyond the county lines.
"For the past thirty years our focus has been Thurston County and we are not abandoning that," Sullivan says. "But the geographic boundary does not accurately capture the work that we do. For example, we plan a state-wide conference every year that is actually attended by people from all over the Northwest – it's a multi-state event."
In addition, TOGETHER! has done work, either through partnering or direct funding with grants or mini-grants, in Lewis and Mason County as well. "So, we just felt 'Thurston' wasn't accurately portraying who we are," Sullivan adds.
While the old URL still works at the moment, it will be phased out eventually. The new website has launched and is www.WATOGETHER.org, which better describes their reach as an organization.
Broadening Their Focus
While TOGETHER! was originally created to address substance abuse and violence prevention in the community, they have expanded their reach.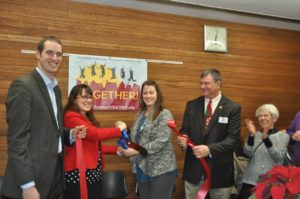 "If you think about prevention as a river, the farther upstream you get the less you are talking the language of preventing substance abuse, violence, drop out, teen pregnancy and juvenile justice involvement and the more you are talking about the science of building healthy, resilient kids," says Sullivan. "That comes from having connection with positive adult role models, a healthy stable home environment, access to nutritious food and health care and transportation to get to school."
While much of their work is still directly preventing substance abuse and violence and is funded by prevention money, they also have new programs geared at addressing those things Sullivan lists above – programs that create healthy, resilient kids. One of these is their Community Schools program which has been running in Tumwater for the last three years. This program is run by employees of TOGETHER! in coordination with schools to ensure every kid has what they need to be successful including basic needs, physical health, mental health, family engagement, enrichment, community service and learning.
Upcoming Events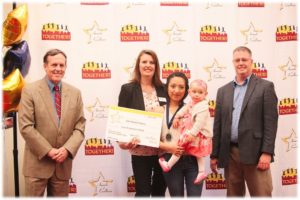 TOGETHER! is excited for Focus on the Future – TOGETHER!, scheduled for April 24 – 27. This is a statewide conference for those in the health and social service fields, including police and educators. They will be offering continuing education credits for educators and prevention and treatment providers and mental health professionals. This year, they have partnered with Evergreen Council on Problem Gambling. Topics will include prevention; community resiliency; advocacy strategies; issues around opioids, tobacco and marijuana in the community; therapeutic justice; housing and homelessness;  gambling and gaming; internet and video game addiction, treatment, and other emerging trends. Registration for this event is open now, and early-bird savings are available through March 31. Past TOGETHER! conference attendees can also benefit from a special "member" discounted rate.
TOGETHER! is also excited for their Awards of Excellence and are looking for youth who have overcome adversity on their educational journey. Schools and community organizations can nominate a deserving youth between the ages of 11 and 20. Nominations are due by March 31. Last year, Aylin Gonzalez-Ramirez, a teen mom, was awarded a one-year scholarship to South Puget Sound Community College. Four other teens received $1,000 awards. This year more scholarships will be available.
For more information or to learn more about TOGETHER!, visit their website or call 360-493-2230.
Sponsored