Olympia's maritime history is as old as language, with Salish people telling tales and weaving memories of the abundance of sea life and waterfront along the coast.

An integral part of that coastal ecosystem are estuaries. An estuary is the place in which salt water and fresh water meet and is a common breeding area and safety zone for salmon and other wildlife. Much like an aquarium, an estuarium is a place to learn more about these amazing creatures and their habitat.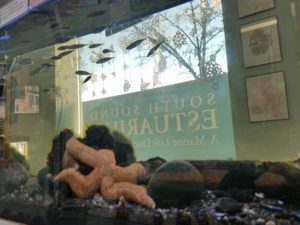 If you are heading west on State Avenue in downtown Olympia, you may have noticed the brightly colored mural depicting an orange sea star, among other estuary inhabitants. This is the location of the South Sound Estuarium, a marine life discovery center featuring aquariums, interactive activities and interpretive exhibits.
The Estuarium is open on weekends, costs only $5 per family and caters to all ages. Puzzle boards and coloring activities are great for little ones, microscopes and a plankton food chain challenge are great for school-age children and in-depth reading and conversation is a draw for adults. And of course, two good-sized tanks highlighting sea stars, crabs, shrimp, anemones, sea cucumbers, chitons, fish, and much more are perfect visual tools for any age. The sea stars are often brought out for a close-up look and gentle touch, and a reading corner allows guests to research further.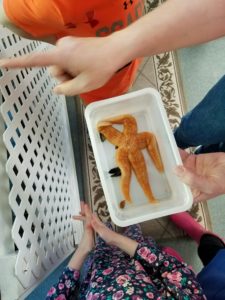 "Children love checking out the animals in our saltwater tanks, and we are continuing to add amazing marine research and conservation books to the new library," explains Sasha Medlen, executive director of the South Sound Estuary Association (SSEA). "Our monthly rotating exhibits ensure everyone learns something new each time they visit the Estuarium."
The natural history collection at the South Sound Estuarium allows you to see everything from chiton shells to shark eyeballs. A movie-viewing room invites visitors to have a seat and watch the often amusing, always educational short videos from area partners.
While the public is encouraged to visit, youth outreach is a big component of the non-profit organization, and they regularly host private tours and field trips. On one recent fieldtrip to the Estuarium, volunteers led one of the City of Olympia's winter camp groups through a series of fun exercises, including a Q & A where stories were told of how and where different animals live in the Puget Sound.
In another part of the building, an incredible hands-on tool awaited the kids — a colorful topographic map. The children were guided through an exercise in pollution and how it affects the Puget Sound by sprinkling household items such as Kool-Aid powder (chemicals) and coffee grounds (animal excrement), to represent waste, on the map. The kids then used spray bottles to mimic rain. The end result gave concrete evidence of pollution, and the group was able to have an educated conversation about process and prevention.
While that activity is not available to weekend visitors, many other activities are. And to get a taste of other ways the SSEA branches into the community, check out Pier Peer Friday nights at Boston Harbor Marina and experience an underwater viewing of Puget Sound's marine life.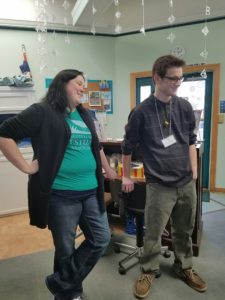 Or, plan to attend the Discovery Speaker Series at LOTT's WET Science Center where speakers cover topics such as Olympia Oysters and Shoreline Armoring. Other partnerships, events and education programs can be found on SSEA's website.
An expansion is on the organization's wish list, and they are always in process of updating exhibits and offering new and exciting educational opportunities. Recent planning discussions include launching a campaign to expand the facility's size and number of exhibits. "We look forward to investigating this possibility in the future and believe a larger Estuarium would be a tremendous asset to our community," says Medlen.
"Our culture, our economy and our environment all depend on a healthy Puget Sound, the second largest estuary in the United States," she continues. "The Estuarium is a place that offers kids, adults and out-of-town visitors an opportunity to make a direct connection with the diversity of Puget Sound's creatures and habitats. Through hands-on education, we hope to encourage stewardship of this unique and special place that defines our community."
South Sound Estuarium is located at 309 State Ave. NE, and is open to the public Saturday and Sunday from 11:00 a.m. – 4:00 p.m. Weekday private tours can be scheduled through the Estuarium manager by calling 360-915-0773.
Thrifty Thurston highlights inexpensive family fun in Thurston County. The weekly series focuses on family-friendly activities throughout our community. If you have a suggestion for a post, send us a note at submit@thurstontalk.com. For more events and to learn what's happening in Olympia, Lacey, Tumwater and the surrounding area, visit our complete event calendar.