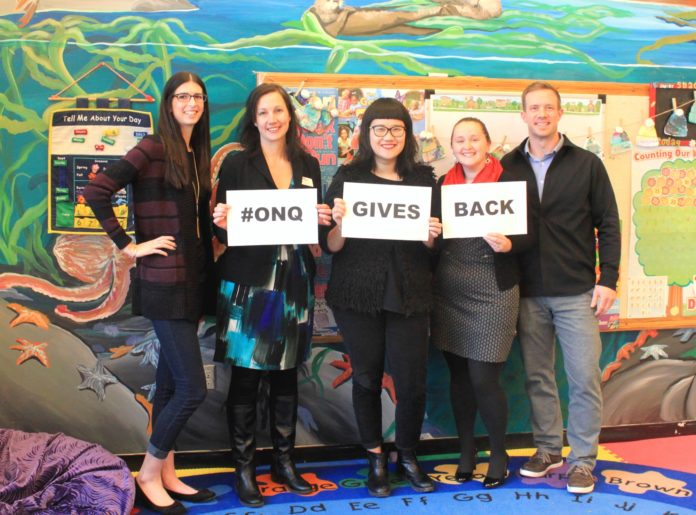 As we move steadily into 2017 there are two local organizations who formed an unexpected relationship through a competition. Chris Johns, Olympia-based mortgage consultant with On Q Financial, recently delivered a surprising $10,000 check to the Family Support Center of South Sound.  Johns secured the generous gift through his company's giving back competition.
"Chris called me out of the blue one day asking if he could stop by for a few minutes to chat. We had never met in person, having only communicated via email about our holiday adoption program," recalls development director, Natalie Moran. "Chris started to explain how he had nominated the Family Support Center for his company's giving back campaign. He shared that we had been selected within the Northwest Division. I remember thinking how cool to be selected for an entire region. Then, he said we would be receiving a $10,000 check. What? $10,000. I was completely shocked. I think my jaw dropped; I was not expecting that at all."
"For a company like On Q Financial to make such a substantial donation to our organization was humbling, and for Chris to explain how he heard about us and believed in our work meant a lot," adds Moran.
Rather than allocate money toward a holiday party, On Q Financial decided to encourage its 800+ employees to participate in a charitable giving contest. Every employee was invited to nominate a charity of their choice for a potential $10,000 award. Ultimately three charities throughout the three company's regions would be selected. The campaign #OnQGivesBack was promoted on the premise "that one of the most amazing things about the holiday season is the sense of community it creates; not only bringing those already close even closer together, but also giving people who don't know each other a shared sense of goodwill."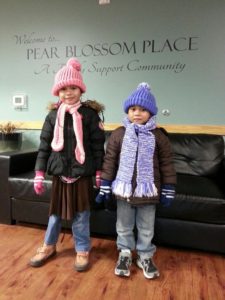 Chris immediately thought of the Family Support Center. He had donated diapers to the Family Support Center and adopted a family during the holidays so was keenly aware of the critical services provided by the Family Support Center in the community and its continuous need for financial support.
"The Family Support Center gives a 'hand up' not hand-outs to single moms, families in need and those down on their luck. My interactions with the Family Support Center have been so positive. It is apparent they are a really good organization with their heart in a good place," explains Johns. "They are rooted in our community as a powerful influencer and positioned to have a big impact."
"I am thrilled that the Family Support Center will be able to serve even more families in our community due to our donation," he adds. "When I got the notification that our nomination for the Family Support Center won, I could not wait to go tell Natalie in person. She had no idea about the contest or that they were even nominated which made it extra special. When I told her she kept staring at me like it was too good to be true. She was blown away."
Now that Natalie and the rest of the crew have had some time to absorb the surprising news, they have thoughtfully designated the donation. "Support from On Q Financial will directly support our Family Resource Services Navigator Program, the only program in our community that serves any family regardless of income, family composition, or type of assistance they are seeking. This program ensures families have everything they need to be strong, healthy, and safe. Families are able to come to one location rather than traveling to multiple locations and telling their story a dozen times to different people."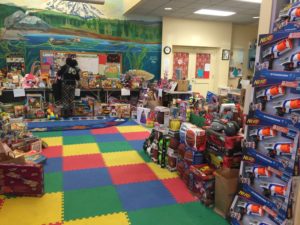 The Family Support Center serves more than 3,700 individuals and children annually. Its programs build upon the strengths of each family while reducing the impacts that poverty, homelessness, and adverse childhood experiences have on children and their families. Programs include Homeless Family Services, Family Support Community (Pear Blossom Place), Family Resource Services, Parent and Child Education, Family Justice Center, and Supervised Visitation for Foster Children.
"Thank you is not enough to say in response to Chris and On Q Financial's generosity," says Moran. "The impact of this donation is huge, and will directly impact families in our community who are in need of support and resources. To think this all started because Chris and his wife wanted to help a local family in need during the holidays."
Visit the Family Support Center of South Sound's website to learn more about their community services or visit the Johns Team website to learn more about their residential home mortgage programs.