If you are looking for a romantic getaway that's conveniently close yet feels like you've left the city far behind, look no further than Hood Canal. A quick half-hour car ride is all it takes from Olympia and just 40 minutes from Tacoma. Once there, you will feel as if you are hundreds of miles away from the crowds, making it the perfect place for a quick trip with your sweetheart on Valentine's Day.
"The area is such an escape from the pace of Olympia, Seattle, or Portland," says Jonathan Schmitt, who assists with marketing for Lucky Dog Casino, NorthFork Grill, Glen Ayr Resort, Waterfront at Potlatch Resort, and Skokomish Park at Lake Cushman. "The natural beauty, wonderment and tranquility of nature surrounds you to create an amazingly refreshing getaway. That, coupled with great food, your significant other, shopping, recreation, adventure … all of that is what makes it a great place to spend Valentine's Day. Or, for that matter, any day."
The drive itself is a pleasant one, just up 101, which curves along the water once you leave the city. Even on cloudy days, it's a beautiful view over the canal. Once in the area, you have many options for activities including continuing the scenic drive up the coast. But, be sure to stop, too, and enjoy the variety of options along the way.
Activities
It may be winter, but the beauty of the area's parks is not diminished by a little rain. Many trails in the area are low enough in elevation to be clear and easily hiked any time of year, shares Jonathan. In addition, the Potlatch State Park has places for cozy fires if you fancy a romantic picnic. A must is stopping, even for just a few minutes, and watching the seagulls as they drop clams from lofty heights to break them open for a snack.
If hiking isn't your thing, Lucky Dog Casino offers entertainment out of the weather with some of the newest games on the market, including Meltdown and Triple Fortune Dragon. In addition, a new promotion is underway called "Las Vegas Getaway Giveaway" where Lucky Dog is giving away trips to Las Vegas.
Cute shops full of antiques, gifts and curiosities (perfect if you forgot to pick up something special for your honey on Valentine's Day) line the highway. Up Highway 101 in Lilliwaup is the famous Hama Hama Seafood Store – a must for seafood lovers.
Another must is the Andy Wilbur-Peterson (Native Art Gallery). Just off Highway 101 on Hurley Hill Road, it's worth the detour. Andy is a renowned artist and member of the Skokomish Tribe who has been carving for over three decades and has a selection for sale at his gallery.
Stottle Wine tasting, in Hoodsport offers a spot to warm up and sample their wines. From there you can head over to the Hoodsport Winery, also right off 101, which has a tasting room with craft cider and beers as well as wine.
Dining
A hot meal awaits at the NorthFork Grill, conveniently located next to the Lucky Dog Casino. The casual atmosphere is perfect for a Valentine's Day at the beach with plenty of options to satisfy. And, the restaurant is separate from the casino for those not looking for gaming.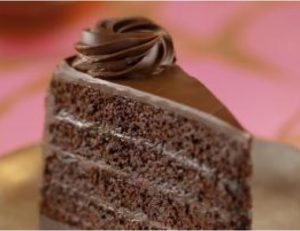 "A lot people don't know, but we have a 100 percent dedicated entrance on the north side of the building, you don't have to access the casino at all," says Jonathan. "It has its own restrooms and is all non-smoking."
On February 14, the NorthFork Grill offers a dinner special with live music. At $75 per couple it includes: choice of ribeye steak or chicken Milanese served with crab-stuffed shrimp, truffle mashed potatoes, asparagus with béarnaise sauce and a "Lovers' Delight Dessert" – a shared plate with a slice of white chocolate raspberry cheesecake and chocolate Fudgy Wudgy. Reservations are recommended and can be made by calling 360-877-5656, ext. 200.
If you are coming the weekend before or after Valentine's Day, the NorthFork Grill has a $9.99 steak and shrimp scampi dinner every Friday from 11:00 a.m. to 9:00 p.m. and a prime rib dinner special every Saturday from 4:00 p.m. to 9:00 p.m. You can get an 8-ounce steak for $12.99 and a 12-ounce for just $16.99.
Where To Stay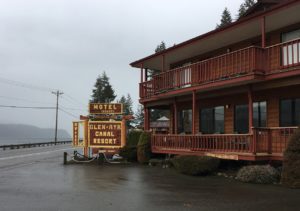 After a full day of wine tasting, hiking, gaming and shopping, it's time to settle in for a romantic evening.
The Lucky Dog Casino has RV sites to stay close to the fun and action. If you are looking for more of a retreat, Glen Ayr Resort has resort rooms, cabins and RV hook-ups. The beautiful, rich, red wood exterior is warm and inviting against the cold sky and they have a 12-person spa house that overlooks the canal – perfect for a chilly February evening. Across the street is a private dock for those staying at Glen Ayr. The resort does have one pet-friendly room. Jonathan says it get booked up quickly though, so reservations in advance are recommended if your Valentine is four-legged.
Finally, the Waterfront at Potlatch sits directly on the canal. You can watch the sunrise over the water from the comfort of your room. The Waterfront offers rooms, cabins and RV hook-ups as well.
Both the Glen Ayr and the Waterfront at Potlatch have a special for lovers. Stay at either resort for $99 on February 14 and receive a free bottle of wine and chocolates. Provide offer code SLVDAY when making your reservations. Reservations can be made by calling 360-877-9522 (Glen Ayr) or 360-877-9422 (Waterfront at Potlatch). Regardless of where you stay and play, there is no doubt you will have a fun, relaxing and love-filled time at Hood Canal.
Sponsored