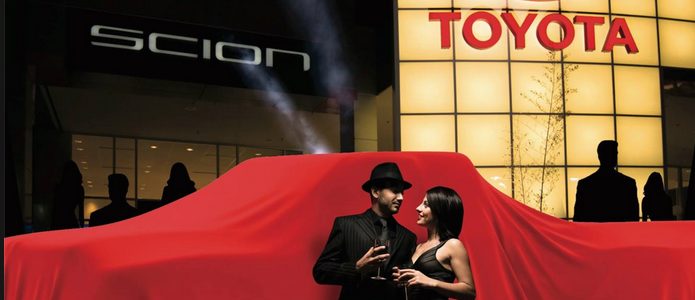 It's that time of year again! I-5 Toyota is hosting their annual Valentine's Wine Mixer to kick of their annual car raffle benefiting local schools. This year's event is on Thursday, February 9 from 6:00 p.m. to 8:30 p.m. at the I-5 Toyota showroom, located at 1950 NW Louisiana Ave, Chehalis. It's the perfect place to take your sweetheart for a night on the town. You can feel good knowing your night out is helping your local youth. That's exactly what makes it dear to the hearts of I-5 Toyota employees.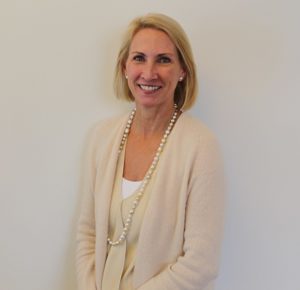 "The car raffle is special because it is a means to raise significant dollars that go 100 percent to our community's youth and the organizations and teams that are important to them," explains Heidi Pehl, Dealer Principal at I-5 Toyota. "For example, the cross country team sold raffle tickets when we first started this because they desperately needed new uniforms and were finally able to get them with the money raised." I-5 Toyota has raised over $400,000 to date for local schools through this fundraiser.
Other teams who benefited include the Centralia basketball team who used the money to play a tournament in Alaska and the Twin Cities Babe Ruth Baseball team who used the money to help them get to their World Series. "We have had every sort of team you can think of – sports, forensic, equestrian, cheerleading, you name it. If it is a community or school sanctioned youth program, they can sell tickets," Heidi adds.
The idea of having a Wine Mixer to kick off the raffle event came about as a result of a movie, The Stepbrothers. Heidi says she was watching it with her family and the Toyota Sales Manager at Christmas nine years ago. As they watched the scene with the Catalina Wine Mixer, they laughed and said I-5 should have one. The idea took off from there.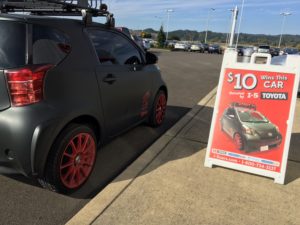 "Our event is not quite the same as that one, but we love the partnership with other local businesses for the fashion show and music. We love treating the car unveiling like a red carpet event and we love supporting our local youth with the car raffle," Heidi adds.
Their event is always the Thursday before Valentine's Day. "The holiday adds a little 'sweetness' to the evening," she says.
The event starts off with free beverages and hors d'oeuvres provided by I-5 Toyota and L&E Bottling from 6:00 p.m. to 6:30 p.m. They do take donations to the charities, however, if you would like to give something for the tasty morsels and tantalizing drinks being provided. Take this time to peruse the silent auction items and bid on your favorites. Some of this year's auction items include guided fishing trips, equipment of all kinds, wine baskets, clothing, jewelry, and local business gift certificates, including restaurants, spa and beauty services. Silent auction items are still being taken and can be donated by businesses or individuals up to the evening of the event. There will also be booths and services from many local area businesses.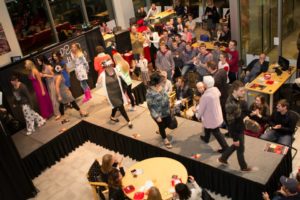 At 6:30 p.m., the organizers unveil this year's raffle vehicle. The vehicle is always 100-percent donated by I-5 Toyota, with no reimbursement from Toyota Motor Company. Last year's vehicle was a cute and sporty Toyota iQ. And in 2015, a lucky raffle ticket owner went home with a Seattle Seahawks themed 2011 lifted Toyota Tundra. Heidi wouldn't give any details on this year's vehicle. She said you have to come to the Mixer if you want to see it. She did say, "It is very exciting and very different than any previous vehicles donated."
Following the red carpet unveiling of the vehicle, guests are treated to a fashion show put on by Gracie's Boutique, Bartels, and Baby Gear! & Maternity. During this time, guests can also continue to bid on auction items or purchase raffle tickets for the vehicle. This event is the first night where tickets are available. They are just $10 and 100 percent of the money goes to the youth programs. At 7:30 p.m., winners are announced for the silent auction, followed by a "Meet & Greet" with the fashion show models.
Raffle tickets are on sale throughout the year at school-sponsored events and at I-5 Toyota. The winning raffle ticket for the vehicle will be drawn at half-time at the Chehalis vs. Centralia High School football game. For more information, visit the I-5 Toyota website.