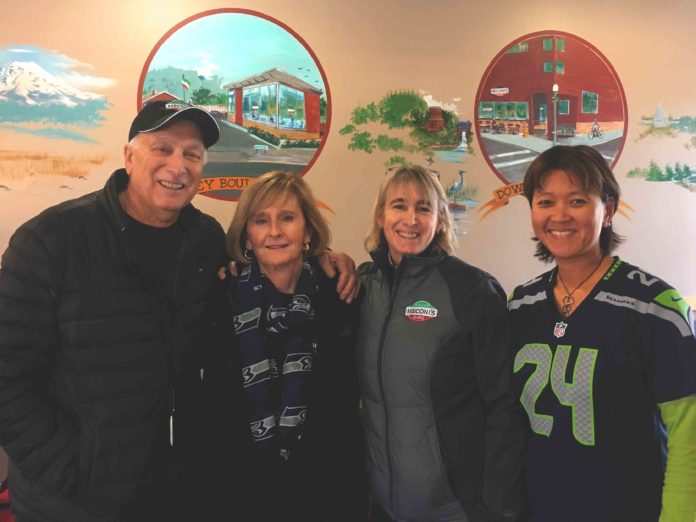 The local legend of the "East Coast Sub" was established in 1986 when Nancy and Wayne Meconi moved to Washington from Pennsylvania. Food can provide a connection and introduction to many opportunities in life. The Meconis were fully prepared to establish this connection in Thurston County. As their locations grew, their story grew as well.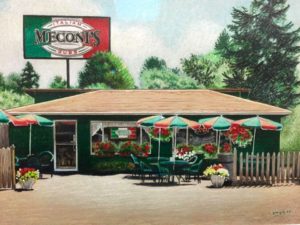 In 1986 Nancy and Wayne Meconi had the opportunity to bring a little slice of home with them to Washington. Missing the east coast specialties they'd loved at home, particularly the hearty East Coast Sub, they had the wild idea to open a sub sandwich shop. As first time business owners, they sought advice from Nancy's brother. "My brother owned a sub shop back east and Wayne flew back, took a crash course and picked their brains to get the info he felt he needed."
Soon Meconi's Italian Subs was up and running inside a remodeled three-car garage in Lacey. "The first day I opened I thought it was going to be really slow because most of the people I talked to didn't know what a 'sub' was. Soon there was a line out the door and I thought 'I'm in trouble,'" chuckles Wayne. They remember that day fondly, as their kids were their very first helpers.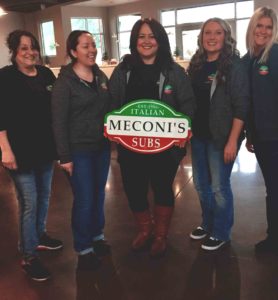 During their first few years, business was good enough to open a second location. In 1993 Meconi's opened their downtown Olympia location on Capitol Way, operated by their daughter, Maria Meconi. "Maria graduated from college and pursued a business degree for a couple of years, then came to us and said she was interested in working for us," Nancy says.
By 2006, the economy was booming and Maria was told that the downtown property owner was planning to tear down the building they were in, forcing them to start looking for a different location. "So we opened a new location in Tumwater, then the recession hit and they didn't tear down the building." This left the Meconi's with a full load balancing the original building in Lacey, the downtown location, and the new Tumwater store.
In 2007 Maria's spouse, Robin Vaughn joined the family business and started managing the Tumwater location. Robin recalls, "We were happy with the three stores until someone approached us with the opportunity to open another store in Hawks Prairie within the new Britton Plaza. Maria and I did a lot of research in the area and decided to take a calculated risk and ended up coming into this building from the ground up."  Maria and Robin opened the fourth location in April of 2013 and when the doors opened it was an immediate success.
In that same year, the flagship Lacey store was torn down and a new building was built on the property to update the facilities and accommodate more customers. The Meconi's son, Doug, now manages the Lacey location. Wayne and Nancy's daughter Michele Meconi-Packard also works in the business as the Bakery and Production Facility Manager. Maria Meconi continues to oversee the Olympia store in addition to being the General Manager of the business.  Robin manages the Tumwater and Hawks Prairie locations and handles the role of Operations Manager for the business. As you can see it really does take a village to run a successful family business.
Through it all, Nancy and Wayne still remain humble. "I think that every compliment and every customer that returns to us, especially when we were voted The South Sound's 'Best Sub', is such an honor. We worked so hard and we didn't expect that [much success and support], and we appreciate it," Nancy remarks.
The Meconi's have received "Best Sub" in the South Sound every year they have participated and some say the secret is in the bread. "We have our own bakery and we make our own bread fresh every day," says Wayne. The chili, meatballs, cookies, and salad dressings are also produced in house, doubling the number of staff they employed four years ago. "You have to keep up with technology but you always want to keep your base core values," Maria says. "We listen to new needs and trends all the time, but we have to maintain our integrity as well," adds Robin.
The Meconi's have a strong work ethic and maintain their local connections to their community. They consistently give back with donations and sponsorships to schools and non-profit community events. They also recognize the importance of buying local and incorporate that into their business as much as possible. "We have been so proud and fortunate to have our family members involved. It's made us even more proud and successful and able to continue," Nancy says.
As for the future and the many wonderful sandwiches it holds, gift cards to any Meconi's location are conveniently available at the Costco in Lacey and Tumwater. Wayne and Nancy Meconi still play a role in the business they founded 31 years ago, yet they look forward to fully passing the torch to the next generation in the near future. They have etched their history in Thurston County and when it comes to community oriented business, they have taught their family well. "Time flies when you're having fun," Wayne says endearingly.
Lacey – 5221 Lacey Blvd.
Olympia – 1018 Capitol Way S. Suite 101
Tumwater – 111 Tumwater Blvd SE
Hawks Prairie – 2527 Marvin Rd NE
Hours: Monday – Friday: 10:00 a.m. – 8:00 p.m.
Saturday: 10:00 a.m. – 7:00 p.m.                                                  Sponsored