When talking about food, people throw around the phrase, "just like mom used to make." In the case of family-run business, Meconi's Italian Subs, it's literally the truth. The Thurston County favorite has a reputation built on quality and of course, their delicious scratch baked bread, made fresh each morning. But it's not just the bread that inspires sub lovers and gourmet foodies alike to sing the praises of this local favorite.
"We make so many of our menu items from scratch and most people don't even realize it," shares general operations manager Robin Vaughn. The recipes for many of these favorites come straight out of the Meconi family kitchen where restaurant founder Wayne Meconi has been cooking for his family for years.
What's on the homemade list? For starters, the store's popular meatballs found in their meatball sub (my husband's absolute favorite menu item). "The meatballs are Wayne's recipe and are made from scratch," shares Vaughn. "They are laborious and time-consuming, but we know doing it this way makes a difference. They are truly a labor of love."
The meatballs are mixed with fresh ingredients in Meconi's production facility in Lacey and hand-formed before being baked. Yes, you read that right. The hundreds of meatballs served each week are made the same way you would make them at home (or the way mom used to). Head baker Callie Robello heads up the team ensuring the freshest ingredients are on hand and Wayne's recipe is followed exactly.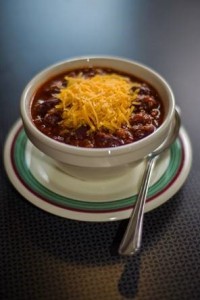 Wayne's recipe is also followed closely for the scratch-made chili. "It's a sweeter chili," explains Vaughn when describing the recipe. And while everyone has their own favorite variety of chili, this is the Meconi family recipe and the store is going to stick with it. Likewise, the chili is made in big batches and sourced out weekly to each location.
"It's a lot to keep up with," Vaughn admits. "But, it's worth it to ensure we are serving the best quality, best tasting food we can. Now that we have grown larger, it would be easier to compromise on that quality and purchase pre-made foods, but we know the value of scratch made food and are committed to keeping it on our menu."
In addition to the meatballs and chili, most of the salads served alongside the famous subs are made by hand. "We make our potato salad, macaroni salad, pasta salad, egg salad and tuna salad all from scratch," Vaughn shares. These are the same recipes used when the store opened and customers love the nostalgic taste of the classic sides. "We are looking to add new salads to the menu soon," she shares. "Maybe something with quinoa or couscous, but also made in house, from scratch."
As I listened to the description of these scratch made items I couldn't help but think of the two to three times a year I make potato salad. I tell myself "never again" after laboring over each hot, peeled potato, shelled and chopped egg, and endless ingredient mixing. Yet, the crew at Meconi's does this week in and week out, and customers keep coming back for more.
If you are among the many green salad devotees at Meconi's, you'll be happy to know their Balsamic Vinaigrette, Raspberry Vinaigrette, and Honey Mustard dressings are all made by hand as well. Despite cheaper and easier options, Meconi's won't compromise.
Do you finish your meal off with one of the Meconi's signature cookies? You guessed it – they are baked fresh from scratch as well. "Snickerdoodles are the most popular by far," says Vaughn although I'm partial to the chocolate chip.
Ok, you say – that's pretty impressive. But, those subs…what makes them taste so good? "Well, it's kind of a secret," admits Vaughn. I probe for more information. "Ok!" she laughs. "It's our Italian Oil. It goes on all of our cold and 'cosmo' subs and it's our secret recipe we make from scratch, but that's all I'm saying." The concoction is made by infusing good quality olive oil with a secret mixture of herbs, spices, and parmesan cheese and comes standard on all subs. "It really sets the flavor profile apart from any other sub you'll find."
Next time I order a sub, a side or a salad at Meconi's I will know why everything tastes so good. Kudos to Meconi's for sticking with quality in a world filled with shortcut options. There are no shortcuts here. It's truly a quality, homemade taste "like mom used to make."
Meconi's has four convenient locations in Thurston County.