Within the moving and storage industry, the staff has an inside joke. "We always say that we're lifers, because once you're in this field, you get hooked," says Ambrea McBride.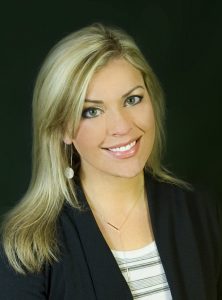 She ought to know. McBride began working for Lacey's Allwest Moving and Storage while still in high school, while planning to earn her K-8 teaching degree. Owner Mark Naubert's son Charlie was one of her classmates, although a few years younger than she was. During the summers when she was attending high school, she came to Allwest to work for Naubert. After graduating high school and attending college online through Washington State University, she came back and worked in the office. Once her Bachelor's Degree was completed, she also served as a substitute teacher three days a week. "Mark was kind enough to let me get my foot in the door by subbing, but after doing it for awhile, I really didn't like it. I was so young that everyone thought I was a student. I felt like a glorified baby sitter," she says.
In her role at Allwest, she would sometimes encounter Charlie, who would come back to work on his breaks from college, helping his father with the family business. "He and his friends would look at me and say, 'Wait. Weren't you our sub at Olympia High School?'" says McBride.
From there, she decided to get a Master's Degree to accompany her teaching certificate, attending a monthly cohort style program through Lesley University based out of Boston and giving birth to her son, now six, along the way. When she graduated with her M.Ed, it seemed like the obvious time to begin a teaching career – except by then, she'd fallen in love with the company. It was too late. She was a lifer.
After making the decision to continue her career at Allwest, she knew it was the right choice. On days she didn't have a babysitter; she brought her baby to work with her in his portable crib, and hasn't looked back. "It really is a family business—Mark takes care of his employees." The decision has provided many opportunities to stretch outside her comfort zone and gain new skills.
"I'm turning 32, and the other day I said to Mark, 'You've known me half my life!'" says McBride. "It's been a very interesting adventure. Mark has been nothing but encouraging and supportive. He calls me his oldest daughter and he's like another dad. Charlie is like a brother. I'm very close with the family."
At first, McBride took care of administrative duties within the office but gradually she began taking on more responsibilities, including some of the company's finances. Then Naubert asked her to branch out into doing pre-move surveys for the military. "We hold different accounts and the Department of Defense is one of them," she says. "It's a federal account and the military pays us based on the weight of the shipment. This was a great opportunity to learn how to estimate the weight of a shipment—a huge factor in moving sales which is what I would eventually be doing down the road."
Allwest also holds the office and industrial contract for the State of Washington, so whenever a state agency or public school district needs to relocate, they do the moving. "The rest is residential," say McBride.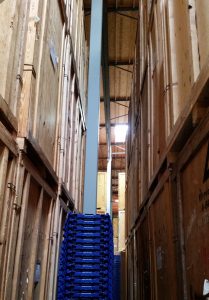 She found her new role intimidating. "My background was teaching and I really didn't know anything about being out in the field in the moving industry," she says. "I was scared, but Mark said, 'Go. You'll be fine.' He's very encouraging. I did it, and learned through trial and error."
A few years later one of the company's salesmen started to consider retirement. "He was so attached to the company that he wasn't quite ready, so we used that as another opportunity for training," says McBride. She began to learn how to bid jobs. "I started to learn more and more, and a lot of it is self-taught. I would get guidance from him but everyone has their own way of doing it."
That salesman eventually retired this year, and now McBride has moved into yet another new field. "I started going out and doing residential sales," she says. "I was really scared and nervous in the beginning, especially because I was out there doing it by myself. There was no one to ask."
Aside from federal and state contracts, Allwest manages many local retirement center accounts. "We do a lot of internal moving when seniors are downsizing," says McBride. "Sometimes we'll store their goods while they're moving into a smaller place." The retired salesman has retained a few of those accounts that he manages from home, but she has become the primary salesperson.
In her current role, McBride says no day is ever the same. "You meet new people every day. Summers are just crazy. Everybody in the transportation industry lives for the summer. The days just fly by and we're going in every direction. The crew is just amazing."
Many members of the crew have been with the company for years. "It's a great place to work," she says. "Mark and Charlie are great bosses. They're fair. We have one mover that's been with the company for 16 years and in general there's a lot of longevity with the people who work here. That says a lot about us."
To learn more about Allwest Moving and Storage, visit allwestmovingandstorage.com or call 800-634-3155 toll-free or 360-943-4990.
Sponsored