Hear ye! Hear ye! It is official, after many months of patiently waiting, Thurston County is happy to celebrate the grand opening of Don Juan's Mexican Kitchen at their second location off Harrison Avenue in West Olympia.
"We are extremely thrilled to bring fresh, authentic Mexican food to Olympia," says Don Juan's general manager Connor Stakelin. "We are all so excited to see it finally happening. I am especially thrilled with the group of staff members that we have hired."
"Our philosophy at Don Juan's is to create a full-service experience for our customers and we hope that they will leave our restaurant feeling like a part of our family," continues Stakelin.
One of the most notable changes with the new location is the size. At nearly 5,000 square feet, the restaurant is spacious and accommodating, with the cantina having its own designated space and entrance. Raw cut wood beams create atmosphere, as do custom features. Handpicked furniture and art that reflect the family's home town complete the look. A connection to the kitchen is also part of the design, with the back wall boasting a window into where the magic happens.
Another huge change will come when the restaurant releases the option to track wait times, and make reservations in advance. Part of the motivation to open the new location was to accommodate the restaurant's huge following, and this thoughtful detail will be a bonus for guests.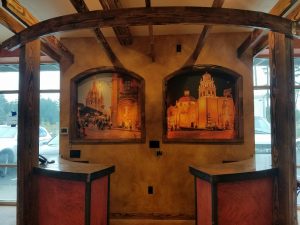 The reason Don Juan's has such a huge following is their fresh-daily dishes and regional authenticity. The menu is inspired by the cuisine of Guanajuato, a central Mexican state north of Mexico City, where Juan's family is from. Executive Chef and Owner, Eva Martinez, who runs the kitchen, will be creating many different nightly specials, highlighting the special sauces and spices of Central Mexico.
Many items will be the same as the beloved Tenino location, with favorites like their signature chunky guacamole and chips. Tinga is also on the menu – a delicious roasted tomato and chipotle sauce served over shredded chicken and onion. At Don Juan's you can also find exquisite 32-ingredient mole sauce. More dietary options, like vegetarian and gluten-free, are on the new menu and Stakelin says Mexican seafood plates will be available soon.
In the cantina, the same fresh flavors are evident in the house-made margaritas, featuring organic margarita mix, organic agave for sweetening, and fresh fruit, as well as 100% blue agave tequila. A full bar, including beer and wine adds to the selection.
"We source many of our ingredients locally and none of the food comes in a can," says Martinez. "It may take a visit or two to get used to our style of cooking, as nothing is Americanized, but we guarantee you will fall in love." (Read more about the family's recipes and food philosophy.)
Owner Juan Martinez agrees, and has always led with the viewpoint of sticking to traditional, authentic Mexican food. "This is real Mexican food. We are certain this is the closest you're going to get to Mexican food other than going to Mexico," he affirms. "We put all our heart and efforts into providing good food for people, and into providing good atmosphere and customer service. We're here to serve."
Pending final inspections, Don Juan's opens on November 8, followed by a Grand Opening celebration weekend starting Friday, November 11, with live music and all-day happy hours through Sunday. Mayor Cheryl Selby will host a ribbon cutting ceremony on November 12 at 11:00 a.m.
Don Juan's Mexican Restaurant
4419 Harrison Ave NW in Olympia
360-688-1497
Hours: Tuesday – Saturday from 12:00 – 10:00 p.m.
Sunday – 12:00 – 9:00 p.m.
Closed Monday
Follow the Olympia location on their new Facebook page: Don Juan's Mexican Restaurant and Cantina.
Sponsored