If I could only use one word to describe Don Juan's Mexican Kitchen, it would be "fresh." Luckily I'm not limited to one word, because there is so much to say about the family-run authentic Mexican restaurant in Tenino.

"We always talked about opening a restaurant, because my mom is such a great cook. Everybody used to say, you need to open a restaurant! When I came back from culinary school we said, let's go for it! And we've had a great response," says Juan Martinez, who studied culinary arts in Mexico and returned to launch Don Juan's Mexican Kitchen with his family. "It's all family. My mom is the head honcho in the kitchen. She is the executive chef. My dad is the PR, and my sister and I do everything else. It's all family working here. Running a restaurant is a new adventure." The restaurant opened in Tenino three years ago and will soon open a second location in West Olympia.
As soon as you take your seat at Don Juan's, they of course bring the requisite and super fresh, chips and salsa. But do yourself a favor, and order the guacamole too. It's chunky, zesty, and super fresh. If you're a new customer your server will bring you samples of Don Juan's specialty sauces.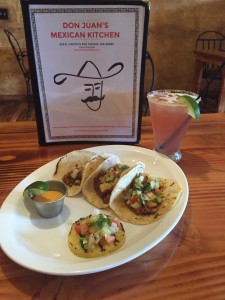 The cuisine at Don Juan's originates in Guanajuato, a central Mexican state north of Mexico City, where Juan's father is from. I ask Juan what the signature dishes of the region, and therefore, the restaurant are. He answers without hesitation: "The sauces – all of the salsa and sauces. The sauces that go into the dishes, and the guacamole, is very different from most other regions."
Two of Don Juan's specialty dishes that highlight these exquisite sauces are the tinga and the mole. Tinga is a delicious roasted tomato and chipotle sauce served over shredded chicken and onion. And the mole is top notch. "The mole is 32 ingredients. We make it every day. Our mole is the traditional mole poblano, and the process of making it is tedious, it takes two hours (everyday) to make."
The chile negro and chile verde also highlight the fantastic sauces and high quality spices of Central Mexico. These dishes are available only on the dinner menu, after 5:00 p.m.
Don Juan's Mexican Kitchen is committed to freshness. "Everything is made fresh daily, nothing comes pre-made, and nothing comes in a can. It's home cooking – it's how we cook at home, to a larger scale," explains Juan.
Don Juan's sources many of their ingredients locally. "All of our meat is from Stewart's Meat Market. When we can get grass-fed, we get grass-fed. Everything is natural, our chicken isn't pumped with antibiotics. Our produce, when we can, we get locally. All our spices come from Mexico. We try to do as much local as possible."
The restaurant uses peanut oil in their fryer, a healthier alternative to vegetable oil and all of the sauces are made with olive oil. "We don't use vegetable oil, or canola oil, or shortening," describes Juan. "We have gluten-free and vegetarian options.
"My mom is a great cook so if someone comes in with a dietary restriction, she'll come up with something to make for them," adds Juan.
This approach to quality ingredients extends to Don Juan's fantastic margaritas. They use organic margarita mix, organic agave for sweetening, and fresh fruit, as well as 100% blue agave tequila. "My bartender is really picky, if I bring in something, by accident, that has corn syrup in it, he throws it in the trash," explains Juan.
Don Juan's has quite a following, with customers making the trip to Tenino from across Thurston County. Dinner reservations, especially on weekends, are a must. "A lot of people say 'Why Tenino?' and we say 'why not?' We choose Tenino because it's such a quaint little town, the community here is awesome. We've become a destination."
But it's a small location, and not everyone wants to wait for a table, Juan explains. So in late March, Don Juan's Mexican Kitchen will open a second location on Harrison Avenue in West Olympia. "We're excited to come to Olympia, we've had a huge response," says Juan.
"We're very excited to start the next chapter in our lives and business, and provide Olympia with good Mexican food." The new location will have all of Don Juan's classic dishes and more. "We're expanding our menu on the Westside, because Mexican seafood is huge. There's a huge variety of different seafood dishes, so we want to introduce that. And we're adding more gluten-free, more vegetarian options and more salads."
The new location will be carefully decorated with handcrafted furniture and indigenous crafts. "We went to a lot of towns where the indigenous people make crafts, and picked up a lot of stuff from there. We had all of our tables, chairs, and booths made by a craftsman. All of the furniture for the new location was handcrafted in Mexico," says Juan. "We pay attention to detail really well. That's what makes it – the authenticity of everything."
"We keep it traditional, and stick to our roots. When we started, the Mexican food that most places sell here is very Americanized, and it took people some time to get used to our cooking," describes Juan.  "That's kind of our philosophy – stick to traditional, authentic Mexican food, don't veer from that. And offering good customer service, making everybody feel at home."
"This is real Mexican food," shares Juan. "This is the closest you're going to get to Mexican food other than going to Mexico. It's our baby. We put all our heart and efforts into this and providing good food for people and good atmosphere and customer service. We're here to serve."
Don Juan's is open for lunch and dinner Tuesday-Sunday in Tenino, and will open in late March in West Olympia. Entrees range from $8-17 dollars and reservations are strongly recommended.
To keep in touch with the latest news, follow Don Juan's Mexican Kitchen's Facebook page.