Rain or shine, the Thurston Bountiful Byway, the scenic back roads of Thurston County, is available for treasure hunting, relaxing, and general poking around. Some people are planners and call ahead. That's time well spent. Others will take off on a whim. That's what I did when I drove the route this fall, during harvest season.
Madsen Family Cellars, in the Hawks Prairie area, isn't far from my home. Rick Hoonan was on hand to do the pouring. His knowledge and long term relationship with wine is evident. "There are people who make wine, and there are winemakers," Hoonan explained. For many years he was a winemaker and now works at Madsen Family Cellars because he appreciates the attention to their craft.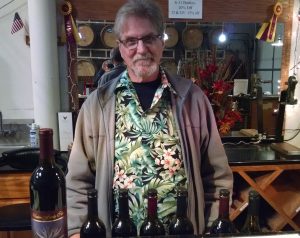 San and Dana Madsen took their own interest of wine and cultivated a business. You'll pay $5 for a tasting, but this is applied to your purchase. In consideration of the inclement weather, I took home a bottle of Lady Macbeth, a fruity explosion with a blend of Merlot, Cabernet Franc, Destiny Ridge Cabernet Sauvignon and Petit Verdot. I could drink it this minute or let time smooth out the slight tartness. According to Noonan, wines evolve in the bottle. Ask him any wine question and he will unpeel layers of knowledge for you.
I was in the wine (not whine) mood and drove a couple of minutes over to Stottle Winery. The weather had kept most people home, so I had owner Josh Stottlemeyer all to myself. He graciously showed me the entire facility complete with the crusher that squished 60,000 pounds of grapes this year, giant silver vats, boxes of wine, and a lab. Their tasting room is comfortable for hosting events. Together we narrowed my choice to a Sangiovese, an Italian red that will make for pleasant drinking before and during my meal. As a winemaker, Josh strives to bring the best out in every grape. Josh said rosé was a classic Thanksgiving wine – or perhaps a lighter red. He is happy to help you with your selections. There is a $9 tasting fee that is applicable to your purchase.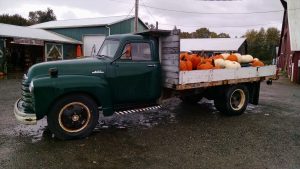 Happy with my purchases, I went down the hill towards the Billy Frank Jr. National Wildlife Refuge but turned towards the Schilter Family Farm. Yes, there is a pumpkin patch and wheelbarrows to help you if you are hoping for a giant sized pumpkin or want to get more than one. Fall Festival is in full swing with many more activities. During the week you and your young ones can explore the corn maze, hay maze, hay pyramid, giant sandbox and more. The weekends have a larger menu of possibilities. Shop in their store for corn stalk decorations, pumpkin carving kits, winter squash and other seasonal goodies.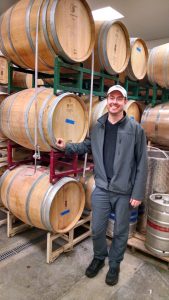 I had hoped to visit Wolf Haven, but it was closed. It's easy to book your visit on line. Undaunted, I thought Tenino would be an excellent stop. It was nearby. I stopped at one of my favorite stores, Ironworks, right on Sussex, the main street. As I was browsing her boutique clothes, a father and son came into the store. They had gone to the Tenino Depot Museum, but found the door locked. According to their book and the sign on the door, it was scheduled to be open. No worries. Storeowner Joyce Worrell made a phone call to Keith Phillips, resident stone carver and member of the Tenino Historical Society. Within minutes he opened his stone-carving shed to show us around and then took the travelers on to the museum. The synchronistic elements of a small town are a delight to behold. "That's why I moved to Tenino," said Philips who has carved numerous facades and signs for area businesses.
On my ride home to Olympia via Tilley Road, I saw the sign for Sandstone Distillery. I checked my phone and it was open. When you turn onto Wright Road it's definitely a rural road, but soon enough there's the sign. Owner John Bourdon was in charge of the tasting room, which was populated by me. A rainy afternoon with the Seahawks on TV kept many home. John regaled me with amazing Tenino history as he showed me photographs on the wall. He has teeth from an old saw teeth, hand made nails, and other fascinating Tenino artifacts. All have excellent stories.
Because of Bourdon's enthusiasm and knowledge, I learned a lot about the distilling process. Much of their machinery is repurposed including from shipping totes. Wood recycled from the barn decorates the walls. All their distilling is done from scratch. They buy their Washington-grown grain and grind it themselves. It's cooked and then mixed with yeast. The carbohydrates have turned to sugars and the fermenting begins. Award winning spirits – white whiskey, bacon-infused whiskey, vodka and gin – are packed with taste sensations. I took home dark whisky for my husband who likes Manhattans and a bottle of a premade cocktail, the Lemon Basil Gimlet. All you have to do it shake and pour.
And in the small world department, the stone sign out front was carved by Keith Phillips, whom I had just met. My visit to Sandstone Distillery was informative, upbeat and just plain fun.
There was barely time for one more stop – Lattin's Country Cider Mill and Farm. The Lattin's farm started in 1956, and encompasses twenty-two acres. Now there are multiple outbuildings along with the store. Admire and feed the critters – goats, rabbits, peacocks and pigs. Use the hand washing station and eat at your lunch on the picnic tables. Guess how many apple fritters they made in 2015? One million. Yes, you might want to go inside the shop to see if there are any fritters left. Consider taking home a pie. Browse the shop for other goodies. Lattin's has events throughout the year.
I've had unexpected pleasures on every trip along the Bountiful Byway. In spite of – or because of – my go-with-the-flow attitude, it was amazing how well it all worked out. Do the amount of planning and preparation that works best for you and your travel companions. Find a map of the Bountiful Byway from the Olympia – Lacey – Tumwater Visitor & Convention Bureau. Don't worry if it's raining. Bring your sunglasses and your umbrella. Happy Trails.
Sponsored