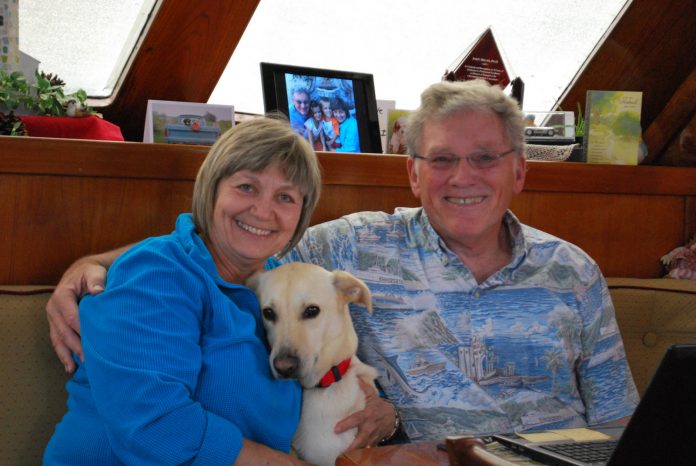 Eastbay Drive affords one of Olympia's most breathtaking views of the Olympic Mountains with the sun sparkling on the Puget Sound and the swaying masts of Swantown Marina and Boatworks in the foreground. At dark, however, an entirely different scene emerges. Among the silhouetted masts are the glowing windows of over 70 families who live-aboard their boats at the Port of Olympia's Swantown Marina.
Among them are the shining lights of Eddy and Becky Miller's boat, Naphtali. Together with their beloved dog Noah, "named after the first live-aboard yachtsman in recorded history," shares Eddy, they have been happily living aboard for over 12 years.
Naphtali is moored at the far end of Swantown Marina's "K" dock. On August 13, 2004 the Millers moved aboard while still living in San Diego, but after seven years in California, the couple was ready for a change. In March of 2011 they shipped Naphtali to Victoria, BC from San Diego on an ocean going freighter. A hired crew navigated the 54-foot Gulf Star 49 Motor Yacht south to Swantown Marina, arriving five days later to meet the Millers who made the journey by car.
Eddy and Becky have been boaters all their lives but had never lived-aboard full-time. In the early 2000s, after the passing of their parents, they traded their 4,000+ square foot home for the 600 square feet of Naphtali. "We were given a lot of advice when we began looking for a boat," remembers Becky, "and the best advice was that we'd be at the dock 90% of the time, so to choose accordingly." They began looking at boats, keeping in mind that it would need to function like a home, not just a vacation spot. "When we saw this boat, we just knew it was our home and we've never seen one we like any better than ours in all the years we've lived aboard," Eddy adds.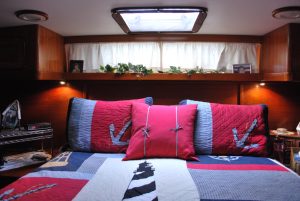 And, Naphtali truly is a home. The boat includes three staterooms, three heads (bathrooms), a salon with glorious wrap around windows, a roomy galley with a full-sized fridge and a large dinette table. The upper fly bridge is fully weather-proofed and houses the boats only steering area. The interior is nearly all wood and exudes a warm, homey feel that the Millers wanted. "We were seeking something that felt more like an old boat ­– a bit more traditional," explains Eddy. The extended dinette, easily seating a dinner for eight, made the boat a perfect match for the Miller's lifestyle.
Prior to moving to Olympia, the Millers spent time at a few other marinas, mostly privately held and both agree that the infrastructure, services and support offered to Swantown tenants is a cut above. "This marina offers us everything we need without some of the 'fluff' that was required in private marinas," says Eddy. "Plus, being owned by the Port of Olympia, there are so many more resources available for security and safety. We feel 100% secure and taken care of here."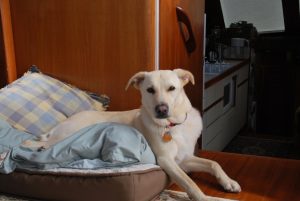 Becky adds, "The grounds are like a park and the landscaping is kept beautifully." In addition, the Millers have found the proximity to downtown Olympia's dining, entertainment and shopping a real plus. While they own a car, the don't often use it, opting to walk or use public transportation much of the time.
When asked what they enjoy most about their life as live-aboards Becky answers quickly. "I enjoy the serenity and peacefulness that comes from being on the water. I look forward to each sunset, when the water goes gold and the wind dies down. The wildlife comes out and we watch the herons fish or fly to their nests in the woods." With a clear view to the Olympic Mountains in one direction, city views backed by the capitol building opposite and a woodsy hillside across Eastbay Drive, there is always something beautiful to see.
Eddy loves the views, but it's the people that make live-aboard life special for him. "The live-aboard community is such an eclectic, interesting collection of people and boating brings them all together. We can share our experiences, pitch-in to help one another and we all know what it's like to live on a boat – something not everyone understands."
And, living on a boat, even one the generous size of the Miller's, requires some creativity. "It's like playing Jenga in every cupboard," laughs Becky, but she has truly mastered the art of pared-down living. "We just have one of everything we need. I have every utensil I need in the kitchen, but I just have one utensil drawer instead of three or four like I would in a house." In addition to crafty storage solutions aboard, the Millers rent a storage unit on land for holiday decorations, seasonal clothing and bulkier items such as sporting equipment. "We rotate things seasonally but we still keep it small," Becky explains.
Living at Swantown Marina has been the perfect fit for the Millers. The infrastructure provided by the Port of Olympia, including laundry facilities, parking, cable and internet, along with weekly pumping service, makes life smooth and the location near the downtown core and at the same time at the gateway to some of the region's best boating, makes Swantown a place the Millers will call home for years to come.
"Eddy and I promised ourselves three things when we started this new lifestyle," says Becky. "We would continue to live-aboard as long as it continued to be safe, fun and the boat didn't come between us. In year 12, we are still going strong, thinking about where to go and what to do next."
To learn more about moorage or living-aboard at Swantown Marina, visit the website or call 360-528-8049.