"Behind every small business, there's a story worth knowing." House Speaker Paul Ryan may not be local but he could easily be describing the 15-year success story of Thurston County's FastSigns and owner Grace Kendall.
Corporate longevity studies show that only 26% of small businesses are still around after 15 years. For those that survive and thrive, customers can trust their ability to adapt, succeed, and provide quality products. Say marketers, "You can't accidentally be in business for 25 years. Obviously, your company has done many things right and has been through a number of transitions more or less successfully—at least they turned out all right in the end even if there were bumps in the road."
Despite changing formats, needs, and product popularity, Grace Kendall has adapted with the industry. A 24-year Army veteran, she purchased the local FastSigns franchise, from the previous owners wishing to relocate, when it was less than two years old. She saw the business as "a good opportunity" with military retirement approaching.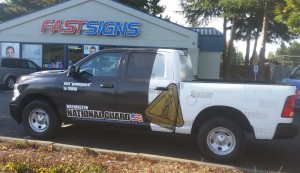 Kendall chose FastSigns because "the franchise name is very well respected; it's always in the top rated franchises." While the industry has shifted into more digital formats and away from traditional cut vinyl signage, she and her team will gladly sit down to discuss any project, need, and the best return on your advertising investment.
These days the "single most effective form of advertisement per dollar" comes from vehicle wraps says Kendall. FastSigns reports that "by advertising on your vehicle, you can generate more than 600 visual impressions for every mile driven, according to the American Trucking Association." Grace moved into a 2,800 square foot location in 2013 specifically to include an automotive bay. Since then, they've completed such projects as a camouflage wrap for a touring USO bus that took 24 man hours.
A veteran herself, Kendall is "very proud" to work on military jobs and has completed signage work on the nearby JBLM campus and wrapped 28 cars for the Washington Army National Guard. They've also tackled projects for Amazon, O'Blarney's, and custom Braille and ADA-compliant room signs for Silver Leaf Residences on Olympia's west side. Grace admits she "really enjoys doing architectural contract work and project management" around the region.
With a small but growing staff, the FastSigns team prides themselves on quick turnaround for any need. Kendall invites anyone to call or stop by so they can "ask lots of questions, determine what you're trying to accomplish, and provide a range of low to high end solutions."
While "getting to the bigger companies to explain all we can do has been a challenge," she stresses that "we're primarily consultants and strive to satisfy the customer's needs and expectations."
Over the years, Grace has come to appreciate local partnerships for advertising and networking. She regularly sponsors ads on television and online news sites, facilitates customer feedback through surveys and direct mailings, and belongs to such organizations as the Thurston County Chamber of Commerce and the Lacey South Sound Chamber of Commerce where she's an active board member.
Most signage jobs can be completed within 48 hours and no request is too big, small, or odd. FastSigns can facilitate business branding, mobile and digital marketing, and event materials ranging from corporate to community. Kendall encourages anyone with questions to call and schedule a time to meet. This "makes it as convenient as possible" for the customer and clears her calendar to focus entirely on their needs and specifics.
You can schedule a consultation online, by calling 360-438-3800, or emailing 322@fastsigns.com. View lists of promotional products, visibility strategies, and completed projects on their local website. Let Grace Kendall and FastSigns' 15-year success story help your company, event, or career succeed as well.
Sponsored