Yes, the Pacific Northwest is a gorgeous corner of creation. But when having—or being—a kid keeps you indoors on soggy or school-less days, cabin fever inevitably sets in.
Finding something to do with restless little ones doesn't have to cost a lot. No matter what time of year, Free Friday Nights at the Hands On Children's Museum are the perfect family outing.

For more than a decade, the HOCM has hosted their Free Friday Night events. Occurring from 5:00 to 9:00 p.m. on the first Friday of every month, the Museum can host anywhere from 900-1,400 visitors in a single evening. Museum Communications Manager Jillian Henze explains that employees are assisted by "15-20 volunteers who help out at each Free Friday Night. Our staff has worked a full work week so volunteers are crucial to our success!"
These blue-apron bedecked volunteers facilitate craft zones throughout the Museum. At the December event, visitors could make polar bear visors and igloos, explore snow science, and get up close and personal with sweater fabrics and how animals stay warm in the winter.
Also available for visitors, the Olympia Timberland Regional Library hosted a craft table and provided information about upcoming library events and activities. The South Sound Reading Foundation participates in every Free Friday Night by giving free books to all children, regardless of reading level.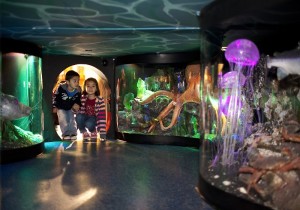 "We raise funds all year to support our free and reduced admission programs and serve more than 75,000 children and their families annually through these programs," stresses Henze.  "We also sponsor about 5,000 students each year for field trip visits from rural and Title I schools in Southwest Washington, offer monthly free parenting programs, and free dental screenings for children each February as well as an extensive discounted admission program to support Military Families."
Arrive early if you want quieter play. There is no charge for on-street parking after 5:00 p.m., but with your free 15 minutes included in every metered street spot, you have time to get the little ones situated.
Or save your pocket change for another day and take the bus to the downtown Olympia Transit Center, only a few short blocks away.
In spring or summer, come early to splash in the cool stream of East Bay Public Plaza. Open from the third weekend in April through the second weekend in October, the Plaza is always fun for a picnic or cooling-off-interlude. On-site changing rooms make coming directly from work or school an easy transition.
Need a snack or light supper before diving into the Museum? Visit the Play Day Café for soup, sandwiches, snacks, milk, juice, coffee, and—most importantly if you're my daughter—popsicles. During the December Free Friday, we enjoyed their $5 HOCM Kid's Basket which included half a grilled cheese sandwich, drink, Pirate Booty or goldfish crackers, carrot sticks, and apple slices.
American philosopher and author Robert Pirsig once said "Boredom always precedes a period of great creativity." Where else can you indulge your children in play, creation, exploration, learning, and Madagascar Hissing Cockroaches absolutely free? Let minds explore (and bodies get nice and tired!) at the next Free Friday Night.
While at the Museum, ask about memberships, hosted birthday parties, holiday and summer camps, the on-site preschool, or other programming options. If you want to explore HOCM but can't attend during a Free Friday night, they also offer free or reduced fees during other community events like Sand in the City or Arts Walk.
Membership packages are available if your kids enjoy all the Museum has to offer. No one is ever turned away because of financial hardship so check out their list of Free and Reduced Programs.
Visit the HOCM on Olympia's waterfront at 414 Jefferson Street NE or give them a call at 360-956-0818 with any questions. Follow their Facebook page for up-to-the-minute details on events, activities, and specials.
Thrifty Thurston highlights inexpensive family fun in Thurston County. The weekly series focuses on family-friendly activities throughout our community. If you have a suggestion for a post, send us a note at submit@thurstontalk.com. For more events and to learn what's happening in Olympia and the surrounding area, visit our complete event calendar.