Forget about it. That could be the team motto of a red-hot Black Hills High School bowling team that's off to an impressive 11-2 start.

Whether Savannah Connell, Sierra Ratcliff, Vivian Jones or Elsa Means bowl a strike or miss a spare, their response was always positive in a recent win against North Thurston. They're always cheering and giving support.
"If you get down on yourself, you don't bowl as well and you get frustrated and you bring everyone else down," Connell said. "It's really important to stay positive and just roll frame by frame."
Their coach, Nikki Winkley, wants them to always be focused on their next roll – not on their missed shot.
"We talk about Dory (from Nimo) every day," said Winkley, who is in her third season as the Wolves bowling coach. "Dory is the fish who has the 10 second memory. When they struggle, I tell them they've got to be Dory. The cool thing is you get 10 frames."
It's been a winning formula. The Wolves have four of the top 25 bowlers in their league, which includes teams from the Evergreen and Narrows Leagues.
"Four in the top 25 is great," Winkley said.
Connell is fourth in the league and leads Black Hills with a 160 average and has a season best 217. Ratcliff is ninth in the league with a 155 average and has a season best 179. Jones' average is 139 and is 21st in the league and Means' average is 137 for 23rd in the league. The Wolves recently took seventh at the Towers Invitational in Tacoma.
"We've got good depth," Winkley said. "It's not just one or two kids carrying us. Everyone is contributing."
To help one of her bowlers shake a slump, Winkley shows them a video of them bowling to help correct a flaw in their form. A video is more descriptive than correcting verbally.
"We slow it down so they can actually see what they're doing," said Winkley, who is also Black Hills' fastpitch coach. "It helps them see what they're doing wrong."
Connell, who didn't start bowling until her freshman year and is now a senior, has improved her average 20 pins from last year. She credits a new purchase – a bowling ball that's one pound heavier than the one she used last year.
"It's allows me to be a little more aggressive," Connell said.
With the support of her team and her coaches, Connell always tries to be positive when she stares down that bowling lane, ready to roll.
"Mental game a big part of it," Connell said.
Handling that mental side of the game is an advantage for the Wolves. They're loaded with brainiacs. For the past two years, Connell has been taking classes at South Puget Sound Community College. Ratcliff has a 3.8 cumulative GPA and is the president of her school's National Honor Society club.
Ratcliffe, who didn't take up bowling until her sophomore year and is now a senior, has also boosted her average nearly 20 pins from last year. She doesn't credit an overhaul of her mechanics. It's a subtle change.
"I would say I've just honed my mental game," Ratcliff said. "I maintain a positive attitude the entire time."
Connell just needs one last credit (English 102) to have enough credits to graduate from high school. She started taking classes at SPSCC last year as a junior.
"I like it a lot," said Connell, who has a 3.8 cumulative GPA. "They're more mature at the college, and everyone who is there wants to be there."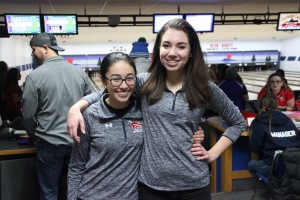 Jones, who is now a junior, is another bowler on her team that's made huge improvements in her average score. In her first year of bowling during her freshman year, Jones averaged about 100. Now, her average is 37 pins better and she's got a season best 155. So, what's improved?
"Probably my experience as a bowler so I can adjust," Jones said. "I know what I need to do to adjust."
Jones is all business when she walks out onto that bowling lane with her bowling ball in hand.
"Her nickname is silent assassin," Ratcliff said with a smile. "It's because she bowls so well and is so silent all the time."
Throughout the season, Winkley has team bonding moments. On Tuesdays at Tumwater Lanes, Black Hills' practice is delayed one hour because of a senior citizen league. Winkley uses that time for her team to study and bond. And there's a third impact. They get to see that power ball isn't the answer to bowling well.
"That's why the senior league is so beneficial," Winkley said. "They roll the ball so slowly. But they put it on the right shot. It's not a matter of how fast you roll it."