By Alyssa Ramsfield
Spring Arts Walk is the official start to a season of downtown Olympia fun. The free, family-friendly event is a highlight in Olympia and is scheduled for Friday, April 24 and Saturday, April 25.  Sculptures, photography, paintings and more will be on display throughout downtown Olympia. Along with viewing beautiful pieces of art comes a variety of activities for the youngest members of our community. With kids in mind, here is a glimpse of this year's unique event.
Procession of the Species
Children of all ages find the annual Procession of the Species to be a wondrous sight. People from around the area participate with pageantry, dance, and music. From the flowing tentacles of an octopus to a life-size giraffe puppet, the natural world is represented for all to see. Procession of the Species begins at 4:30 p.m. rain or shine on Saturday, April 25 and is an event that should not be missed.  Find the route map here so you can stake out your viewing spot.
Chalk in the Streets
Prior to the start of the Procession of the Species, spectators can create unique chalk art. Chalk in the Streets takes place along the Procession of the Species route at 3:30 p.m. This cultural exchange allows for people to draw art based on nature for everyone to see. Sidewalk chalk is provided and artists of all ages are encouraged to share their masterpiece.
Hands On Children's Museum
One of the top spots for the kids to participate in this year's Spring Arts Walk is at the Hands On Children's Museum. The museum will display local art pieces throughout the weekend. Admission is free on Friday, April 24 from 5:00 p.m. – 9:00 p.m. On Saturday, April 25, art tours are available all day with the price of admission. Children will also have the opportunity to create their own art with craft projects including dot art and silk screening.
Olympia's Timberland Regional Library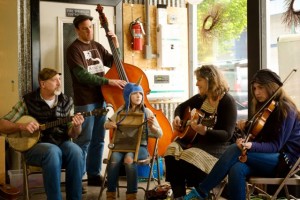 The Olympia branch of the Timberland Regional Library is actively participating in the Spring Arts Walk festivities. Families can stop in to view art from children in our area and enjoy musical performances by Sambalincolnwa, a youth percussion ensemble. Children can also take part in an art project and vote for their favorite Peeps dioramas. All of the Arts Walk entertainment takes place after the library's regular business hours.
Downtown Entertainment
Spring Arts Walk always includes a variety of musical performances throughout the weekend to get every family member dancing and singing. Acts include rock, blues, guitarists, folk, reggae and jazz musicians. There is even a belly dancing show. There are also play performances available for viewing during this time. Pinocchio and Olympia Family Theater and Brady Fowler's Puppet Show are just a few of the family friendly shows taking place. For a complete schedule of entertainment, click here.
Youth Art
Art exhibitions not only include professional artists but also many local youth will be on display as well.  To inspire the youngest artist in your family, stop by Olympia Family Theater to view art from Preschool and Kindergarten students. The Intercity Transit's Olympia Transit Center will display mixed media art from Washington Middle School, Olympia Timberland Library will have paintings from Lincoln Elementary, Propel Insurance will have mixed media from North Thurston Public Schools, and Buck's Fifth Ave will have mixed media from Olympic View Elementary. Your child can even participate in an all community painting event during the weekend called "Come Paint!" at Let's Paint. Their hard work will be presented for all of the community to see.
To explore everything this year's Spring Arts Walk has to offer check out the official site and map here.