The lights are going up, the cocoa is flavored with candy canes and shopping lists are growing with gift ideas for the family. With a movement away from the craziness of Black Friday and toward buying from small businesses, many shoppers in Thurston County are turning to local merchants to find the perfect gifts and holiday décor this season.
Olympia Supply Company, on Columbia Street in downtown Olympia, can help. The over 100-year-old hardware store isn't just a spot to shop for dad and grandpa. With aisles of holiday lights and decorating supplies, gardening gifts galore, shelves of clever housewares and toys and games just for the kids, you may truly have a one-stop shopping experience this holiday.
Office manager Kathy Waltermeyer explains, "We really have so many things to offer that people just don't realize until they browse our shelves." The knowledgeable staff aim to stock the store with hardware basics, serving the DIY needs of its customers, but more than that, they hope shoppers see something unexpected and "just right" when they visit. "We want a wide variety, but we also want the best quality," shares Waltermeyer. "You'll find brands like Radio Flyer, Fiskars, and Weber on our shelves."
Grab your list and compare it to our highlights from the store below. Chances are there is more than one item you can check off with a visit to Olympia Supply Company this holiday season. You'll even see something just right for hard-to-shop-for "Uncle Bob" or the perfect stocking stuffer you've been seeking.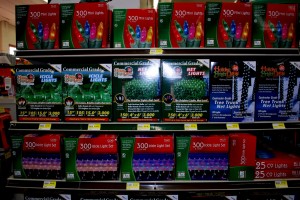 Deck the Halls
Miles of holiday lights and clever outdoor décor can be snagged at great prices in Oly Supply's seasonal section.
Extension cords, wreath hangers, ornament hooks, replacement bulbs, fuses and light clips are just a few of the time-saving gadgets and gizmos stocked during the holidays.
Tippy tree? Grab a sturdy tree stand to hold your holiday centerpiece. Styles available to hold tiny trees up to massive trunks.
Handyman (or woman) Helpers
Hit the hardware aisles to find gadgets to make DIY projects a little smoother like specialty screwdrivers, drill bit sets, clever clamps, or a heavyweight hammer.
Power tools make any project go faster and Oly Supply offers a collection of choices near the front register. My own cordless drill was one of my favorite gifts ever.
Your first pocket knife is a rite of passage. Purchase that first knife, or buy an upgrade, in the Oly Supply knife case.
Grow your Garden Greener
The perfect pruners, a trusty trowel, a gleaming watering can, an attractive hose reel, or a multi-stream hose nozzle are just a few of the fantastic options for the gardening nut on your list.
Gloves galore can be found on the Oly Supply glove wall. From lightweight to heavy-duty, XL sizes to children's gloves, there is a glove for every hand.
Make springtime a little easier with the extensive array of garden tools. Rakes, shovels, pitchforks, and post-hole diggers lining the back wall of the store.
Dress up the deck with Oly Supply's birdfeeders and wind chimes. Just a few of the outdoor décor options making perfect gifts.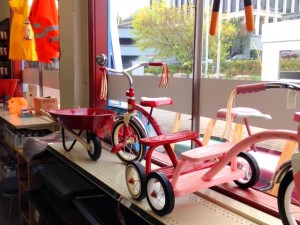 Something for the Kids
Give a holiday classic – the Radio Flyer. Oly Supply carries Radio Flyer trikes, wagons, utility wagons and sleds.
Can you remember getting a big yellow Tonka Truck under the tree? Create this memory again for your child.
Toys for the great outdoors are available including sleds, lawn games and sports gear.
Gadgets abound for the kids, too, including carabiners, bike lights and mini-flashlights. Perfect for their stockings.
Staying Warm and Dry
Battle the elements with Oly Supply's excellent stock of foul weather gear from Dutch Harbor including rain suits and jackets.
Keep the feet warm, too, with a large selection of rubber boots for men, women and children.
Outfit the 12th Man in your life with an Oly Supply special "12" puffy coat.
The whole family will be work ready with Georgia Boot's popular Romeos in men's, women's, and children's sizes and styles.
What's Cooking?
Chefs in the family will flip for high quality Lodge brand cast iron pots and pans.
If a home canning enthusiast is on your list, browse the extensive collection of canning supplies and gadgets including high quality crocks for fermenting (sauerkraut…yum).
Stuff mom's stocking with new kitchen gadgets she didn't even know she needed.
Help dad BBQ in style with new grill tools and accessories, or maybe surprise the whole family with a new grill. "We grill year round, here in the Northwest, so we sell year round," says Waltermeyer.
Olympia Supply is more than just a hardware store. "We are not just a store for dad. We have something for everybody," Waltermeyer says. And if you can't make up your mind, grab an Olympia Supply Gift Card and let your loved ones find just what they need when the time is right.
625 Columbia Street SW in Olympia
360-357-6659