Ingredients for a magical holiday experience:
Mix one inspired, freshly written script with seven skilled actors who can also sing. ("All great voices," added Scot Whitney, Harlequin Production's Managing Artistic Director).
Add in a jukebox's worth of songs from 1959 arranged specifically for the performers.
Find the best band ever.
Keep everything under wraps until opening night.
Then raise the lights on this year's holiday romp The Stardust Christmas Dazzle.
Harlequin Productions has changed the South Sound holiday landscape forever by bringing us the excitement that only real, live theater can offer. It's even family friendly.
Twenty years ago, local playwright Harlowe Reed (some know this person's true identity – others don't) imagined a nightclub in Manhattan called the Stardust Club. It's the holiday season. Schemes and dreams are thick in and among the characters that own, work for and frequent the Club. The first shows took us through the 1940s bringing the sounds, energy and historical realism with music, dance and characters we have grown to love. Being in theater as Scot Whiney explains is "a crazy, wild ride. Anything can happen." He pauses and adds, "It has."
Last year, Stardust crossed the decade into the 50s. This year we find ourselves in 1959. Reed managed to weave in 24 full-length songs plus snippets of several more. Bruce Whitney, Musical Director, adapts all the songs to fit the voices of this year's cast.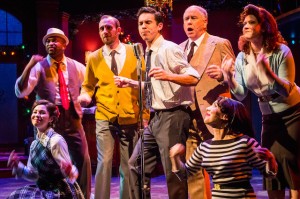 Harlequin veterans Maggie Ferguston-Wagstaffe and Christian Doyle return to manage the Stardust club. They will be aided and abetted by others we have enjoyed on stage: Leah Scofield, Xander Layden, John Serembe, Amy Shephard and DuWayne Andrews, Jr. Talented drummer and band member Andy Garness also appears in the show. Will you spot him?
The entire production is under the careful eye and direction of Linda Whitney, Harlequin's Artistic Director. You can be sure she's seen to the last details.
The show has exceptionally fun elements, Scot Whitney explained. But if I told you ahead of time, what joy would that bring? Here's a tidbit: There are a few original songs and lyrics. Harlowe Reed and Bruce Whitney have been cooking up special numbers for all to enjoy.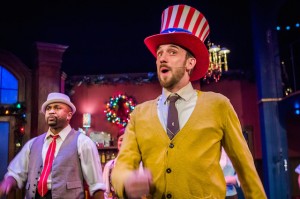 Did you know that Harlequin has tried to use vintage clothes, but the wear and tear of a whole production run is too challenging for the old threads. Some costumes are rented from a specialty business in Ashland; others are created to reflect the era.
Productions don't happen by magic alone. It takes money. Olympia Federal Savings has been a devoted show sponsor for Stardust for twenty years. They also advertise in the program. This year's show is also sponsored by South Sound Wedding & Event Magazine. You can add your support by attending a performance.
Here's one more way to have fun. Buy a few tickets to the giant raffle. This is no ordinary gambit. The Stardust Raffle features seven outstanding packages (each valued at over $1,000) that contain numerous gifts. Local restaurants, businesses and people have donated generously to create fabulous collection of prizes. The final drawing will be on New Year's Eve, but there's a drawing during each show for a smiling-making prize like truffles from The Popinjay, a downtown Olympia gift shop.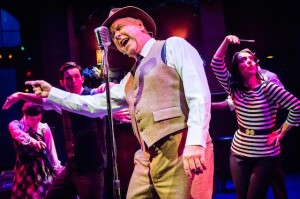 Stardust runs Thursdays – Sundays through December 31, but then that's the end. You'll hope for a longer run, but the next show opens in two short weeks. Single ticket sales are brisker than last year already. Why wait? Add dazzle into your life. Bring a friend and take a trip to 1959. You don't need a time machine, just a ticket and a lift to downtown Olympia.
I've got mine already. See you for a Trop's gourmet brownie at intermission.
Get your tickets right here or by calling the box office at 360-786-0151.  The box office is open Tuesday – Friday from noon – 6:00 p.m.