During her 27 years in the state legislature, Senator Karen Fraser has always been concerned about protecting Capitol Lake and the capitol campus. "In the original plans that the Olmsted brothers created, vistas were supposed to be part of the landscape," she says. "People coming in by boat could see the capitol and people on the campus could see as much as possible without being enclosed by tall buildings."
Thursday, November 19 marked a victory for such vistas as representatives from both the public and private sectors gathered to celebrate the Isthmus Project Demolition and look ahead to a future park. Formerly the site of the Thurston County Department of Health building and the Thurston County Housing Authority, the land on 4th Avenue bordering on Capitol Lake now stands ready for the next step in redevelopment.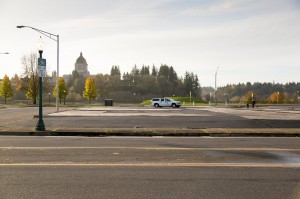 The process began seven years ago, according to Jerry Reilly of the Olympia Capitol Park Foundation.  "Dozens of our fellow citizens set up tables at the Olympia Farmers Market and then went door to door throughout our community, asking Olympia citizens to sign an initiative to study the feasibility of creating a great park on this isthmus," he says.  Five thousand residents signed that initiative and the city council agreed to conduct the study.
The study concluded that such a park was feasible, he says, but only if the city, county, state and community came into partnership. Then, in early 2008 the city council restored the prior zoning limit of 35 feet for any structure. It became available for sale, and the city negotiated a purchase at $3.4 million.
The next step was figuring out what to do with the old buildings. "We went through a process of getting rid of all of the asbestos and the lead pipes," says City Manager Steve Hall.  Then in 2012, Thurston County stepped in with a Conservation Futures grant of $600,000 and in 2013, The Olympia Capitol Park Foundation contributed $100,000, pledging an additional $300,000 toward future projects.
Last December, soldiers from Joint Base Lewis McChord's 555th Engineering Brigade conducted a training exercise that included knocking out interior walls and taking away debris from the buildings. The demolition was completed by crews from WM Dickson Company earlier this month.
With the buildings down, the next question is what to put in their place. In November, Olympia voters supported the creation of a Metropolitan Park District with 60% of the vote. "We appreciate the wonderful support of the people of Olympia," says Reilly. "They're willing to pay additional taxes to support and expand our parks."
No one questions that the site will become some sort of park, says Hall. "It was bought entirely with Park money from the city and county and foundation. Whether it's all grass or will have a small restaurant or a carousel, we don't know yet." Fraser also suggests the possibility of kayak and canoe rentals, or a coffee shop. "There are a lot of things you could do," she says. "It could be a really fine public place."
The next stage will include a community planning process, says Hall, but that's about a year away. "We've just launched a new downtown strategy and we're looking at the future of our downtown, from a transportation standpoint, from a parks and open spaces standpoint, and from an economic development standpoint," he says. "Once we have that framework, we'll start asking what to do with these properties we own and what can happen here to complement that plan."
Some hope that the next stage will include the purchase and demolition of the adjacent nine-story Capitol Center Building, known by locals as the Mistake by the Lake.  "That would probably require another $6 to $10 million of acquisition and demolition," says Hall. "So, what we do with that is really up in the air."
For Olympia Mayor Stephen Buxbaum, partnership is the key. "That's what is important to me to look around today and think about not only who is here, but who is not here and who can be brought in to complete our vision moving forward," says Buxbaum.  "Relationship building is an important part of anything we do in this city. My greatest hope is that we go forward in a way that is meaningful and inclusive and builds on what we've started."