By Lynn West
Canvas Works, downtown Olympia's knitting shop, on the corner of Columbia and Fifth, is a much-loved venue for local knitters and seamstresses. Nothing says fall and winter more than a circle of knitters enjoying each other's company. Every Saturday morning from 10:00 a.m. – 12:00 p.m., a casual group of knitters gather with their patterns and projects. The woolen hats, gloves, socks or wraps they are working on will be most welcome on the cold days ahead.
On a recent cold and rainy fall Saturday, a group of eight knitters, surrounded by shelves of richly colored yarn, welcomed me into their circle. Diane Nelson, who had recently returned to Olympia, was perhaps the most seasoned knitter, but new to the group. "Even after 25 years of knitting off and on, I enjoy the camaraderie and advice these Saturday mornings provide." She added that knitting has become a form of meditation for her.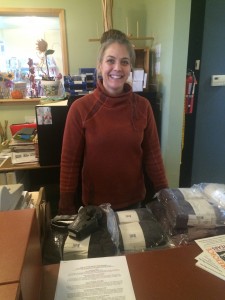 Deidre Ferguson, who has been knitting for 17 years, agreed. "Knitting is my therapy." She held up a pair of beautiful, multi-colored socks, and said, "I call these fraternal socks because they aren't exactly twins, but they are cozy, so I think my daughter will like them." She recently taught her eight-year-old son to knit.
Not all knitters were old-timers. "How long have you been knitting?" I asked Nancy Vander Linden. "Exactly a week," she said. "A friend gave me a gift certificate, and I took the Basic Knitting Class last week. Today, I am finishing my hat," which she then modeled for us.
Just as I was leaving the group, Amy Chartrey walked over from the centrally located sales desk to help one of the women who had gone off track with her stitches. Amy is usually the first person who greets customers, and she is always ready to help.
Asked how long she had worked at Canvas Works, Amy replied, "Since first grade!" Her father, Gary Graybeal, who co-owns the store with his wife, Nancy, agreed. "She has been part of the store since we opened the original Canvas Manufacturing in 1979 down in the red brick building which is now the Wine Loft." Gary, who often works behind the popular coffee bar, continued to give me a bit of a history lesson about the store.
"My wife began the first store focusing on marine fabrics and made sails, boat covers, awnings, and outdoor furniture covers," he said. "We are pretty much out of that part of the business now, but Nancy still makes kites, windsocks and canvas bags," he said.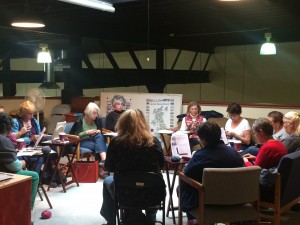 Janey Koester was one of their earliest customers. She recalls that her late husband, Tim, first went to Canvas Works to have a cover made for a helicopter. "We have been good friends ever since. I remember when they bought the building where they are now and have watched the business grow over the years," she recalled.
Amy added to the history, "This building was built shortly after the turn of the 20th century and has so much history itself," she said. Amy pointed to the ceiling in the back of the store. "I think it is fascinating that part of that ceiling came from the Galloping Gertie, the old Tacoma Narrows Bridge that collapsed 75 years ago."
Next time you are weaving through the rounders of fabric or using one of the sewing machines they provide for a nominal fee, look up.
Many Canvas Works' customers appreciate the idea of having a gathering place while others only have a few minutes to "browse and buy." Recently, I saw my neighbor quickly leaving the store with her purchase. Later, Kathleen Rubido told me, "I would love to spend time there. I grab and go. I only make one thing – stocking hats for my son because they have the blend he likes. I really enjoy chatting with Amy though. She is great."
Kathleen sometimes joins a knitting group in our neighborhood when she has time. Another neighbor, Kim Phillips, who has been shopping at Canvas Works since the early 90s, is in that group. "I love Canvas Works because they have high quality yarn, the needles I need, great fabric, and they will always order anything I want." Kim is a generational knitter. "I began as a young teenager. My mom taught me after having learned from her mom, and now my daughter knits as well."
If you are new to knitting, check the Canvas Works website for a class. If you want a fun afternoon, invite friends to join you there for a coffee and a couple of hours of knitting as Janey Koester often does. However, if you are too busy to stay, but need yarn, fabric or notions, then just wander around and shop as long as you wish.
Just think of the warm sense of satisfaction you will have when you put on those new socks or mittens. When complimented, you can say, "I knit them myself!"
Canvas Works
525 Columbia Street NW
Olympia, WA 98501
360-352-4481