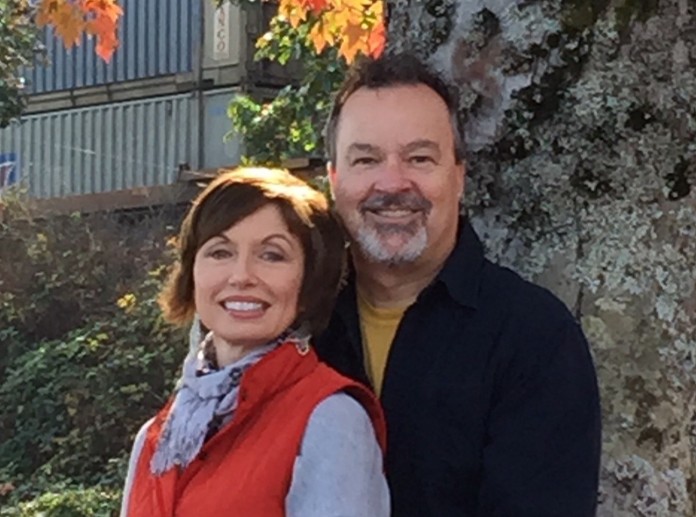 Submitted by Hartley Jewelers
When Russ Gilsdorf proposed to Linda McIntyre, he presented her with a cigar band.
"That's all he had on him," explains Linda, who had inadvertently caught Russ off guard by bringing up marriage while the couple relaxed one evening outside their home. Linda had no idea Russ had been planning to propose to her the following weekend on a trip to Neah Bay.
"Then he said, 'Wait!'" recalls Linda, "and he brought out a ring that he'd been keeping, which he'd found in his late father's belongings."
The Olympia couple believes the ring belonged to Russ' grandmother. It was not in good shape. The delicate, filigreed piece had no stones and a broken shank. But it was clear it had been worn and well-loved.
Russ suggested they take the ring to Hartley Jewelers to see if it could be fixed.
"I knew Hartley Jewelers made their own jewelry," says Linda. "So we looked at their website and they seemed to be a good fit. Also, they're hometown, and we like to shop locally."
Russ and Linda took an instant shine to Hartley Jewelers. "It's a nice feeling when you go in there," says Linda. "Some jewelry stores, you go in and you feel like they really don't care if you're there or not."
The couple worked with jeweler Ashley, who examined the piece and listened to what the couple wanted. The original ring was 18 karat gold, which wouldn't hold up well to the rigors of daily wear. Ashley suggested they build the ring again, adjusting it slightly to make it ideal for Linda.
Working with Ashley, the couple made a few modifications to the design. As Ashley listened and took detailed notes, Linda found herself thinking, 'Well, we'll see.' She'd never had a piece of jewelry custom made and wasn't confident she'd love the final product.
Two weeks later, Ashley had the couple come in to see and try on a wax mold of the new ring, created by Rick Hartley, set with a Chatham ruby and trillion-cut diamonds.
"We were both just amazed," says Linda.
The detail astounded them, and the small ways the new version improved upon the original. "There's even a little design down the shank that had been worn down on the original ring that I never even noticed," says Linda. "Rick also added some beading. It was just beautiful."
Linda raves about the customer service she experienced at Hartley Jewelers. "Ashley knew exactly how to communicate with us and there was just no worrying about it," says Linda. "She ran with it and kept us up-to-date. We couldn't be happier."
When the couple received the call that the ring was ready, they rushed to see the finished piece.
"I was sitting down and Ashley handed me the ring," Linda says. "I was looking at it and Russ, who was standing over me, snapped it out of my fingers." Before Linda could protest that she wasn't quite done looking at it, Russ said, "Somebody's going to put this ring on your finger for the first time, and it's going to be me."
Linda smiles. "He put it on my finger and kissed me and told me he loved me. And it hasn't been off yet."
Meanwhile, the official proposal had already taken place, as originally planned, during the Labor Day weekend spent hiking at Neah Bay, though it did not go off without a hitch. "We went out on the point and stood there for the longest time, but there were just people everywhere that day," Linda says, laughing at the memory. "They just kept coming."
The couple trekked back to their cabin, still only unofficially engaged.
"We went out on the beach later that afternoon, walking the dogs in the pouring rain, and finally he bent over and whispered in my ear," Linda says. "And of course I said yes, because he's just about the most perfect thing I've come across."
The couple is currently working with Hartley Jewelers on a wedding ring for Russ, which will mimic Linda's.
"It can't mirror the art deco-ish style of my ring, but it's a white gold band with beading on the outside edges and a hammered center with a ruby center stone and two diamonds on either side," says Linda. "Russ says we are each a diamond and the ruby is our heart, so I wear his heart and he wears mine."
The couple plans to marry on July 9, 2016.