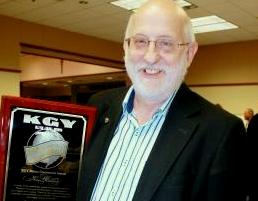 Submitted by KGY Radio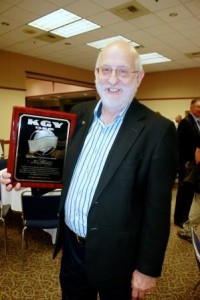 Local politico, commentator, writer, historian and radio host Ken Balsley was honored by 95.3 KGY Radio with their Community Connection Award at the Lacey South Sound Chamber Forum meeting Wednesday afternoon.  For more than 20 years Balsley has provided commentaries and interviews of local decisions makers on "Coffee with Ken".  His guest ranged from Port Commissioners and the Governor to local mayors and councilmen.
"Always prepared and opinionated Ken provided lively interviews and great commentaries over the years," said Jackson Dell Weaver, General Manager of 95.3 KGY. "We felt it was time to honor his contribution to the station and the South Sound Community."  Ken was surprised by the award at the Lacey Chamber meeting and admitted to be speechless.
Ken's interviews can be heard online at KenBalsley.com.
KGY has been operated by the Kerry family since 1939.  KGY 95.3 plays Olympia's Greatest Hits and   KAYO 96.9, is  "South Sound Country" and signed on the air in 1992.