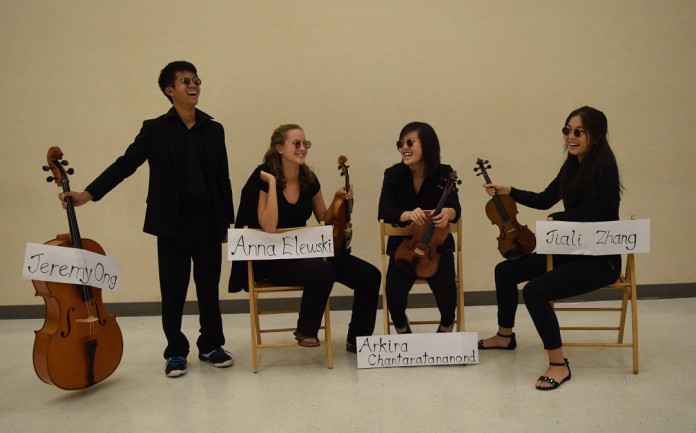 By Kathryn Millhorn
There's no denying the musical legacy of the Beatles. They've sold more than 600 million albums worldwide, recorded the most covered song of all time ('Yesterday'), and enjoyed 1,278 weeks on the Billboard charts…that's almost 25 years total.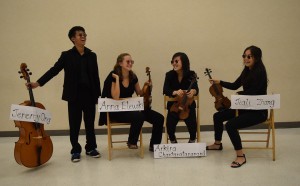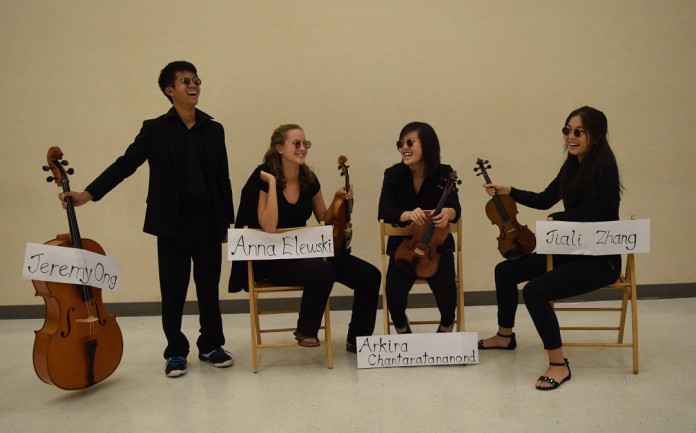 On October 21, The Washington Center for the Performing Arts will host the touring show "In My Life—A Musical Theatre Tribute to the Beatles" for one night only. The show "tells the Fab Four's tale from the unique perspective of their manager, Brian Epstein, who acts as narrator to renowned tribute band Abbey Road's live performance of some 33 Beatles classics."
Joining the show's professional musicians on stage will be four student members of the Olympia High School orchestra. Consisting of students Jiali Zhang, Anna Elewski, Arkira Chantaratananond, and Theodore Jeremy Ong, they will play such classics as 'Eleanor Rigby,' 'Yesterday,' and 'Hey Jude.'
"This opportunity for the students is important for lots of reasons," states OHS Orchestra Director Joseph Dyvig.  "Getting to perform with a tour group that has designed a portion of their program to augment high school students gives them a safe environment where they can experience a professional atmosphere and be involved behind the scenes.
"Also working with their publicity agent allows them to see all that goes into getting an audience: communicating with the agent, creating press photos, answering interview requests. The business side of music is something they don't get to see in school," continues Dyvig.
"Most importantly, though, is the excitement of being able to make music they know and love with people who are making their living playing music," he says.
Participating in this level requires extra effort on the part of these students. Quartet member Jiali Zhang shared that the OHS Chamber Orchestra is an audition-only group which meets at 6:45 a.m. to practice before school. She has been playing the violin for 12 of her 17 years with groups ranging from the OHS Symphony Orchestra to the Chamber Orchestra.
Arkira Chantaratananond also took to music at an early age. Having played viola for more than 8 years, she is now the principal violist of both her school's symphony and chamber orchestras, which placed first at State for the past three years. She's excited for 'In My Life.' "I've never done something like this before," she says.  "I don't have my entire future mapped out but I'm aiming for a dual-degree in Computer Science and Music Performance from a four-year university. I want to do something great in my little corner of the world by inspiring and teaching youth in both of these fields."
Cellist Theodore Jeremy Ong also hopes to make music a lifelong passion. "I enjoy playing with an orchestra; it's a good feeling being part of a group that makes great music together. I hope to continue with music in the future. I want to join a university orchestra and maybe a symphony as an adult." Outside of music, Ong is active in tennis, Math Club, National Honor Society, and is a National AP Scholar.
For violinist Anna Elewski, playing "lets me focus completely on music, and take a break from the daily stress of homework and high school." Like her quartet-mates, she took to music as a child and now plays with the OHS Symphony and Chamber Orchestras, as well as the Tacoma Youth Symphony.
Tickets for 'In My Life' can be purchased online or by visiting The Washington Center box office, located at 512 Washington St SE.  For more questions, call 360-753-8585. This one night performance features more than 30 songs and an evening of "tight harmonies, flawless note for note renditions of Beatles hits, custom-tailored costumes, and precise attention to every detail…[recreating] the magic, music, wit and charm of the Beatles, including the Fab Four's cheeky personalities, familiar onstage banter and patter between songs."
What better way to spend an autumn evening than by supporting local musicians and singing along with the songs you know and love?