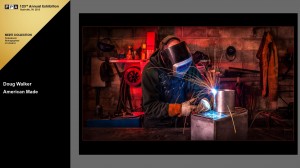 The image that helped Olympia photographer Doug Walker win a Diamond Photographer of the Year Award almost didn't happen.
During a shoot with local agency GCI Marketing for Capital Heating and Cooling, Walker had been photographing members of the staff and craftsmen out in the shop. When done, he packed up his Suburban and was ready to go. While chatting with Dean Schmidtke, owner of Capital Heating and Cooling, inspiration struck. "I said, 'may I go back inside for a bit and work with one of your welders?"
So he unloaded again and went back in. In that time he created his image of welder Dave Westervelt that became a competition image titled 'American Made,' which went on to win the Best of Show award and numerous others at the 2014 Professional Photographers of Washington annual print competition.
Walker then decided to enter the image in the Professional Photographers of America International Photographic Competition (IPC), where images are judged against a standard referred to as the "12 Elements of a Merit Print" where it did well and earned a General Merit. Once merited, it advanced on to the next tier of judging for excellence – loan judging.  The image was not accepted. "They said, 'Although it's a solid image, there are a lot of distracting elements that pull your eye away,'" explains Walker.
For Walker, the challenge was on.  He made a return trip to Capital Heating and Cooling to create a second version – an image with more impact. This time onsite took a different tack, choosing to work an an image of a grinder, grinding metal, giving off sparks.
Once the image was created it was back to the studio for final artwork. This is where the distracting elements were eliminated. The edict: "If an element does not help the image; it hurts it, so remove it," saysWalker. "I streamlined the image, cleaned it up, focused on eye movement with particular focus on the subject and his body language. This image had much less focus on those items in the surrounding areas to compete with the subject which provided for an image with much, much more 'impact.'"
While the process may sound puzzling, it helps to understand a key distinction. "I don't take pictures. I create images," says Walker. "It's not about capturing an image, it's about producing an image with impact, from stem to stern. I control the elements. When I'm doing high end work I take each image and strive to make it better." So, when Walker heard the critiques of 'American Made,' he knew he could reprise the image, and the resulting image titled 'Daily Grind', along with three others were entered into this years Professional Photographers of America's International Photographic Competition – and he walked away with a coveted Diamond Photographer of the Year Award.
Considering that out of 5,200 submissions, a panel of 43 jurors selected just over 2,100 images for the General Collection and 1,085 (roughly 21 percent) for the Loan Collection, Walker having all four of his images selected for the Loan Collection is a rare feat indeed. As a result, he was one of just 35 Diamond Medalists, or 0.006 percent of all print entries in 2015.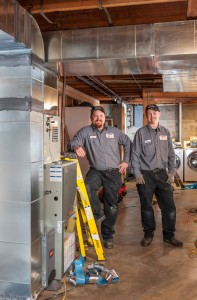 A welcome side effect of the award has been extra exposure for Capital Heating and Cooling. "Images are really important," says Schmidtke. "For a company like ours, we don't sell products that a customer can put their hands on. Even custom sheet metal, they can't look at and touch and feel. Quality images reflect the quality that we hope to pass along when we do our projects."
Walker also appreciates their collaboration. "They're great clients for me and I enjoy their work," he says. "I always ask my clients, 'What is the story of your company?'  When Dean said, 'We've been around a long time,' the wheels started turning. When you craft something in a shop, you don't just find something that was made overseas and throw it on the trash. This image was my way of showing Dean the story of a lost art, in a way."
"I'm just happy we were able to give him the backdrop and the tools to do it," says Schmidtke. "We're really happy with the quality of his work with the images he's done for us."
Walker's photos will appear along with the rest of the Loan Collection images in the Loan Collection book and will be on display at the Georgia World Congress Center in Atlanta, Georgia, from January 10-12, 2016. This International Photographic Exhibit is held in conjunction with Imaging USA, an annual convention and expo for professional photographers and several photographic associations.
For more information about Doug Walker Photography, visit www.walkerphoto.com, call 360-943-1293 or email doug@walkerphoto.com.
For more information about Capital Heating and Cooling, visit www.capitalheatingandcooling.com or call 360-491-7450.