By Gail Wood

What's in a name? Well, if you're a Norman, it's certain to include a little chlorine and water.
The Normans, from Chelsea to Sarah to Ally, have been big-time point getters for the Olympia High School Bears swim team for nearly a decade.
The Norman family has become part of coach Mel Smith's yearly check list at that first practice.
First, there's the counting of the turnout for the Olympia Bears swim team – 40 showed up at that first practice this year, including 19 freshman. Then there's the projection for the potential state qualifiers – the Bears are again loaded with talent. And then there's the Norman count – for the past seven years there's been a Norman on the team.
First there was Chelsea, the oldest of the Normans and a state qualifier who graduated four years ago and is now a senior at the University of Arizona. Last year, there was Sarah and Ally Norman, who were double trouble for opponents. And now, the Bears are down to one – Ally, who is a junior and a two-time state qualifier.
She's living up to the Norman tradition.
"Ally is following in those footsteps," Smith said. "She's probably got district times already in four events."
Last year, as a sophomore, Ally qualified for state in two individual events and two relays – the 200-yard medley relay, the 100 butterfly (58.7), the 100 backstroke (1:02.0) and the 200 freestyle relay.
"She's a very talented young woman," Smith said. "It's exciting to have her doing so well as a junior because we know she'll be back one more year for us."
And it's not just in the pool when Ally excels. With her 3.5 GPA, she's a true definition of student-athlete. Swimming has taught her some life lessons, like learning how to best use her time.
"People ask me what do I do with my time," Ally said before a recent practice. "I say I swim. You really have to enjoy swimming. You have to put in a lot of time and work into it."
Besides swimming on her high school team, Ally's also on the Thurston Olympians Swim Club and swims year around. She'll occasionally squeeze in two workouts in a day during the school season, jumping into the pool at 5:30 a.m. for a one hour workout.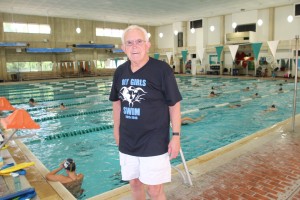 At first, Ally didn't get into swimming just because it was something her sisters were doing. It was therapy. An accident while riding her bicycle got her into the pool when she was six.
"I had broken my leg," Ally said. "I couldn't walk on it too well. So, swimming was kind of a therapy thing."
By the time Ally was 12, she made an important discovery about swimming. Hard work equals faster times.
"When I was 12, all my friends moved up in swimming," Ally said. "And then I realized that I had to start really applying myself to get better. And then I started getting better."
With Sarah just two years older, there developed a healthy sibling rivalry.
"Whenever we'd race I'd always try to beat her," Ally said. "She always wanted to beat me."
Besides her sister, Sarah had an unexpected challenge last year during her senior season. She had surgery to remove an ovarian cyst just before districts, yet she still reached state. It was just another example of that Norman drive.
"Ally has a fantastic work ethic," Smith said. "She has 100 percent attendance. She works hard."
There's some swimming genetics in the Norman family. Their dad, Charles, swam at the University of Arizona.
"Swimming is fun," Ally said. "It's so peaceful when you're under water. And there's people around you and you get to know them really well. It's a lot of fun."
When Ally graduates next year, the Norman tradition won't end. Ally has a younger sister who is 12. And, naturally, she swims.
Besides Ally, the Bears have several other state qualifiers back from last year. Melissa Ward qualified in the 100 freestyle with a 57.2. Other strong swimmers for the Bears include Honour Middleton, Lacey Wright, Naya HansenTilkens, Anya Dickinson, and Michelle Yen.
Gig Harbor, Stadium and Timberline will again be the strong challenges in league.
"We have a lot of kids out and we've got some good depth," said Smith, who is in his ninth season as the Bears coach and 39th overall as a coach. "It's just a matter of working hard and getting faster."