By Alyssa Ramsfield

Like many parents, I have a child who is obsessed with animals. My daughter is constantly interacting with our dog and two cats and she recently showed an interest in getting a fish. There is a lot of responsibility that goes along with being a pet owner and I'm not sure my toddler is ready just yet. However, if your family is ready for a new furry (or scaly) addition, I've compiled some local resources in your pet seeking quest.
When it comes to finding the perfect pet for any Thurston County family, the first place to look should be the local rescues and shelters. Joint Animal Services serves the entire county and hosts a variety of different pets. Dogs, cats, bunnies, hamsters and more can be found here throughout the year.
The major advantage of adopting through Joint Animal Services is that for a small fee, your pet will be spayed or neutered, microchipped, licensed, and receive their first set of immunizations before going home.
Cats cost $62 to $64 and dogs are $77 to $81 no matter the age, breed or gender. Other pet costs vary, but for all animals adopted from Joint Animal Services you are getting a bargain.  Just the cost of the spay or neuter for a "free" pet will exceed the adoption fee.  Plus, you are helping provide a home for an animal who doesn't have one.
Another helpful rescue in our area is Feline Friends. With a focus on cats, volunteers from Thurston and Mason counties help to keep stray cats off the street. Adult cats adopt for $65 and kittens are available for $75. The adoption fees collected help to pay for your cat to be spayed or neutered, receive vaccinations, and get treatment for common parasites.
Concern for Animals is another adoption program located in Olympia and offering services throughout Thurston, Mason and Lewis counties. The non-profit has been helping pets and pet owners in our area for over 34 years. Animals are rescued, cared for until healthy, and then taken to adoption events to find their perfect home. Concern for Animals has adoption events throughout the year across the South Puget Sound.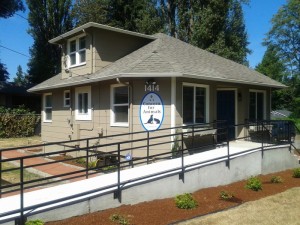 In addition to their adoption services, Concern for animals focuses on helping low-income families with low cost spay and neuter services, a pet food bank, and veterinary assistance for those who qualify.  The group relocated in 2013 to a new, permanent facility, remodeled for free by local builder Rob Rice of Rob Rice Homes.
Rob and his wife Helena are big animal lovers and consistently support the group including sponsorship of their annual fundraising "Toast for Tails" event held this year on November 14. "Concern for Animals is doing great work in our community with the services they offer, such as spaying/neutering for pets, pet food banks and veterinary bill help for families," shares Rice.
Adopt-A-Pet of Shelton consistently has a wide selection of dogs looking for loving homes.  From older dogs to puppies, pomeranians to labradors, Adopt-A-Pet has it all.  The caring shelter volunteers really get to know the dogs ensuring you get a good match.  Watch ThurstonTalk each Monday for their Dog of the Week.
If you can't find the perfect match at a local shelter, downtown Olympia's The Pet Works offers small animals and a plethora of supplies. This store keeps their shelves stocked with locally sourced treats, pet food, and toys. Healthy and happy reptiles, rodents, fish and birds can be found regularly.  With three locations (Astoria, Longview, and Olympia), and over forty years of experience, their knowledgeable staff can help anyone take care of that special, four-legged, finned or feathered family member.
After you have found your perfect pet, you might be looking for a supply store.  Two that specifically focus on cats and dogs are Fluffy & Floyd's, in Tumwater and Bark Avenue in Lacey. These stores specialize in local treats, accessories, and toys. Fluffy & Floyd's offers self-service washing stations, professional grooming and training sessions. Bark Avenue supplies an array of health conscious food to keep your pet in tip-top shape.
Finally, for those of you with pets too large to keep in the house, check out Yelm Farm and Pet. With a slogan "The Poop Starts Here", this is a store with a focus on livestock. From horse shampoo to goat chow, this place covers all of their barnyard basics. It's a great place to find anything your family may need for a pet on the farm.
In Olympia, Eastside Farm and Garden offers an in-town option for livestock supplies, food, and even the occasional barnyard animals, too. Read more about this locally owned business here.
It's easy to find some incredible, local options to find the perfect pet and and all the supplies that needed to make them feel right at home. Now for the hard part, deciding on which pet is just the right one for your family.