Olympia's newest pet paradise makes pet owners happy.  Owner Eric Smith was wooed to downtown Olympia.  His pet store, The Pet Works, is located in the same building that previously housed Olympic Outfitters.  "The building owners got to know us and our business philosophy.  They pushed me into expanding into Olympia and I'm thankful for that nudge," says Smith, crediting the building owners for his move to downtown Olympia.
Smith says that the move has been great for his expansion and the location is a convenient stop in downtown Olympia.  Free, off-street parking makes it easy to swing into The Pet Works to pick up a bag of dog food, grab a tasty can of cat food, or replenish your fish food supply.
All of the animals offered are hand raised by Pacific Northwest individuals and families. They are handled with loving care before coming to The Pet Works.  This means they are ready to be held and loved in their new homes.
The Pet Works philosophy differs from big box pet stores where animals tend to be mass produced then put up for sale. Owner Eric Smith is not your typical pet shop vendor, either. He has spent years in the family business and understands how to make pets happy. "There is so much science and engineering involved in running a pet store. The animals are just so fascinating.  For example, consider what it takes to recreate the habitats to really help the animals thrive instead of just simply being in a cage. The needs of each individual animal are so different – from the lighting to the heat and the habitat itself."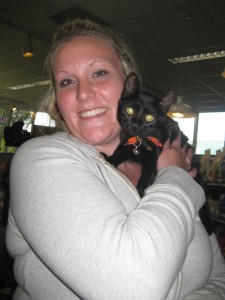 But that's not all there is at The Pet Works. Renovated specially to appeal to animal lovers, The Pet Works is eye candy for any creature enthusiast. Aisle upon aisle of locally sourced pet products are beautifully arranged.
Much of the store's renovation has been locally sourced as well. "The steel base for the aquariums is from Zeigler's Welding and the tubs for the self-wash stalls are custom made by Olympia Sheet Metal." Each item for sale has a story to go with it. "From the Field is Washington grown catnip out of Rainier, and these treats (One Spoiled Dog Treat Company) are made right here in Olympia by a woman named Cathy. We look for local products and people ask for them." It's an example of how The Pet Works strives to keep business locally.
Studies show that people who have pets live longer healthier lives. "You wouldn't believe that you could have a relationship with some animals, but one of our associates talks to our fish," explains Smith with a smile.
Ashley, an associate with the grooming division, is happy to stop and chat about the miniature passenger riding on her shoulder. "This is Sassy, she is six months old and just little. She goes on our boat and walks on a leash." Ashley and Sassy the kitty typify the vibe at The Pet Works, where pets are not just ornaments but are part of people's lives.
As a proprietor, Smith and his associates are not just here to sell pets and products. Instead their goal is to build connections with their patrons. Noticing details about customers, asking questions and really taking time to listen to people's queries and stories is all part of their recipe for success. Local business relationships are equally important. Smith is pleased to see other new venues moving into downtown. With more shops like The Pet Works, Smith envisions a downtown that entices shoppers to walk from storefront to storefront.
The Pet Works' history dates back to 1975. There are three stores (Longview, Astoria, and now Olympia) and keeping the money in each respective location is their formula for success.  "Each location is its own entity," explains Smith. The Longview store, for example, has been around for forty years. It is very old school, mom and pop, hard wood floors and all. The shop has withstood the test of time because it is very connected to the community and the needs of its' patrons.
Smith says that over the years sales reps and customers have encouraged him and his wife to open a full line independent store in downtown Olympia. Careful research was done to ensure that The Pet Works has minimal impact on similar independent businesses, and provide an alternative to the box stores. With a wide variety of products, small animals and services, The Pet Works has thought of it all. It even fosters several animals from Animal Services in hopes that they will be adopted.
If you are curious to see what a happy pet looks like, then check out the scene at downtown Olympia's The Pet Works.
The Pet Works
407 – 4th Ave East in downtown Olympia
360-489-0134
Hours:
Monday – Thursday from 9:00 a.m. – 7:00 p.m.
Friday – Saturday from 9:00 a.m. – 8:00 p.m.
Sunday from 11:00 a.m. – 7:00 p.m.