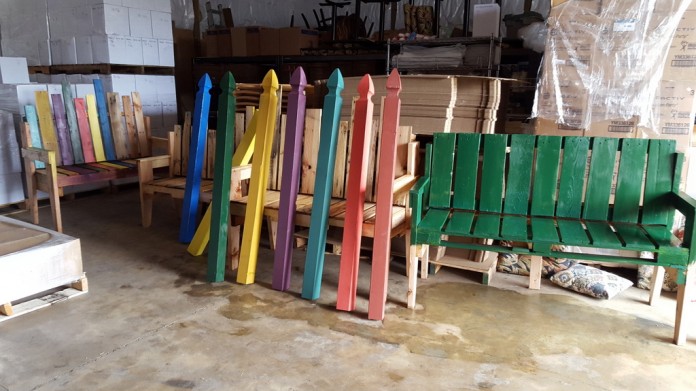 Submitted by Westport Winery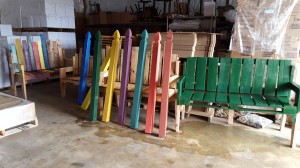 Westport Winery will reveal eight Peace Poles as part of the World Peace Day celebration on Monday, September 21, in their new Beauty From Ashes Garden. Each of the poles includes the phrase "May Peace Prevail On Earth".
With assistance from Cowlitz tribal leader Roy Wilson, the winery has one pole's message translated into the coastal Salish language. This one reads "Kloshe spose kloshe tumtum tolo kopa illahee."
The Peace Pole Project is an effort dedicated to visualizing and praying for world peace. There are thousands of these poles around the world in over 180 countries. This is the largest installation of its kind on the Washington Coast.
Each of the poles in this effort was hand-painted by winery co-owner, Kim Roberts. In creating these poles Roberts has inscribed inspirational quotes in addition to the messages of peace. "I've always gained great wisdom through the words of those who have gone before us." Her favorites include words from John F. Kennedy to Dr. Seuss, and from Steve Jobs to Henry David Thoreau, who said, "It is never too late to give up our prejudices."
This garden's premise comes from a bible verse (Isaiah 61:3) which suggests everyone goes through challenges and sometimes failure in their lives. It is each person's opportunity then to find something positive from that experience.
The garden is a series of circles, each interconnected with the next, including plants and products that have been resurrected from failure. This includes hundreds of yards of bark from the closed Grays Harbor Paper Mill, recycled pallet furniture, a horseshoe sphere, and even nursery plants crushed in the recent wind storm. One sculpture by Beau Finley is carved from soap stone from the Aberdeen High School fire.
Formerly an architect, Roberts said, "As I designed this garden I was constantly considering ways to inspire while using items that had seemingly finished serving their purpose. To me, it's somewhat of a metaphor for what happens to us as we age."
Even the land itself is a lesson in overcoming failure. "We originally planted grapes in this block. Once we recognized they were not the right crop we planted raspberries, which also failed to thrive. In just the year since this area was dedicated to gardens the land has shown that it's the right choice. We really are creating beauty from ashes."
When you visit Westport Winery Garden Resort be sure to explore the unique sculpture garden, lavender labyrinth, musical fence, 9-hole executive golf course, giant chess set, outdoor scrabble game, and grape maze, all located on the corner of Highway 105 and South Arbor Road halfway between Aberdeen and Westport. You will see why four times this has been voted Best of the Northwest Wine Destination.
These award-winning wines are exclusively available at the resort. The tasting room, gift shop, produce market, plant nursery, bakery and gardens, are open daily from 11 a.m. to 6 p.m. The restaurant is open for lunch daily from 11 a.m. to 4 p.m. and for dinner on Friday and Saturday from 4 p.m. to 8 p.m. For more information contact Westport Winery Garden Resort at 360-648-2224 or visit the website at www.westportwinery.com.