Submitted by Drew Freemantle for Maid Perfect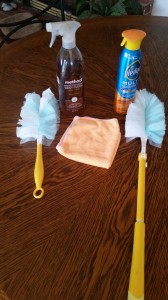 "To dust or not to dust, that is the question". Dusting can become a second priority because of our busy lives in today's society.  It can become challenging sometimes to just get the dishes done and pick up around the house. Yet we remain frustrated because our home is not as clean as we would really like it to be, if we only had the time. So dusting is thrown by the wayside along with a whole other list of things we would like to do.
What is dust?
There are two kinds of dust, indoor and outdoor . Outdoor dust contains just about anything that can be broken down into small bits and transported through the air such as pollen, allergens, sand, dirt and mold spores. Indoor dust contains lint from rugs, pet dander, hair and other household items. Dust gives modern pollutants something to stick to and the average house can accumulate up to 40lbs of dust per year. So dusting is good for your health and also makes your home look great.
What are the tools of the trade?
There are many different  varieties of dusting devices you can use. Here are a few that Maid Perfect uses.
| | |
| --- | --- |
| Dusting Tool | Benefits |
| Microfiber clothes | Designed to hold large amounts of dust, washable, great for general dusting. |
| Swiffers (short & long) | Designed to attract dust, great for hard to reach areas |
| Telescoping dusting poles | Great for tall ceilings, skylights and anything really high up |
| Multi-surface cleaners | Work well for caked on dust |
Is there a correct method for dusting?
At Maid Perfect we recommend to chose the proper tool for the job and dust left to right, top to bottom. By doing this you won't miss anything and it stirs up less dust.
These are the most commonly missed areas when dusting:
Ceiling fans
Lampshades
Blinds
Tops of cabinets
Under nick knacks
Vents
Window tracks
Helpful tips: 
Use furniture oil sparingly because overuse can lead to a buildup and make it difficult to dust later.
Dust about one to two times per month is usually all you need.
Regular dusting of blinds can prevent more work later or even replacement.
Lack of dusting can damage furniture.
Maid Perfect specializes in Residential and Commercial cleaning for the Olympia, Lacey and Tumwater areas we are licensed, insured and all of our employees are background checked. We look forward to helping you. Bids are always free.
Call 360-402-6248 to schedule an appointment or visiti us online at www.maidperfectolympia.com.