When I sat down with Sarah and Greg Lane, owners of Olympia's FirstLight HomeCare, two things came through loud and clear: First, they love Olympia. Second, they feel passionate about making a real difference in people's lives. In February of 2015, after much research and soul-searching, these two driving forces led them to open the Northwest's only FirstLight HomeCare office.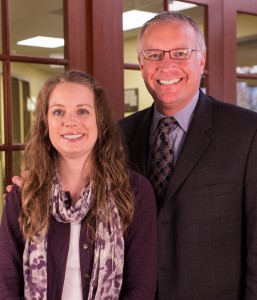 The Lanes are third and fourth generation Olympia residents and can trace their families back to nearly the turn of the century. These two locals are no strangers to serving others. Sarah's first job after graduating from the University of Washington was with Volunteers of America. While she admits she was looking for any job that would pay the bills, her role with the 119-year-old non-profit opened her eyes to what would become her future career. "I worked in the Senior Companion program in downtown Seattle where I matched low-income seniors with active, energetic and mobile seniors for companion placements," recalls Sarah.
The program showed her an area of need she didn't know existed and filled her up in a way she didn't expect. "I went home every day feeling really great about what I did," she shares. The simple act of matching a volunteer to spend time with another person was enough to brighten someone's day. "I knew that I loved it."
Sarah transitioned to working for the State of Washington, where she met her husband, Greg Lane. The two both worked in the Attorney General's office. A few years ago Sarah began to feel the pull to work in a field directly helping people again. "I wanted to find a business opportunity where I could still feel great at the end of the day," she says.
She and Greg landed on FirstLight HomeCare, a franchise style business. "We knew we wanted to start something that provided a service in the community," shares Greg. "Given Sarah's background and positive experience working in this area, FirstLight HomeCare made sense."
"It gives us the best of both worlds," says Sarah. "We are 100 percent locally owned [and ] make all our own decisions, but we have the support of the larger company." And when opening a business, having a roadmap to follow and systems in place is invaluable. "We already had a website available to customize, billing systems in place, a family portal built. Having the backend taken care of allows us to focus on taking care of clients," she explains.
Greg agrees. "The people at FirstLight had the exact same focus that we did. Their highest priority was on the quality of care."
The seeds for this business were planted about eight years ago when the Lanes both had aging family members in their care. "We were trying to find different alternatives for them for care and we didn't even know, then, that home care was an option," Greg shares. "We just considered facilities."
Studies show that 90 percent of aging adults would prefer to stay in their homes, to retain some of their independence, over moving to a care facility. And with many people not needing the skilled nursing care offered in a nursing home or by in-home nurses, home care fills a significant need within our community.
So, what is home care? "FirstLight HomeCare provides non-medical care that falls into two general categories: companion care and personal care," explains Sarah. "Personal care includes more hands-on things like grooming, bathing and using the bathroom. Companion care is more hands-off," she continues. Light housekeeping, general companionship, laundry, transportation and meal preparation are all examples of services included in companion care.
And although many care agencies require a minimum of three hours per visit, FirstLight HomeCare can arrange for unique options such as a one-hour bath visit. "If someone is recovering from surgery, for example, and just needs help with a shower, we aren't going to make them pay us to stay in their home for three hours," says Sarah.
FirstLight HomeCare offers other services that might come as a surprise. Temporary care after injury or surgery is common for clients of all ages. Respite care is popular with families who may serve as the primary caregiver, but are planning a vacation or just need a bit of a break. Travel companion services are also an option, offering a companion for a family member needing assistance during a trip or a travel partner for grandma who is determined to take one more cruise.
"One thing that really sets us apart is the extra training we provide our caregivers on dementia care," shares Director of Community Outreach, Arianna Hutchings. "Nationally, FirstLight has found that about 80 percent of clients need some sort of memory care during their lives." The Lanes focus on comprehensive training to meet these needs.
"We also have really high standards for who we hire," continues Sarah. Not only do applicants undergo a rigorous background check, but they also complete a personality analysis to ensure they are a good match for the client. "We know they are on the front lines with our clients and we want to send out the best caregivers we can."
Ultimately, says Sarah, it comes down to one question, "Would I leave this person with my parents?" If her answer is anything but a resounding "Yes," the person doesn't get hired.
And, the careful selection of employees has resulted in a low 8-percent turnover rate at FirstLight — a big difference from the 80-percent turnover rate in the home care industry nationally.
"It feels so good to be a part of Thurston County where we support seniors in the community, focusing on giving the best care possible with the highest level of standard," says Hutchings.
To learn more about FirstLight HomeCare visit FirstLight HomeCare online or call them at 360-489-1621.