By Katie Doolittle  
"To me, pageantry is about more than the glitz and glamor you see promoted on television."
Lizzi Jackson, our current Miss Washington, speaks with authority. After all, she competed in her first pageant at the tender age of 12. This was also the year that she built her own robot and started learning Japanese — self-challenges, incidentally, inspired by her love of anime.
Part of Lizzi's appeal is that she embraces her geekiness with gusto. She relishes busting the myth that "'pageant girls and comics don't mix." In fact, Lizzi used Wonder Woman as an outlet to explain to state-level pageant judges that she's not afraid to be herself. "It started as just a little fun fact I put in my paperwork," she says, "and it turned into this movement, almost unexpectedly. I get asked to go to appearances wearing my Wonder Woman costume."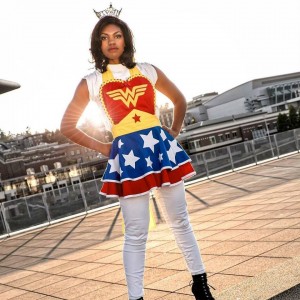 Clearly, Lizzi is not your average beauty queen.
Yet in talking to her, it becomes immediately obvious that there's more to the whole pageant system than typically meets the eye. The other participants are not just her competition. They're also her compatriots, women Lizzi admires for being genuine, intelligent and dedicated. In fact, she is grateful to everyone involved in the pageant system for "always being there to lend a shoulder, a hand, or an ear when I need it."
For Lizzi, the pageant world is about "the life lessons and skills you gain in the competition. It's about the connections you make with businesses, community leaders, and legislators when championing your cause, and finally, it's about growing into this person you always had the potential to be."
What's more, when Lizzi was crowned Miss Washington on July 4 of this year, she earned $11,000 in scholarship aid. That's right. Thanks to the pageant system, there's zero educational debt clouding this young woman's promising future.
Lizzi, a Lacey local, has always valued education. As a student at River Ridge High School, she took advantage of the Running Start program offered through South Puget Sound Community College. When Lizzi graduated high school in 2010, she had a high school diploma and an associates degree. Now a graduate of Western Washington University with a double major in Marketing and Management Information Systems, Lizzi certainly hasn't forgotten her roots.
"Lacey has always had a small-town vibe with big city opportunity. This city is so open-minded. Growing up, I was grateful to be surrounded by people who looked at me for me, and not just the stereotypes that came with my skin color."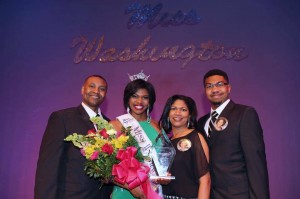 On September 13, Lizzi will compete at the national level for the Miss America crown. Certainly it's an amazing opportunity, but Lizzi is even more excited about her upcoming year engaging in community service.
In addition to serving as a goodwill ambassador for Children's Miracle Network Hospitals, Lizzi will continue to advocate for her passion: mentorship. Specifically, she hopes to build more support for at-risk youth. Having been both a mentor and a mentee, Jackson knows first-hand that building these kind of relationships is good for both the children and community mentors involved. "I believe every person has the potential to leave an impact on this world; but it is our job as mentors to help them realize it."
Lizzi's mother, Dee, believes wholeheartedly in her daughter's ability to motivate younger generations to follow their dreams. "She wants to plant the seeds of hope that they can accomplish what they perceive as impossible," says Dee. Lizzi's mother describes her daughter's tireless visits to schools, youth groups and various community organizations. She recounts Lizzi's desire to help on an individual level as well, citing an occasion when she repeatedly read and critiqued a high school student's college admissions essay. (The student, by the way, got into her top choice school.)
Dee says Lizzi doesn't let any circumstances stop her from achieving her goals. "Even if she fails," says Dee, "her perception is that it's a learning experience. Her 'never quit' and 'can do' attitude is what she brings to Miss Washington."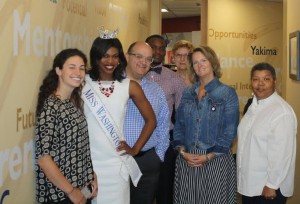 Onaleisha Petty, Lizzi's longtime friend and college roommate, concurs. "She will always be the type of person to chase her dreams and refuses to let others not realize theirs. Miss Washington gained a strong role model the night she was crowned."
Social media users have a chance to help Lizzi achieve her dream of reaching the Miss America semi-finals. Vote for her daily on Facebook and Twitter using the phrase: Washington#MissAmericaVote. Please note that, for Facebook votes to count, they must be original posts set to the public viewing.
Finally, don't miss your chance to cheer for Lizzi during the 2016 Miss America Pageant. It airs at 9:00 p.m. on ABC, September 13. Check out Lizzi's public Facebook page or website for more details.
Photo credit: Bill Higdon of Select Photography.