By Alyssa Ramsfield
The sun beats down on Heritage Park, the sound of joyous, thrill-seeking screams echo downtown, and the smell of freshly fried corn dogs fills the air. These are just a few of the signs that every Thurston County resident knows happens during Lakefair.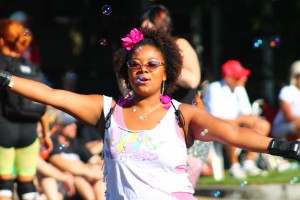 This year's Lakefair is held in downtown Olympia beginning on Wednesday, July 15.  The action concludes with a massive fireworks show on Sunday, July 19.
The annual fair is a summer standard in our community, but the food, rides, and entertainment costs can really add up. Let's take a look at how to enjoy this crowd pleasing event without breaking the bank.
Food
The main reason my family attends Lakefair is for the food. The variety is spectacular and the vendors are non-profit organizations which means the money is going to a worthy cause. The only real problem is how can you try it all without spending all of your hard earned cash?
The key to Lakefair eating success is dining family style. There is BBQ, gumbo, burgers, seafood and more on this year's menu. If you want to enjoy a variety of flavors and support multiple causes, try buying one or two items at the vendors you are interested in, cut it up into smaller portions and let the whole family dig in. This way, you can try a little bit of everything without having to buy every family member their own entrée. This method is especially practical during lunch time when the lines are a little shorter than the dinner crowds.
Rides and Games
The most expensive piece of Lakefair is the carnival rides. I always tend to shy away from them and with a toddler, I can currently get away with it. I realize that once my daughter is older she will want to get on those pricey rides. So, I've begun my research on how to enjoy the fun for less.
There are two vital ways of enjoying the Funtastic Carnival during Lakefair: coupons and wristbands. First, let's talk about the available coupon. The first day of Lakefair (Wednesday) a coupon will be available for a discounted rate on both games and rides. This coupon can be picked up from the Lakefair Information Trailer free of cost. This is a great option for families looking to dabble in a ride or two.
The second option is for families that have thrill-seekers willing to ride the entire day. Lather up the sunscreen and dip into your wallet to participate in Wristband Day. This day takes place on the second day of Lakefair (Thursday) only. Wristbands costs $35 and will go on sale starting at noon. That money will get one family member admission to unlimited rides for the entire day. This is also a one-day-only opportunity.
Entertainment
There is never a dull moment during Lakefair and this year is no exception. The Mainstage at Heritage Park includes talented acts from our area Wednesday through Sunday, all day long. Some of this year's acts include a variety of dancers, a Battle of the Bands contest, and even a Frank Sinatra tribute. For the full line-up and schedule of performers, check out the official event page.
Free Activities
Cruise through Marathon Park on Friday night beginning at 5:00 p.m. for the annual Car Show.  See an array of classic cars from near and far. Lakefair's annual Kids Day event will take place Saturday, July 18 in nearby Sylvester Park. Booths filled with arts and crafts activities will be available to families for absolutely no cost. You can also take part in the Capital Lakefair Grand Parade on Saturday at 5:00 p.m. Wave to the Lakefair Royalty, collect candy from local floats, and enjoy the music of marching bands. The parade route begins at the intersection of 20th & Capitol and ends at 5th Avenue SW.
Fireworks
Lakefair will go out with a bang on Sunday, July 19 during the Grand Finale Fireworks Display. The dazzling show at Capital Lake begin at 10:00 pm. These fireworks are a must for most residents which means you and your family will want to arrive early to guarantee a front row seat.
Once again, Lakefair proves to be a summer spectacle in Thurston County. There is plenty to do and see and it is all possible on a budget.
For a complete schedule of events and activities, visit the Capital Lakefair website.