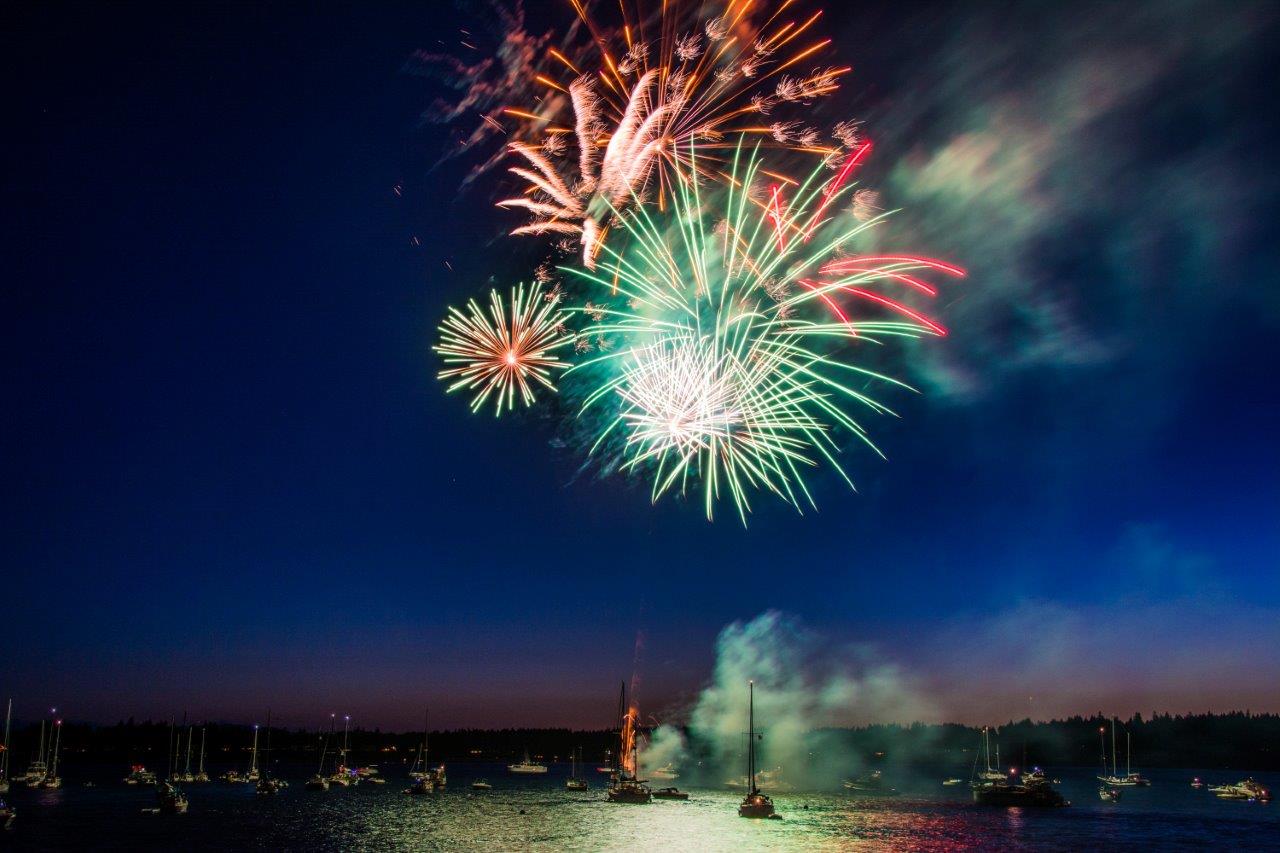 Editor's note: You have reached an article from 2015. For the most current 4th of July information, click here.
By Kathryn Millhorn

July 4, 2015 is that rarest of beasts: warm, dry, and falling tidily on a Saturday. When such a rare conjunction occurs, it's practically our patriotic duty to go out and celebrate.
Because the weather forecast is for 95+ degrees that day and Thurston County is under an indefinite burn ban, below is a list of fireworks shows around the region. Fireworks for home use are regulated by the Thurston County Fire Marshal's Office so check your local regulations before lighting those sparklers.
Traveling for the holiday weekend? The Washington State Patrol lists all public firework shows throughout the state, sorted by county and city.
Lacey Freedom Concert & Fireworks Spectacular – July 3
Friday, July 3, the City of Lacey will hold their annual event from 6:30 – 10:15 p.m. at William Bush Park at Yelm Highway and College Street. The evening starts with free music, face painting, kids crafts, and goes on to include an 8:00 p.m. presentation of colors before more music and a free fireworks show.
There will be road closures and street modifications for the event so check their website for specifics. Bring lawn chairs, blankets, and the desire to rock the night away!
Boston Harbor Marina – July 3
At dusk on Friday, July 3, Boston Harbor Marina will host a fireworks display visible from land, sea, or dockside. Stop by early to pick up snacks, fuel your boat for a floating view, or wander the beach beforehand.
Independence Day Celebration & Fireworks Show – July 4
The South Sound Speedway in Rochester opens its doors to race fans at 6:30 p.m. and follows up the races with a full fireworks show at dark. Tickets are available at the door and are $20 for adults, $18 for teens, seniors, and active military, $7 for kids aged 6-12, and free for 5 and under.
Artesian Family Festival & Thunder Valley Fireworks Show – July 4
The biggest fireworks festival in the county is in Tumwater. Gates at Tumwater Valley Golf Course open at 6:00 p.m. and the fireworks begin at 10:15 p.m. There will be music, food, games, and more for hours of family-friendly fun. The festival is free but parking in their designated lot is $10. Bring folding chairs, blankets, and a picnic supper to make an evening of it.
Freedom Fest – July 4
A bit further away than most, the JBLM Freedom Fest is an amazing way to celebrate with the soldiers who keep us free. Running from noon until the fireworks at 10:00 p.m. there are carnival rides, food, crafts, games, and music with free admission and free parking. This year's feature concert performer is Frankie Ballard with opening number Spike and the Impalers (who will grace the stage at the Lacey In Tune concerts on July 11).
Capital Lakefair – July 19
Put this event on the calendar for later! The Capital Lakefair fireworks show takes place on the shores of Capital Lake at approximately 10:00 p.m. on Sunday, July 19. The show is free and you can spend your evening wandering the booths, rides, and vendors at Lakefair beforehand or cool off with a quick pre-show dip in Heritage Fountain across the street.
For even more weekend events to celebrate Independence Day around Olympia, click here.