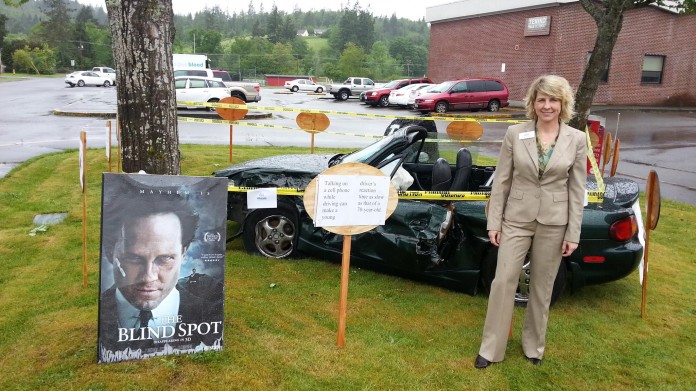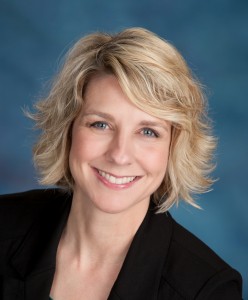 "Hey you, you and I need to hang sometime." "Alright, cool:-)" "I can't wait:-)" "me neither".
Those were the messages for which Heather Lerch paid heavily one month after her 19th birthday when she had taken her eyes off the road to text while driving home in Tumwater.
Ronelle Funk, president of Ronelle Funk Insurance, is committed to educating youth about the dangers of texting and other distracted driving habits. She has no problem showing the video about Heather's devastating crash posted to the Washington State Department of Licensing website. It is difficult to watch.
"I want to hold up a big sign, saying, 'Do not text and drive,'" explains Heather's mother,  Wendy Lerch, on the video. According to the video, Wendy and her husband Dan are committed to get the message out that distracted driving takes lives and changes families forever. "My daughter lost her life.'"
In 2007, Washington State was one of the first states to pass a law to ban texting or talking on a handheld cell phone while driving. Thirteen states now outlawed the use of handheld cell phones, and 44 states have made it illegal to text while driving.
Talking or sending text messages while holding a wireless device in Washington State carries a $124 fine. If police see you holding your phone, they can pull you over and ticket you. Drivers must use hands-free devices, and new drivers with instruction permits or intermediate licenses can not use wireless devices at all except in emergencies.
As an experienced insurance agent, Ronelle Funk knows about the perils of texting and other distracted driving habits. She has reached out to both youth and their parents whenever she has had the opportunity. Her involvement is not because of the impact to insurance, but because of the impact to people's lives.
"Car accidents are the #1 killer of young people," says Ronelle. "They cause more teen deaths each year than homicide, suicide, cancer and drugs. Eight young people die a day in car accidents. So many of them are avoidable and absolutely senseless."
With years in the insurance industry, Ronelle understands the epidemic of alarming trends in cell phone use and driving, particularly with young people.
"Twenty-one percent of fatal crashes among the 15- to 19-year-old drivers involve the use of cell phones," says Ronelle. "Insurance rates for young women used to be lower than young men's rates due to young men having more accidents or more tickets than young women. With the advent of cell phones, young women are now just about equal. They are getting into accidents today almost as often."
But Ronelle has even more dramatic figures that are somber proof that texting while driving is deadly and must be avoided to save lives.
"Texting while driving is now the leading cause of US teen deaths," explains Ronelle. "Five seconds is the minimum amount time your attention is taken away from the road while texting. At 55 mph, texting on your phone is equivalent to driving the full length of a football field completely blind—a veritable blackout that takes a huge toll."
It is not surprising that Ronelle is full of facts and insight about the consequences of distracted driving because she spent a lot of time researching the subject for an "X the TXT" presentation she gave to students at Tenino High School.
She partnered with student group "Teens Against Drunk Driving" and with her field adjuster Mike Morales who had a child who attended the high school at the time.
"Mike brought a Mazda Miata that had been mangled in a texting accident and put it on display on the front lawn of the school as a graphic illustration of how horrific texting while driving turns out," explains Ronelle. "I brought a huge 'X the TXT' banner that students signed and left their thumbprint on as their pledge not to text and drive."
Ronelle spoke at the high school's lunch hour to over 100 students. She also gave the students a card to take to their parents so that they and other drivers in their household could also pledge to not text and drive. She handed out teen driving brochures, water bottles, squishy cars and thumb rings with the poignant message "Txting Klls"— all reminders to help prevent unspeakable loss.
"The thought was that the ring can be worn on the on their thumb to remind them to stop if they tried texting while driving," says Ronelle. "I want to help in any way I can to remind teens that texting while driving kills."
For more information on the materials used in her "X the TXT" presentation or to pick up a Txting Klls ring just stop by one of Ronelle's Allstate Insurance offices in Yelm or Lacey.
Ronelle has spoken to Drivers Education classes at Capital High School and the Yelm High School Financial Literacy class and is available to speak at the request of any area school.
Read more about Ronelle Funk Insurance or call (360) 491-3376 for the Lacey office and (360) 458-6061 for her office in Yelm.