Submitted by Olympia Food Co-op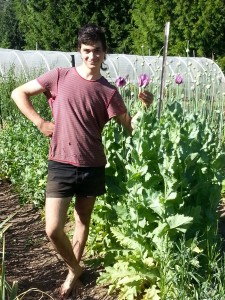 Now that the recent weeks of sun have our gardens brimming with early season bounty—strawberries, radishes, salad greens, spring onions, even the season's first raspberries—it's time to think back to the early days spring when was still too cold to imagine opening our windows, let alone lifting a head of romaine for dinner. Specifically it's time to think of seeds: those little specks of potential we put in the ground, trusting that the season would turn and that something so impossibly small would yield food to sustain us for months to come.
For many, buying seed is one of the most exciting tasks of the spring.  It gives us that small glimpse into the future, something to plan and hope over, a huge splash of color amidst late winter's grey. But where do our seeds come from? How do our seeds shape agriculture in our region and beyond? And what can we do to assure we'll always have access to the seeds we love? For many local farmers and activists, the answer is simple: we need to save our seeds.
Caitlin Moore, of the Olympia Seed Exchange and Root and Radicle Seed Co., is passionate about saving seeds. When asked why saving seeds is important, she says, "modern culture is 100 percent dependent on agriculture, and agriculture is 100 percent dependent on seeds." Aaron Varadi, of Sunbreak Farm, an organic produce and seed farm in Rochester, says, "saving seeds for the traits that we value is a way for us to steward our agricultural inheritance left to us by previous generations—all the hard work, attention, choices, and wisdom of farmers who came before us need to be preserved and built upon to sustain us and especially those who will come after."
Another reason for local farmers and gardeners to save seeds locally is that frankly seeds are in a bit of trouble in our region and beyond. Currently, Moore points out, the top 10 multinational seed & biotech companies control 75% of seeds in the world. Corporate control of seeds can mean that our world's great diversity of small, locally-adapted varieties, varieties with specific flavor profiles, and varieties that are culturally significant to specific groups of people are being whittled down in favor of a small number of varieties that can be used in a wide variety of locations, and are often chosen for uniformity and storage potential rather than flavor, nutrition, historical significance, etc. In fact, a 1983 study by the Rural Advancement Foundation International found that 93% of seed varieties for 66 crops surveyed had been lost in the previous 80 years due to large-scale commercialization of the seed industry.
Also contributing to this loss of genetic diversity is the growing market share of genetically modified seeds, a feature of multinational seed companies many believe has not been fully tested for safety and which easily contaminates traditional varieties through accidental cross-pollination, threatening their continued existence.
The consolidation of seed production also makes food supplies extremely vulnerable. Varadi points out that, for example, around 75% of the U.S.'s spinach seed is grown in the Skagit Valley. This means that if the Skagit ever experienced a crop failure due to an extreme weather event, for example, spinach would be in extremely short supply at least the following year and perhaps for a good while to come.
According to Moore, one of the main advantages of people learning to save our own seed is that we can help develop varieties uniquely adapted to our area's climate, a key way for farmers and gardeners in our area to be more resilient in the face of climate change. Moore founded the Olympia Seed Exchange — which has now joined forces with the South Sound Seed Stewards in Yelm to form the South Sound Seed Coalition— to promote seed saving and farm-based plant breeding.
Visit the Coalition's website for classes on how to save your own seed or visit the Seed Exchange on the second floor of the Eastside Urban Farm & Garden Center on 4th Ave in Olympia, to donate seeds from your garden or pick up seeds other area gardeners have saved for you to try out. Also look for classes on seed saving through the Olympia Food Co-op's classes programs.
If you aren't ready to save your own seed, you can still support local efforts to save seeds and increase the genetic diversity of crops in our area. Local seed farm and supplier Root and Radicle Seed Co. sells locally-grown organic and open-pollinated seeds at the Westside Food Co-op Garden Center, the Eastside Urban Farm & Garden Center, the Seattle Farm Co-op, and online through their website.
Also if you are a co-op shopper you can give feedback about the taste, shelf-life, and ease of preparation you experience with Sunbreak Farm's chard, daikon, kale, and other vegetables to help determine which seeds Sunbreak will save in their quest to develop strains most highly adapted to the needs of our climate as well as your kitchen. Look for Sunbreak Seeds to make their retail debut in the coming year.