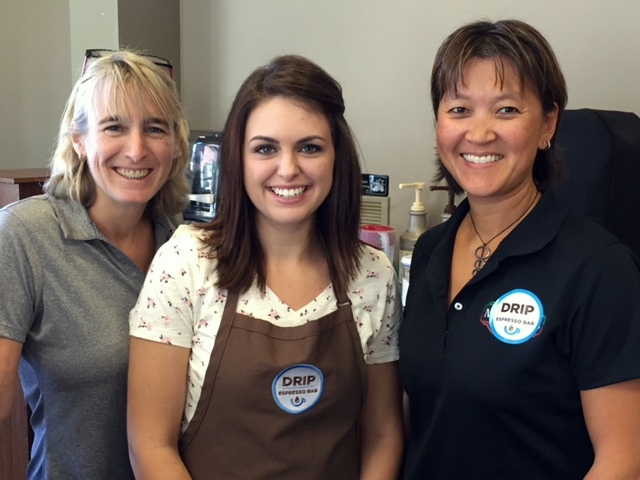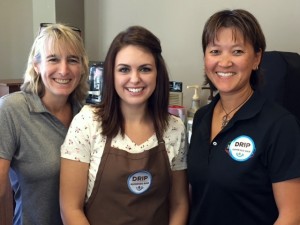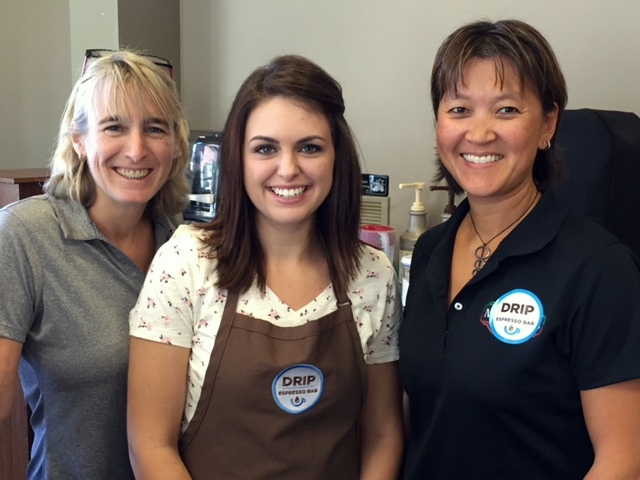 We are a town known for our coffee. With several award winning roasters headquartered in Olympia along with myriad different coffee shops, it's a town that caters to the caffeinated. Yet, there is always room for one more. Especially near the Washington State Capitol campus where thousands of people work daily.
Interestingly, the area near the campus is fairly "dry" when it comes to walking distance coffee shops. Those looking to stretch their legs a bit can venture downhill to the downtown core. However, if you have a meeting in 10 minutes and you need a quick pick me up, or it's raining buckets, you may be out of luck.
Not anymore. Drip Espresso Bar is now open in the lobby area of the Union Heights Building at the corner of Capitol Way and Union Avenue. Partnering with Batdorf and Bronson Coffee Roasters, Drip Espresso Bar offers high quality espresso beverages (using those delicious Batdorf beans) in a coffee bar setting. "Drip is a dedicated coffee shop, not a restaurant," shares co-owner Robin Vaughn, and customers will benefit from the focus on consistently crafted coffee drinks. They will also benefit from the cozy lobby setting with comfy chairs and a meeting space complete with wifi.
Robin Vaughn and co-owner Maria Meconi know a bit about running a successful business. Vaughn serves as General Operations Manager for Meconi's Italian Subs while Meconi is the General Manager. Drip will be located just outside the doors of the downtown location. Despite the proximity to the popular sandwich shop, Drip Espresso Bar is its own, independent business.
However, as is often the case, close relationships can have their perks. Drip is fortunate to be able to utilize the Meconi's bakery facility, along with talented pastry chef Callie Robello, to create exclusive baked goods just for the coffee bar. Made from scratch daily, the baked goods will include savory and sweet offerings and will only be found at Drip.
"The baked goods will change seasonally," shares Vaughn, "and will include lemon-lavender pound cake for the summer and pumpkin-based items in the fall."
Standard offerings at the coffee bar are a cinnamon-swirl coffee cake (which I sampled myself and could find myself dangerously addicted to), a cheddar-chive scone, scratch made Nutella croissants, along with rotating muffins and scones. Not only could Drip Espresso become your go to morning coffee stop, but could easily become your breakfast (or second breakfast) haunt as well.
When developing their coffee bar concept, Vaughn and Meconi focused on utilizing as many local ingredients, vendors, and sources as possible. They even employed a local cabinet maker to craft the structural elements and more.
"It's really important to us to not only stay local with our coffee and bakery items, but we found an awesome local artist, Bill Course, to feature 12 iconic scenes of Olympia," shares Vaughn. The photography will be featured throughout the spacious seating and meeting space and available for purchase as well as visual enjoyment.
Drip will also feature a signature drink – the honey vanilla latte. "We make honey-vanilla syrup in house with local, organic honey," shares Vaughn. It's this syrup, not a pre-made bottled one that sweetens their signature drink.
Of course, with their plates full running Meconi's four locations, Vaughn and Meconi needed a trusted partner to run the day-to-day operations of Drip Espresso. They found that person in Tiffany Peters, a long-time friend and employee. "We are so lucky to have Tiffany as our on-site manager," says Vaughn. "We met Tiffany when she was 18 and began working as a Meconi's employee. She also worked as a nanny to our daughter, went to school to become a teacher, and is now coming full circle to work with us again."
The long-standing relationship means they know they can trust Peters 100% as well as count on her to create a welcoming vibe at the new shop. "I really love people," shares Peters. "It's just who I am. I love to make people happy and to make connections with them." It is this desire for connections that made Peters so successful during her time behind the counter at Meconi's. People knew her and loved her.
"Tiffany's relationships with customers were strong when she worked for Meconi's. She really made people feel valued and remembered when they visited," shares Vaughn. Her natural customer service skills made her a perfect match to launch Drip Espresso Bar and she can't wait to create customer relationships again.
"People come to get a coffee for a reason," Peters explains. "They could be sad, tired, excited, frustrated, celebrating – whatever it is, they've decided to get a cup of coffee, to take a break from all the 'other' stuff in life. I want to be the person they want to come see when they have those feelings and someone they can share a bad morning or exciting promotion with."
And, customers at Drip will see Peters day-in and day-out, a valued point of daily, human connection in our fast paced and virtual world.
Swing into Drip Espresso Bar yourself and say "hi" to Peters and her staff. The coffee bar is brewing quality coffee and serving up scratch pastries Monday through Saturday. It's my belief that Drip will become your new coffee home.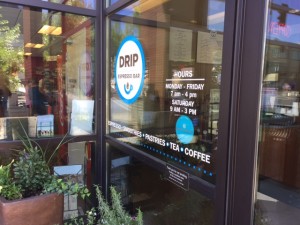 1018 Capitol Way S. in Olympia
Monday – Friday from 7:00 a.m. – 4:00 p.m.
Saturday from 9:00 a.m. – 3:00 p.m.
Closed Sunday