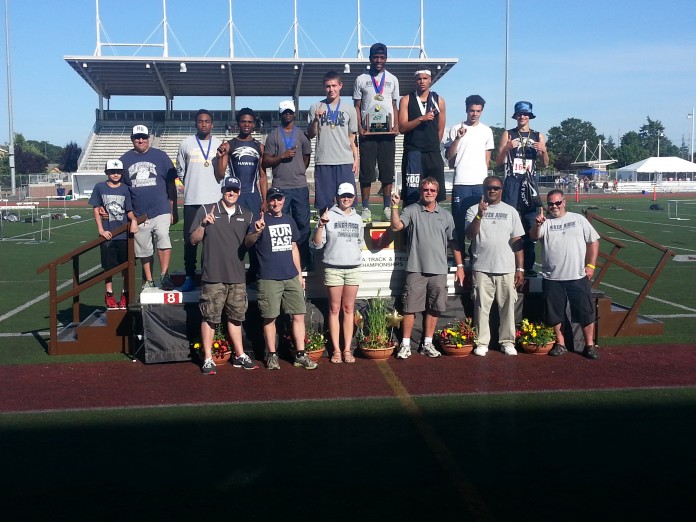 By Gail Wood

His "Wall of Fame" has added another memorable chapter.
And Phil Lonborg, River Ridge High School's track coach since the school opened 21 years ago, couldn't be more excited. The Hawks boys teams, rich in sprinters and jumpers, did what their coach hoped they'd do – they won a 2A state championship.
Photos and stories about the unexpected triumph will now be hung on Lonborg's office wall, retelling and reminding everyone of this special moment on the "Wall of Fame." It's Lonborg's third state title – first for the boys team.
"This is very fulfilling," Lonborg said. "Especially at this time of my career."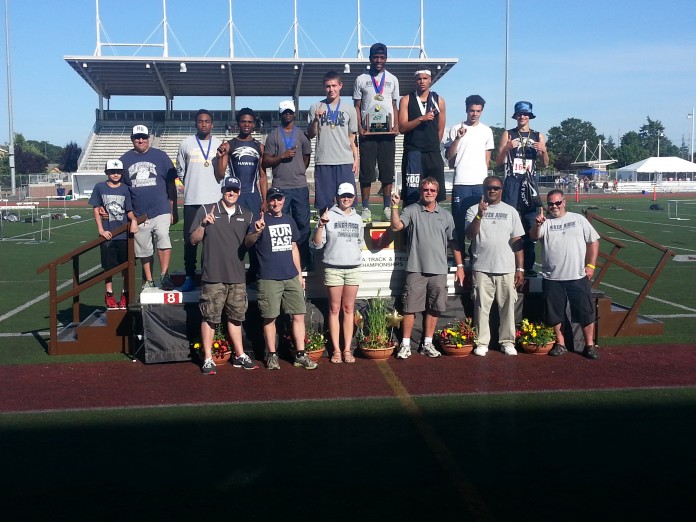 DeJuan Frye, the senior with speed to burn, did what he hoped to do. He won. He anchored the winning 400-meter relay and also won the 100 and 200 meters and placed in the 400 meters. The 100 had an exciting and agonizing photo finish, with Frye winning by a lean. He finished in 11.1 and then won the 200 in 21.7.
Lonborg anxiously waited for the 100 results.
"There were eight guys at a photo finish. Everyone is waiting," Lonborg said. "I have no idea where DeJuan finished."
Then Lonborg's anxiety turned to relief and celebration. Frye won and Ika Morton placed fourth, giving the Hawks 15 points. And West Valley, a favorite to win the state title going into the meet, finished fifth in the 100.
"We knew right then that we had the title," Lonborg said. "We just didn't want to hear the double gun, the false start. The relay team came through and ran great."
River Ridge's 400-meter relay, which is made up of Michael Key, Ika Morton, Chris Leiba and Frye, won by nearly 10 meters. It was the Hawks' third straight state title in the event. Frye, Leiba and Morton ran on all three of those championship relays.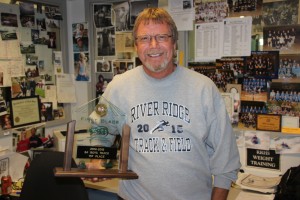 Steve Schultz, the Hawks sprint coach, said the relay team didn't fold under expectations. They did what they did all year – run fast and make their exchanges.
"Sprinting is like being 6'8″. You can't coach that," Schultz said. "You can develop it and get efficient, but you're born with it."
Practice and more practice on the exchange is how the Hawks cut their times.
"You don't run the second fastest time in state history without wiring your handoffs and not perfecting your trade," Schultz said. "How fast does the baton move through the zone? We put it on the clock and work on it."
Lonborg had another exasperating moment at the state meet in 110-meter hurdles. Josh Braverman, a sophomore, was nearly disqualified in the event for being a no show. Lonborg counted seven guys at the starting line waiting for the start of the race.
"I'm going where's Braverman?" Lonborg said. "Everyone is freaking. They say over the mic, 'Will Josh Braverman please report to the finish line.' Not there."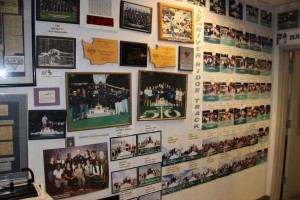 A last call announcement is made.
"Then I see him coming," Lonborg said. "They have to wait for him to take his sweats off and put his shoes on."
Despite his late arrival and no warm up, Braverman ran a 14.9 and placed fourth. He had run a 14.1 during the season. What was Braverman's excuse for his late arrival?
"He was getting out of the sun," Lonborg said. "I lit him up. I'm hard core. This is a state meet. Don't you screw my team. I ripped him."
The next day in the 300 meters, Braverman, with a teammate following him and making sure he'd be where he should be, was at the event on time. And he placed third with a 39.2.
"The 300 was huge," Lonborg said. "West Valley had the best guy and we had to score some points. Braverman hit the last hurdle or else he would have broke the school record. He got third in state. That was huge."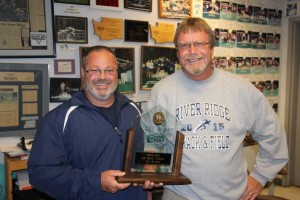 Frye joins membership to an impressive Hawk legacy. River Ridge now has 49 individuals who won state championships. After River Ridge boys won the state title, Lonborg got messages from many of his former champs, including Lashonda Christopher, who was River Ridge's first state championship team in 1994. He also heard from Alton Hodges and Janae Young, who won four individual state titles back in 2001.
"Alton Hodges said he won three state championships, but the one thing he wished we could have won was a team championship," Lonborg said. "This is special."
It's a day to cherish, a day Lonborg will never forget. Now, as Lonborg comes to the end of his coaching career, he hopes to end it as he began it. In Lonborg's first two years at River Ridge, the Hawks won back-to-back girls state championships. If the Hawks repeat as state champions next year – which will be Lonborg's last as a coach – it will be state title No. 4 for the longtime coach.
"Gary Larson said 'Coach, how cool would it be for you to win state your first two years and your last two years,'" Lonborg said. "I said that's the goal."