By Kelli Samson

Family members caring for their elders 24 hours a day at home often feel they have no support. Not every family chooses the route of assisted living or a nursing home when extra help is needed.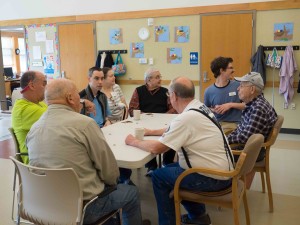 Local Kristi Lindberg found herself quitting her job to provide full time care for her ailing father, who had Alzheimer's. She recalls, "Introducing an unfamiliar place to an Alzheimer's patient created stress and disruptive behavior. It was just easier not to take Dad out. Isolation from the outside world and our friends took its toll, and despair filled our home that was once full of life. Not only did it feel like we were becoming prisoners in our own home, but resentment crept in like a poison."
Thankfully, our community has the Services To and Respite for Seniors (STARS) program, which is part of the group Senior Services for the South Sound. There is a program location in Lacey and one in Shelton. STARS is staffed by trained volunteers who love to spend time connecting with seniors with permanent disabilities ranging from the cognitive variety, such as Alzheimer's, to physical ailments, reminding them that they have value. Caregivers benefit from this service, too, by getting the necessary time to recharge and practice self care.
This is an especially meaningful service for the family caregivers of seniors with cognitive conditions. These caregivers are often too afraid to leave their loved one with anyone else at home for safety reasons.
"As I drove away by myself the first time I brought my dad to STARS, I felt the weight of the world lift from my shoulders, and for the first time felt like my head was above water," shares Lindberg of her experience.
Caregivers can arrange to bring their senior to the STARS program up to five hours a day, five days a week, for a fee. The seniors get time with other seniors, along with the opportunity to participate in games, sing-a-longs, pet therapy, crafts, and sometimes even the occasional field trip.
STARS is taking it a step further this year. Regularly attending members have been invited to attend their charity portrait party on June 20 from 11:30 a.m. –  3:30 p.m. at the Lacey Senior Center in celebration of them and of their families. The event was planned with this special group of seniors in mind. There is a late start time and an early finish planned out of consideration for the families. Everyone present will be people with whom the seniors are familiar, from those serving lunch, to the family members in attendance, to the photographers from the Olympia Camera Club who are donating their time and service.
The STARS Family Portrait Party is the brainchild of local photography hobbyist Dianna Evans. A lifelong resident of Olympia and friend of Lindberg, Evans found she desired to give back to her community through her love of photography during her retirement. She read about events where photographers took portraits for at-risk groups around the world, including Olympia, for no fee, and found herself inspired.
"I knew immediately that I wanted to do something with my photography this year that would help people feel a sense of dignity, pride, and respect, and to remind them how beautiful they are," explains Evans.
She approached Paul Taylor, the Adult Day Program Director of STARS, and they began to plan the event.
Along with the photography, continues Evans, "the attending STARS families will be celebrated with food, drink, entertainment, and the camaraderie of other care taking families."
Our society tends to celebrate the beauty of youth over the beauty of age. For example, high school seniors have their photographs taken to commemorate who they are at that stage in life, yet there is nothing like this for those in advanced age.
"This event is a way to say we do see you and value you," shares Evans. "It is about recognizing and capturing the beauty that is in every person regardless of age or circumstance. Most importantly, the event is about giving a gift that will help remind the STARS member and their family just how beautiful they all are."
At the STARS Family Portrait Party, "three Olympia Camera Club photographers will shoot portraits of the STARS members and their families. Each of the 40 families will receive two 8×10 portraits. One portrait will be of the STARS member, and the second portrait will be of the STARS member with their family," says Evans. The Olympia Camera Club's photographic services are available to other local non-profits, as well.
The Lacey Senior Center is covering the full cost of this event, including the cost of printing the portraits. Donations for the event are currently being accepted and are tax deductible.
The STARS program itself is also in need of donations of funding. Explains Paul Taylor, "Donations help us give more scholarships to people who need our services but who cannot afford them and who don't qualify for other sources of funding support."
To learn how you can access the STARS program, make donations toward this event, or volunteer your time, please contact Paul Taylor at STARS@SouthSoundSeniors.org or 360-407-3967, extension 107. "We always need more volunteers," says Taylor.