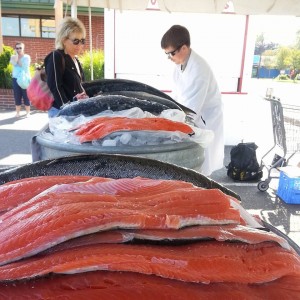 Twain once said "Do not tell fish stories where the people know you; but particularly, don't tell them where they know the fish." Around here, where Copper River salmon is king, the only fish stories we tell are happy sighs of 'yum.'
The Alaska Department of Fish and Game "has issued its 5th highest forecast for this summer's Copper River salmon run over the last 20 years, with it predicted to be up nearly 25 percent this summer." This is good news for diners around the country, but getting these prized fish to market isn't easy.
Decades ago, most salmon was processed and canned for ease in transportation. According to a historical article in the LA Times, "high-quality fish requires special handling—they need to be caught alive, bled immediately and iced before rigor mortis can set in. The canning boats weren't set up for the amount of work that was required." But local entrepreneurs quickly developed methods to deliver the fish to market in record time.
These methods mean that now "one-third of the salmon consumed in the U.S. is caught from the wild by U.S. commercial fishermen who harvested between 600 and 900 million pounds annually over the past decade."
Of salmon species, Copper River salmon are of the King, Sockeye, and Coho variety. They are more than simply delicious as well; "a 3.5oz fillet of wild Alaska salmon contains more vitamin D than a glass of milk. Then there are omega-3s. Derived from the layer of omega-3 fatty acids found between the skin and the underside of the fillet, omega-3s give our salmon their renowned succulence and provide essential EPA and DHA nutrients that benefit a whole host of vital internal functions."
Locally, Ralph's Thriftway will be holding their annual Copper River Salmon sale on Friday, May 29. Starting at 9:00 a.m. and only while supplies last, fresh fish will be offered from a tent in the parking lot. Buyers can pick up whole fish and even have them butchered on-site by Meat and Seafood Manager Adam Beasley and his skilled team.
The salmon will be sold for $13.99 a pound for steaks and $14.99 for fillets. Whole fish are being sold at $10.99 per pound and the Ralph's staff will be happy to fillet or steak it complimentary. If you choose to buy the whole fish, Beasley will include the post-butchering scraps like fins and bones to use in broths, fish cakes, or other recipe tricks. Backyard poultry? Chickens love to clean any last meat off a delicious salmon carcass and that's recycling at its finest!
Need something to pair with your salmon dinner? Fresh steamer clams and local oysters will also be offered. But arrive early, things sell out fast. Once you receive your prize catch, head inside the store to pick up organic lemons, salad, and perhaps a six-pack of local beer or bottle of specialty wine to wash it down.
If you haven't already mastered the fine art of preparing a glamorous meal, sign up for a class at the Bayview School of Cooking. For the bold and confident, Copper River recipes (broken down by variety of salmon) can be found here which perfectly accentuate the flavor of this unique fish.
Ralph's Thriftway is located at 1908 East 4th and can be reached by calling 360-357-8011.