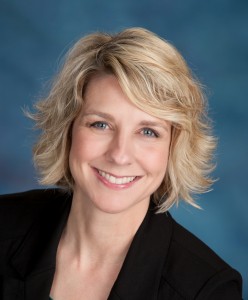 When you go to Ronelle Funk about insurance to protect the things important to your family, you get a lot more than an experienced insurance agent. You get a highly intelligent woman, an enthusiastic education advocate and a people lover.
That is all in addition to the full resources of her agency with the mission to be "The World's Most Caring Insurance Agency" and a staff with a core value to "treat every customer like family."
Ronelle spoke to us at her office on College Street, a familiar sight on one of Lacey's busiest streets marked by a digital reader board outside a lovely cottage-like house.
Donned with a headset to assist her staff in answering customer calls promptly even during our visit, Ronelle's blond hair and bright smile lit up the room as she explained her rich past that has led her to owning one of the area's most respected insurance agencies.
A "sort-of" Alex P. Keaton
In Carson City, Nevada where she grew up, Ronelle began her unique road to adulthood at the age of 15.
"I went out and bought all my own set of dishes and towels because I could not wait to be an adult," explains Ronelle. "I had fun, but I was a really responsible young woman."
Add to those towels a 1969 black Firebird that she purchased after starting work at age 15. In Nevada, the only place you can work at 15 was fast food. She had analyzed which restaurant was best to work at, in what she describes as an "Alex P. Keaton sort of way" referring to the character on the former TV series, "Family Ties."
The minute she turned 16, she went to work at an accounting office. When tax season ended, she landed a job at Stewart Title as an accountant assistant, working in their old bank building's vault on a "big old NCR machine."
"I was alone in that old vault and missed working with people," Ronelle reflects. "So they made me a title secretary. I made $7.50 an hour in 1986 when minimum wage was about $3.35. I sold my Firebird and paid off a 1984 Mazda 626."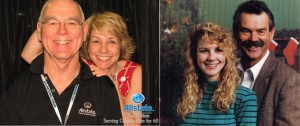 Ronelle was also the youngest Worthy Advisor for Carson City's International Order of Rainbow Girls service organization. With all her extracurricular activity, Ronelle graduated with a Rotary scholarship in math and science, was an Honors student and a National Merit Scholarship winner. She was all ready to attend the local University of Nevada in Reno.
But her independent streak made her re-think her course. Just before starting college, she decided she wanted a new place and vision for her life. She packed her towels and dishes into her Mazda and headed for Olympia where her Dad, Bill Funk, lived.
A passion for community colleges and advising students
One of her first stops here was the South Puget Sound Community College (SPSCC) admissions office. It was then that she first fell in love the opportunities that community college and student financial aid afford students.
"I was just blown away," she describes. "Walk into SPSCC one week before school started and I get to start school, get a job in the financial aid office and then get financial aid to help with tuition."
Ronelle eventually graduated cum laude from the University of Washington and earned her bachelor's degree in psychology.
Following graduation, Ronelle held assistant director positions at two community colleges advising students and parents about financial aid. She later became the Student Services Specialist for SPSCC and served as adjunct faculty in human development, career and leadership classes.
She did it all while she earning her Masters degree at Saint Martin's University in mental health and counseling.
What she did next further fueled her passion for education.
"I became the Director of Tech Prep at SPSCC," says Ronelle. "It's a wonderful program where the college articulates with high school teachers who teach college level technical field classes and their students earn college credit." The program is completely free for high school students.
Adding to her skills in financial aid, she went to work for the Washington State Board for Community & Technical Colleges administering millions of dollars for the state's Opportunity Grant.
Caring for people
About that time her father, who had successfully built the Bill Funk Insurance Agency in Lacey, knew of an Allstate agent in Yelm who was retiring and he encouraged Ronelle to buy the business.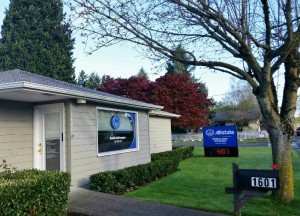 "My dad explained that it would offer financial stability for my family and he could support and advise me along the way," explains Ronelle who was a single mom at the time. "I took his advice and bought that insurance agency in 2008."
When her father retired in 2014, she also bought his business, doubling her own. Though she expanded rapidly, there was little attrition and many satisfied customers.
Helping people with their insurance needs is easy for this responsible and caring woman with a track record of treating people like family.
Ronelle's agency was voted number one in customer service in a five-state region. Locally, she was nominated the last five years and voted the Best Insurance Agency in the Nisqually Valley in 2010. In 2014, the Yelm Chamber of Commerce voted her business Business of the Year.
Read more about Ronelle Funk Insurance on her website or call (360) 491-3376 for the Lacey office and (360) 458-6061 in Yelm.