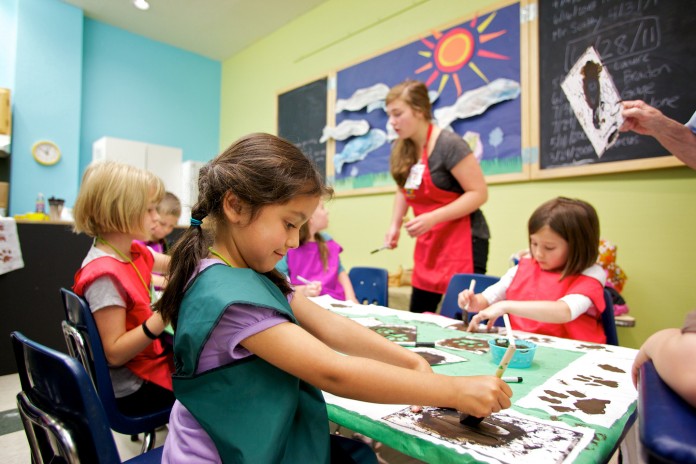 By Kate Scriven

As much as we all love our children and couldn't imagine our lives without them, it is fairly easy to envision an evening without them. Actually, very easy. What's not always so easy is finding a sitter, or willing grandparent, to watch the kiddos so you can escape with your sweetie.
When your list of teens and relatives to call is exhausted or when your kids are looking for a little fun of their own, turn to our area's many Parents' Night Out (PNO) options. Not only will you get a blissful few hours for a date (or let's face it – to grocery shop alone) but your children will be engage in fun activities with other area kids their age. From gymnastics to swimming to sports to crafts, there are options for all ages and interests. And, with discounts for second and third children common, you may even spend a little less than you would with a sitter.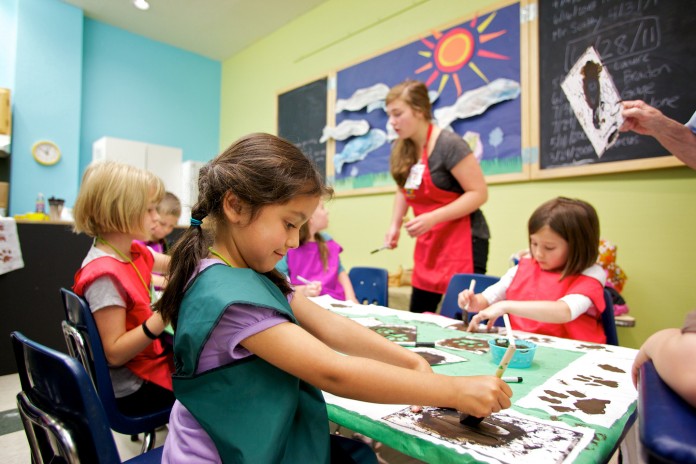 Hands On Children's Museum Parents' Night Out
The Hands On Children's Museum, normally closed at 5:00 p.m. daily, opens after-hours for a night filled with fun for the littles. Kids ages four to ten can enjoy crafts, pizza and juice, and hours of exploration in the museum galleries. Held quarterly from 6:00 to 9:30 p.m., the evenings include a themed craft or activity resulting in something your child can present proudly upon pick up. Prepare to be impressed by your mini-Monet. Register early and take advantage of the $5 early bird discount.
Member Price – First child $30, sibling $20
Non-Member Price – First child $35, sibling $25
6:00 – 9:30 p.m.
Register here or by calling 360-956-0818 ext. 103
Alley Oop Gymnastics Date Night
Located in Tumwater, just off Mottman Road, Alley Oop Gymnastics offers a monthly Date Night on the second Saturday of each month. For three and a half hours, your children (ages three to twelve) will bounce, swing, run, twirl and balance their way to exhaustion. Along the way they will enjoy pizza, crafts and organized games. $25 a child not only buys you an evening of "adult time," but a carload of tired kids ready for a long night's sleep. Save 10% on each sibling when you register in advance. Themes include pirates, bugs and butterflies and even a luau.
Price $25 per child, 10% discount on siblings in advance
5:30 – 9:00 p.m.
Register by calling (360)956-1319
Discover Aquatics Parents' Night Out
Drop the kids off at the pool. They'll be fed, happy, and wiped out when you return. Situated at the intersection of Mud Bay Road and Delphi Road on the west side of Olympia, Discover Aquatics boast an 89 degree saline pool, locker rooms and a terrific group party space. Kids have three hours to swim, eat pizza and enjoy a movie and popcorn. Ages five and up are welcome for a safe swim experience with certified lifeguards on duty. Parents Night Out is held each month.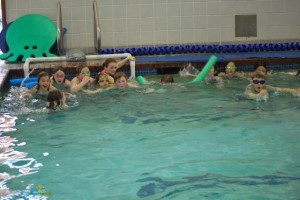 Price $20 first child, $15 siblings
6:00 – 9:00 p.m.
Register by calling 360-867-9283
The Valley Athletic Club Kids' Night Out and PJ Party
Held every third Friday of the month, The Valley's Kids' Night Out (KNO)and PJ Party focuses on the fun your children have, showcasing it as a special night for them. The bonus? Three and a half hours of kid-free time. KNO is geared for older kids ages seven to twelve while the PJ Party welcomes ages two through eight. KNO includes swimming, pizza, sports in the Valley's gym and group games. PJ Party includes pizza, crafts, inflatables, and a movie. The events are open to members and non-members so have your kids bring along a few friends. The indoor pool features a fun spiral slide and warm days feature one of Olympia's only outdoor pools. 10% discount offered for siblings.
Member Price $20 in advance, $25 day of event
Non-Member Price $25 in advance, $30 day of event
6:00 – 9:30 p.m. every third Friday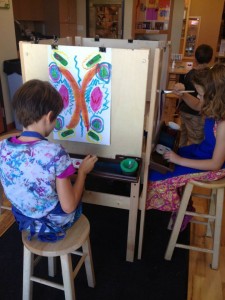 Register by calling 360-352-3400 ext. 108 or sign up at the concierge desk
Local Churches Host Parents' Night Out
Many local churches host PNO events throughout the year. Often held quarterly or around holidays, they typically include dinner, games, crafts, and movies. Events are almost all open to the public and the community is encouraged to join. Costs can be lower and the event can be a great hub for neighborhood families seeking an affordable break for the little ones. Check with your church, or one near your home, to see if they have an upcoming Parent's Night Out.
Thrifty Thurston highlights inexpensive family fun in Thurston County. The weekly series focuses on family-friendly activities throughout our community. If you have a suggestion for a post, send us a note at submit@thurstontalk.com. For more events and to learn what's happening in Olympia and the surrounding area, click here.